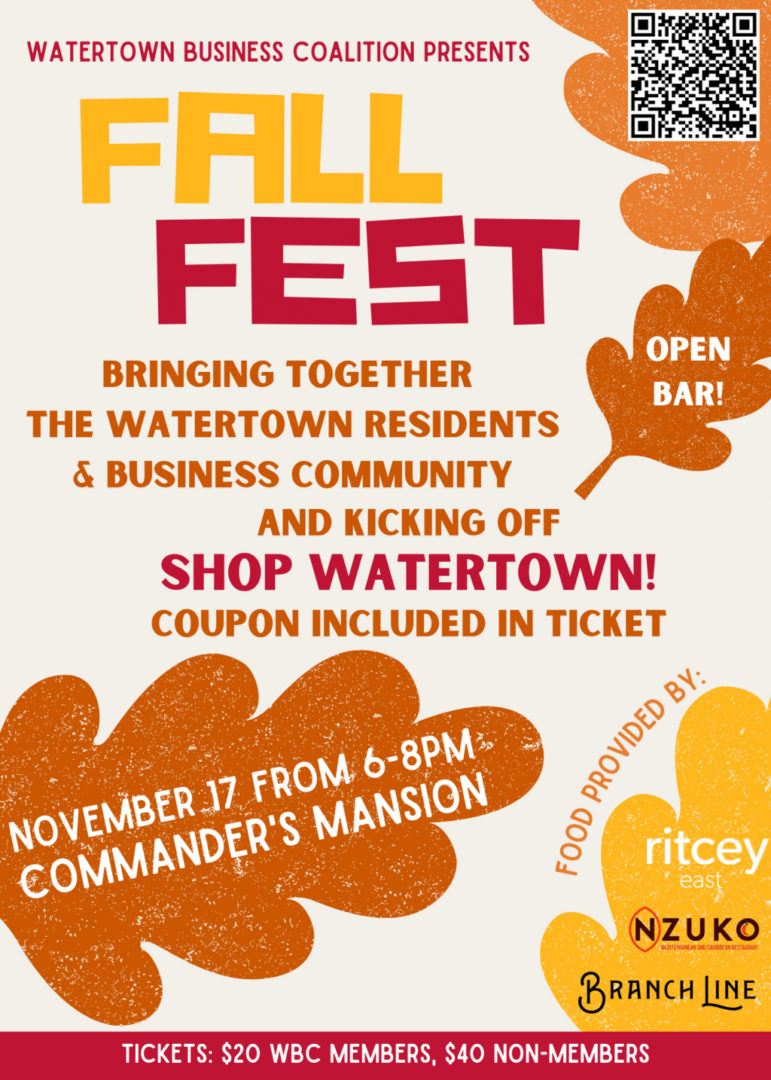 Join the Watertown Business Coalition for Fall Fest on Nov. 17 from 6-8 p.m. at the Commander's Mansion.
Bringing together Watertown residents and the business community and kicking off Shop Watertown!
Several local businesses, artists and others will sell items on the second floor of the mansion to kick off Shop Watertown (including Eastern Clothing, BLING and others). A coupon to use with the vendors will be included with the price of the ticket. More vendors are welcome to participate, for more information contact info@watertownbusinesscoalition.com
Enjoy food from three local restaurants: Ritcey East, Nzuko and Branch Line. There will also be an OPEN bar. Tickets cost $20 for members and $40 for non-members (if your business is a member, all employees are eligible for the $20 ticket). REGISTER HERE.
When: Thursday, November 17, 6-8pm
Where: Inside the Commander's Mansion at 440 Talcott Ave.
What: Mingling, open bar, bites from local restaurants, and a preview to SHOP WATERTOWN on the second floor of the Mansion, featuring local shops, makers, and artisans. A coupon to use at these retailers will be included in your ticket!
Who: Residents, Business Owners, Employees, Professionals, Non-profits, Artists, Local Government Officials, and more! All welcome.
Tickets cost $20 for members and $40 for non-members.
Find out how to join the WBC by clicking here.