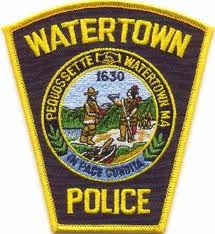 Watertown has seen a rash of catalytic converter thefts over recent months, and the Police Department has teamed with a local auto dealer to try to prevent thefts.
The devices are part of a car's exhaust system and contain valuable metals, so they can be costly to replace. They can also be removed from a vehicle in a matter of minutes, said Rodney Dukes, service director at Toyota of Watertown.
One of the most common targets for catalytic converter thieves is the Toyota Prius. Customers can get a plate installed over the catalytic converter to slow thieves, Dukes said. The WPD, Toyota of Watertown and Cronin Signs are also trying to make the devices less attractive by spray painting "Property of Watertown Police" on them, said Watertown Police Sgt. Ken Swift.
"When they steal catalytic converters they take it to a scrap yard, but they can't resell something stolen so hopefully that deters them from doing it," Swift said. "It has the Property of Watertown Police on it, so they can't resell it — that's the hope." 
Other towns in other states have run similar programs and have had some success, Swift said.  The paint that will be used is heat resistant up to 500 degrees, so it will not deteriorate.
Customers must purchase the plate, but getting the spray paint is a free service for those who sign up. The service is available for vehicles of all makes and models. Appointments are being scheduled for Friday, Nov. 18, 2022, between 10 a.m. and 2 p.m. at Toyota of Watertown, 149 Arsenal St., Watertown. To sign up contact Sgt. Ken Swift at kswift@police.watertown-ma.gov
Find out more in the video below: