Watertown's field hockey team claimed another trophy on Friday, but not the one they hope to ultimately bring home at the end of the season.
The top-seeded Raiders defeated ninth seed Triton 5-0 at Victory Field and received the trophy for making the Final Four of the MIAA Div. 3 State Tournament.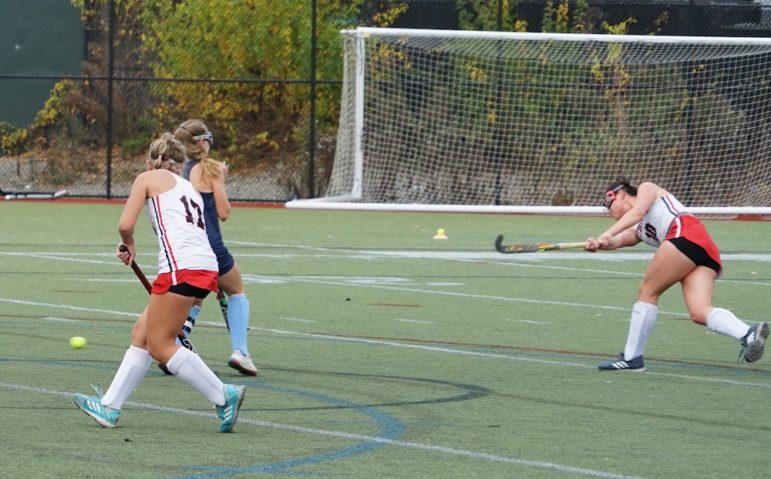 Watertown Head Coach Eileen Donahue said that all the teams in the tournament are tough, and the ones that survive just get tougher.
"I was proud of how we played. We did a great job as a team — we held the other team to no goals," Donahue said. "I would also like to congratulate Triton for making it to the (quarterfinals). They are a strong opponent."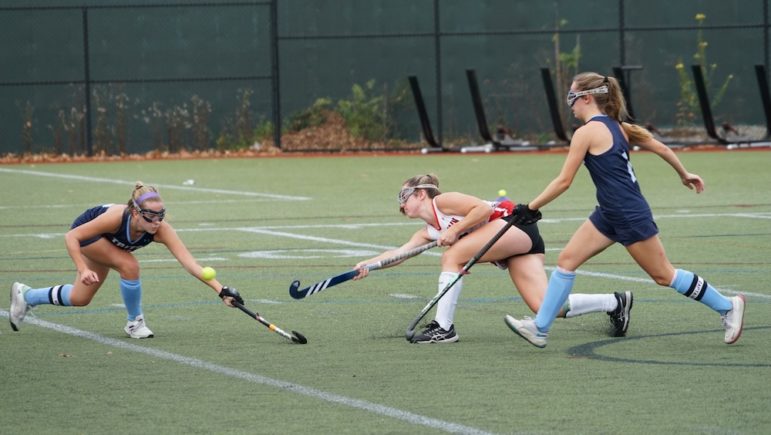 Senior co-captain Lizzie Loftus opened the scoring nine minutes into the first quarter with a blast from near the edge of the circle. With under two minutes left in the first, junior Molly Driscoll opened her scoring account with a goal assisted by her sister and senior co-captain Maggie Driscoll.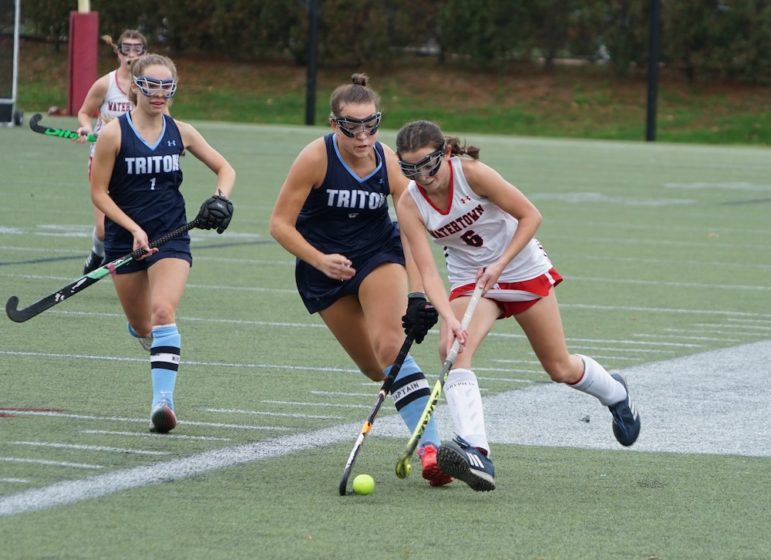 Triton kept the Raiders scoring at bay for most of the second quarter, but Molly Driscoll got her second with 2:07 left in the half. Then, Watertown got a corner as the time ran out in the second quarter, and sophomore Rachel Egan scored on the ensuing untimed play to give the Raiders a 4-0 lead going into the half.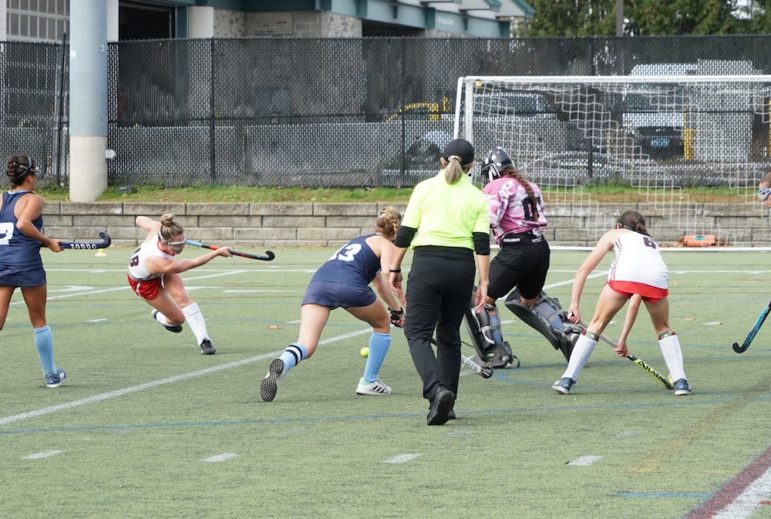 The final Watertown goal, and the one that gave Molly Driscoll her hat trick, also came in the waining seconds of a period. With 16 seconds left in the third she scored off a pass from Loftus.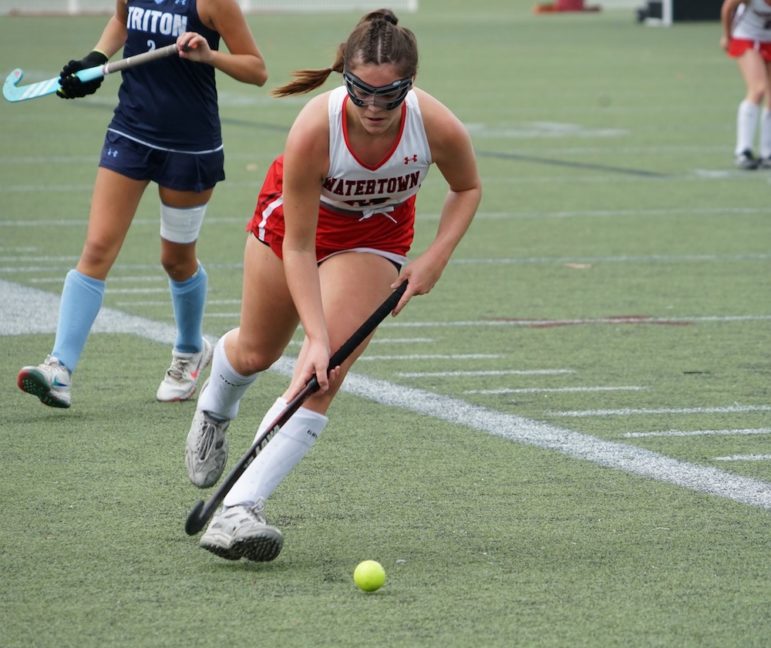 Donahue said she and her coaching staff have made that a point of emphasis.
"We keep saying the clock's there for a reason, and not just to let it run down," Donahue said. "You stop playing when it's 0:00. That was neat to see them stay focused — at least most of them."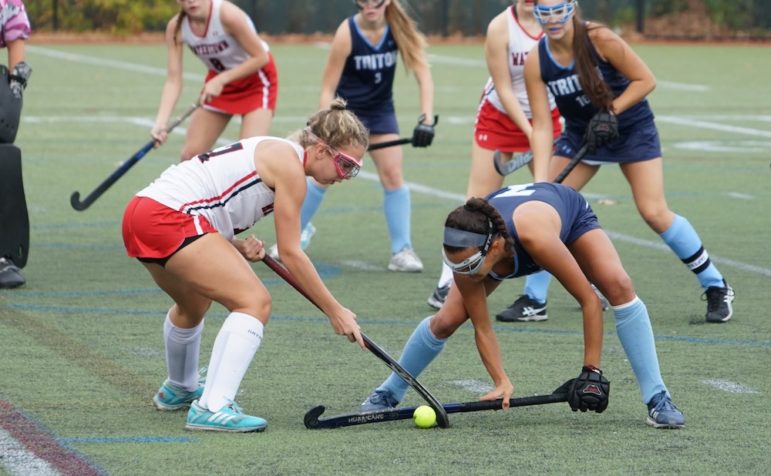 The final result was Donahue's main focus.
"The scoreboard is what I'm concerned with," she said. "I m not worried about our stats or their stats."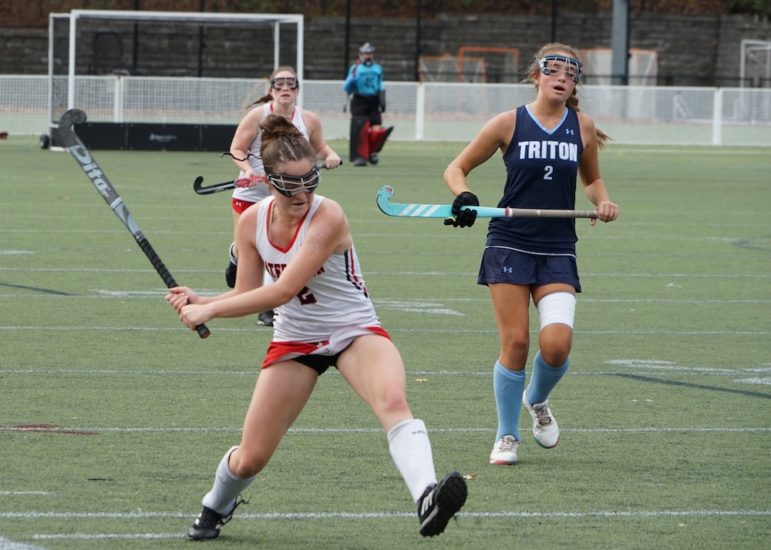 The Raiders improve to 20-0, and will face with winner of the Dover-Sherborn vs. Foxborough game in the State Semifinal. The game will either be played Tuesday or Wednesday, and the time and place is expected to be announced on Sunday.