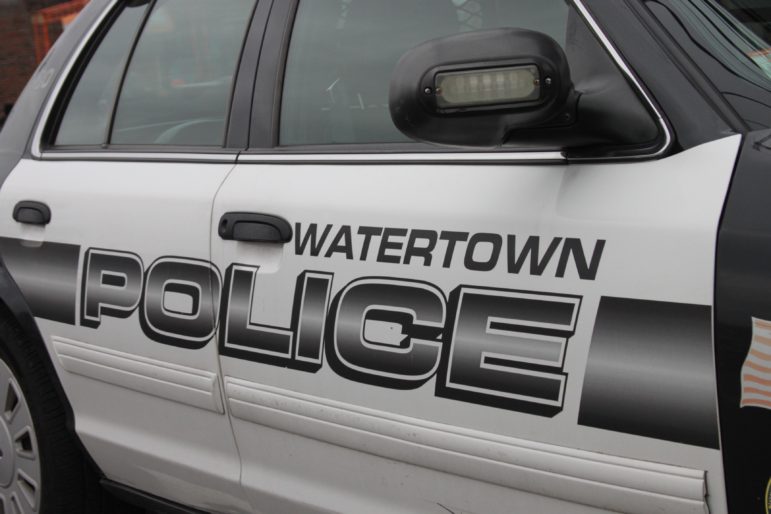 The following information was provided by the Watertown Police Department.
Arrests
From Week of Oct. 31 to Nov. 6:
Nov. 3, 8 p.m.: A white van hit a car parked on Union Street. When officers arrived they found the van running and the driver behind the wheel. Police spoke to the man who said he was on his way to his cousin's house to watch a hockey game. An odor of alcohol was detected on the man's breath, and he slurred his speech and had glassy eyes. The man did not pass field sobriety tests. Frank Sullivan, 66, of Allston, was arrested on a charge of driving under the influence of alcohol.
From the Week of Nov. 7 to Nov. 13:
Nov. 12, 5:40 a.m.: A man pulled over on Galen Street and put his hazard lights on because he had a flat tire. His vehicle was blocking the driveway for the MBTA buses turning into Watertown Yard. When officers approached they smelled a strong odor of alcohol from the man, who displayed signs of impairment including that he wasn't able to follow simple instructions and he was unsteady on his feet. The man admitted to drinking alcohol before driving, and stated "I am drunk." Officers found an open bottle of wine and four boxes of wine in the vehicle. Sergey Kleikov, 67, of Newton, was arrested on a charge of driving under the influence of alcohol, a second offense.
Nov. 13, 2:42 p.m.: The manager of Ulta Beauty in Arsenal Yards spotted a man taking fragrances and putting them into a Marshalls tote bag. When she approached the man and tried to speak to him the man fled. He had $232 in fragrances. Police were called and they located the man in front of Frank Pepe's Pizza holding the tote bag. The bag contained items from several stores: two fragrances from Marshalls worth $164.66, three clothing items worth $40 from Nike, four items from Old Navy worth $68, $40 in food from Roche Bros., and the items from Ulta Beauty. The items were returned to the stores. Anthony Malanson, 42, of Boston, was arrested on five counts of shoplifting by asportation, all third offenses.
Nov. 13, 7:03 p.m.: A man was seen carrying a reusable shopping bag overflowing with merchandise from Target. He was located inside the Watertown Mall near the Registry of Motor Vehicles. He had a total of $1,022.22 in items, which were recovered and returned to Target. Store security recognized the man from a previous shoplifting incident. On Nov. 5 he was seen taking $25 in clothing, a Polaroid camera bundle worth $239.98, a Roomba vacuum worth $329.99. He concealed items in a tote bag and left without paying. He also had warrants for larceny over $1,200 from Waltham District Court and one for shoplifting from Brighton District Court. Yegor Velykyy, 28, homeless, was arrested on two counts of shoplifting, and the two warrants.
Also this week:
Incidents
Nov. 7: A Puritan Road resident came to the Police Station to report the theft of a catalytic converter. The owner of a 2009 Toyota Prius parked in the driveway on Oct. 28, and when the person returned on Nov. 3 the part had been cut out.
Nov. 7, 2:10 p.m.: Multiple items were taken from a Ford F-150 that was parked at a Pleasant Street apartment building. The owner parked on Nov. 5, and when he returned on Nov. 7 at 7 a.m. he notice the items missing, including: nine DeWalt batteries worth $400, a DeWalt impact driver valued at $200, a DeWalt radio valued at $150, and clothing that cost $10. The passenger window had been left down.
Nov. 9, 7:33 p.m.: A window was broken at a business on Waltham Street. The outside pane of a large double pane window was broken. Also, graffiti was found on the side of the building that said "F— the Police" was found on the side of the building, but it is not clear if they are related. The estimated cost to replace the window is $3,000.
Nov. 11, 8:30 a.m.: A woman went shopping at Roche Bros. and as she loaded groceries in her car she left her purse unattended in a shopping carriage. After she left the area, she got a call from her employer asking if she had charged $4,500 on a company credit card at Sax Fifth Avenue. The woman realized someone took her purse from the carriage. She also discovered that someone attempted to take out cash advances on two of her credit cards, but was unsuccessful. The purse also contained $250 in cash. Police looked at store security video, which showed someone taking the purse out of the carriage. The suspect is described as a stocky Black woman dressed in black clothing and wearing brown shoes. Police are trying to identify the suspect.
Nov. 11, 2:14 p.m.: A Target employee arrived on an electric scooter and locked it outside the store on Nov. 10 at 2:30 p.m. At the end of his shift, at about midnight, he came out and found the scooter was gone. The black GOTRAX electric scooter is valued at $400. Security video showed a man hiding behind a bush who came out after the scooter was locked, used a pair of bolt cutters to cut the lock and took the scooter. The suspect is a white or Hispanic man who wore brown pants, a red jacket, and brown shoes.
Nov. 11, 5:31 p.m.: A catalytic converter was taken from a vehicle parked in a residence on Galen Street. The 2007 Toyota Prius was parked in the driveway on Nov. 8 at 6:30 p.m., and when she went out at 6:30 a.m. on Nov. 9 the owner realized the catalytic converter had been stolen.
Nov. 12, 8:06 a.m.: A woman pulled into a gas station on Mt. Auburn St. on Nov. 9 to get gas and she left her vehicle unattended for a time. When she came back out she saw an attendant inside her vehicle. She thought it was odd but didn't make anything of it. Several days later the woman realized her laptop computer was missing, and she believes she had left it in her vehicle, but she is not sure when it went missing. The Latitude Series 5510 computer is valued at $1,300.