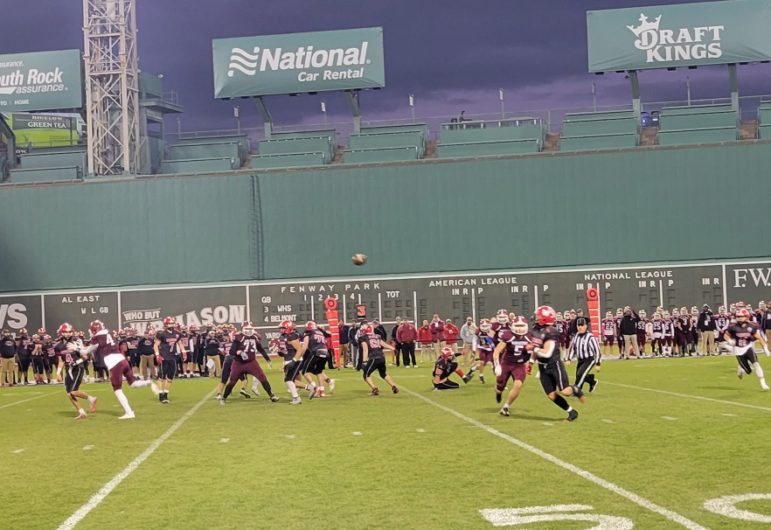 After clashing 99 times in Watertown and Belmont on Thanksgiving, the 100th matchup will take place at the home of the Boston Red Sox on the eve of Turkey Day. Follow live updates from the game here!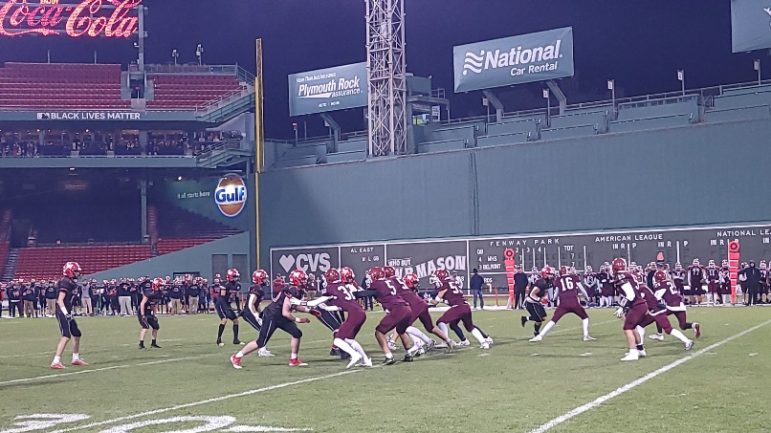 Fourth Quarter
1:13 left. McHugh intercepts pass returns to the 16. Victory formation
1:32 left, Belmont starts at its 16
1:41 left, McHugh runs it 55 yards for the TD. 21-7 Raiders
1:53 left, Raiders have 3rd and 3 at the 45
3:46 left, Watertown converts 4th and inches at their 39
5:56 left, Watertown stops Belmont on 4th and 3. Takes over at the 29
8:36 left, Belmont runs 21 yards to the Watertown 35
Belmont returns it to the 35
10:20 left, Touchdown Watertown from the 1. 14-7 Watertown . Believe it was carried in by McHugh
Raiders go for it 4th and 3, get first at the 2
Third Quarter
7-7 at end of the 3rd
2:17 left, Watertown runs for first at Belmont 17
4:20 left, Watertown first down at Belmont 42
Watertown stops Belmont at Marauders' 38. Short punt gives Watertown ball at own 44
8:29 left, sack moves ball to 42, Belmont takes over at own 33 after punt
10:37 left, Watertown gets ball at own 48
Belmont starts at their 28
Second Quarter
Belmont runs it in. 7-7 at halftime
0:00 Belmont quarterback stopped at 5 but personal foul on Watertown gives at 1
45 secs left, Belmont timeout after run makes it first and goal at the 6
1:14 left, Watertown timeout after Belmont pass movs ball to the WHS 18
1:27 left, Watertown penalty gives Belmont a first down at the Raiders' 26
2:27 left, Belmont 1st down at Watertown 43
3:36 left, Belmont converts on 4th and 3, ball at own 45
4:15 left, Belmont gets first down at 35, then called for a penalty which backed up to the 31
Belmont starts at own 22
6:31 left, Cacace runs around the end and drags a tackler in to the end zone. Watertown leads 7-0
8:56 left, first down at Belmont 17
10:21 left, Cacace carries for 1st at Belmont 46, then throws to 29
Watertown ball at own 42
First Quarter
End of First 0-0
1:07 left, Watertown starts at own 31
2:18 left penalty negates long pass by Belmont. Stopped on 3rd
2:52 left. Belmont moves ball over midfield
5:34 left. Belmont gets ball at own 31 after Watertown stopped on 4th down
6:49 left after another first down Cacace is sacked fumble recovered by Watertown. Then nearly intercepted for 3rd and 15 at the 31
9 mins left Raiders go for it 4th and 1 and covert
Raiders return kickoff to midfield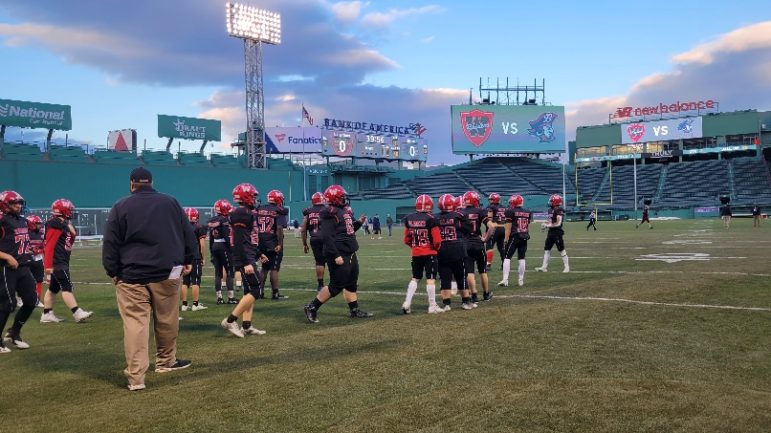 The Raiders and Marauders will renew their rivalry at Fenway Park on the afternoon of Wednesday, Nov. 23 at Fenway Park. The game should begin at about 4 p.m., depending on the length of the prior game.
Preview
The teams first met in 1921, and Watertown leads the series 49-45-5. The Raiders won in 2021, shutting out Belmont 25-0 at Victory Field. The 2021 game would have been the 100th, but the 2020 edition was cancelled due to the COVID-19 Pandemic. The game was also cancelled in 1940 due to a snowstorm, according to Wikipedia.
The Marauders won two straight prior last year's Watertown victory. The Raiders had a string of six straight against their rivals from 2012-18, while Belmont ran off seven straight before that.
For Watertown (6-4), 2022 has been a season of streaks, and the Raiders hope to continue the winning trend after beating Brighton, 37-22. The victory snapped a four-game losing streak. The Raiders rode a five game winning streak at the start of the season to earn a State Tournament berth, but fell to Dover-Sherborn 28-14 in the first round.
The streak nearly stretched to six games, but Stoneham scored a touchdown on the last play of the game to defeat Watertown 28-24. Two of the Raiders' losses came against teams headed to play in MIAA Super Bowls — Wakefield in Div. 3 and Stoneham in Div. 6.
The Raiders' offense averages 24.9 points per game and is guided by senior quarterback Johnny Cacace, who is a threat to run and pass. Running backs Billy McHugh and Peyton Andrade have each found the end zone several times. Watertown's top receiver has been Raphael Maghalaes, who also does the kicking for the Raiders.
Belmont (4-5) missed the playoffs and the Marauders come in on a two game slide, having lost to Woburn and the non-playoff, non-league game against Waltham. In its wins, Belmont averaged 37 points, but produced just 7.6 points on average in the losses.
Marauders quarterback Jaylan Arno is a threat on foot and in the air. He has a host of tall receivers to pick from: seniors Ben Williams and Chris Cogliano and junior Brian Logan. The Marauders' top running back is Adrien Gurung.
The Watertown-Belmont game is one of five high school rivalries being played at Fenway this year. The Raiders/Marauders game is sandwiched between the Austin Prep and St. Mary's game at 1:30 and the Bridgewater-Raynham and Brockton game at 6:30 p.m. On Tuesday, Boston Latin Academy faces O'Bryant and Malden plays Medford.
Tickets cost $20 and can be purchased by clicking here.
Watertown Cable will be showing the game live on its Education Channel (Comcast 8, RCN 15, or click here to watch online). Coverage begins at 3:45 p.m. and the commentary will be from the Belmont Media Center because the game was originally a Marauder home game.