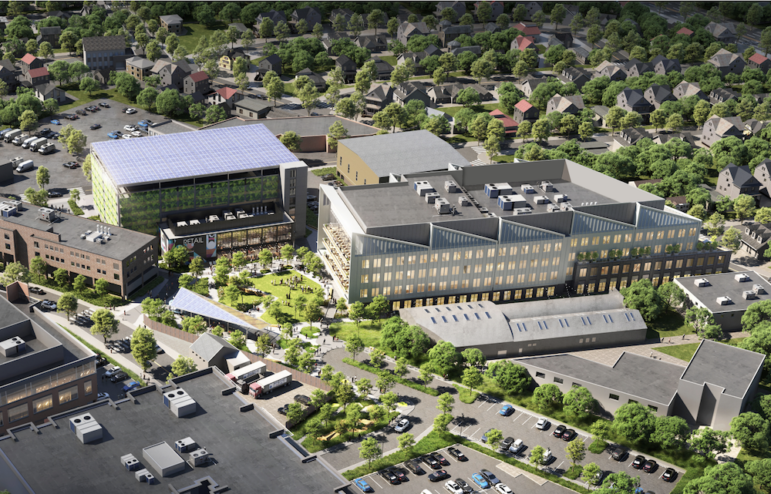 A project has been envisioned for a major parcel on Pleasant Street that would add a life science building, retail and a parking garage.
Broder and CBT seek a Site Plan Review application for a project on the former Cannistraro property (and the former home of the Plumbing Museum) at the corner of Pleasant Street and Rosedale Ave. The project includes multiple parcels: 275 & 313 Pleasant St., 80 Rosedale Road and 60 Acton St.
Project documents were submitted to the Watertown Planning Department and posted on the City website on Nov. 3, 2022. It is in the pre-application phase, where it is being reviewed by the Watertown Planning staff, but no formal application has been made.
In a letter to the Watertown Planning Department, developers said they want the project to "positively transform an impervious and privatized existing site into a more welcoming environment that actively invites residents and workers onto the campus to enjoy the many community benefits planned."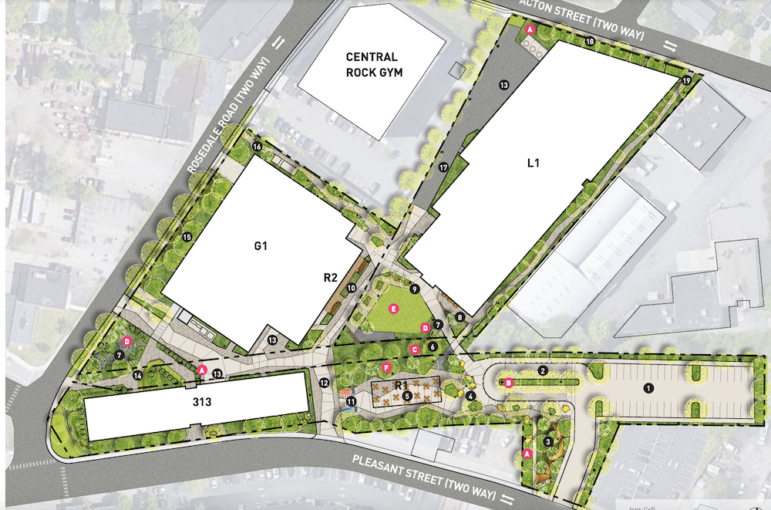 The designs include a new four-story life science/office building, and a new garage. The project would create a 'Central Green' which would serve as a park space for residents and workers.
The life science building would have 83,355 sq. ft. of office space, 83,355 sq. ft. of research and development space, and 100 below-grade parking spaces, according to the traffic impact study. The drawings show the building would be 81 feet high, including the 15 feet for mechanical equipment on the roof.
The seven-level garage would have about 475 parking spaces plus 11,920 sq. ft. of retail/maker space. It would be 66 feet tall, without the solar panel array on the top floor. There would also be approximately 65 surface spaces. The parking would accommodate current on-site buildings, the new lab parking, and overflow parking from the Central Rock Gym (which is next to the proposed project but not part of it). The existing building at 313 Pleasant St. is part of the project and will remain.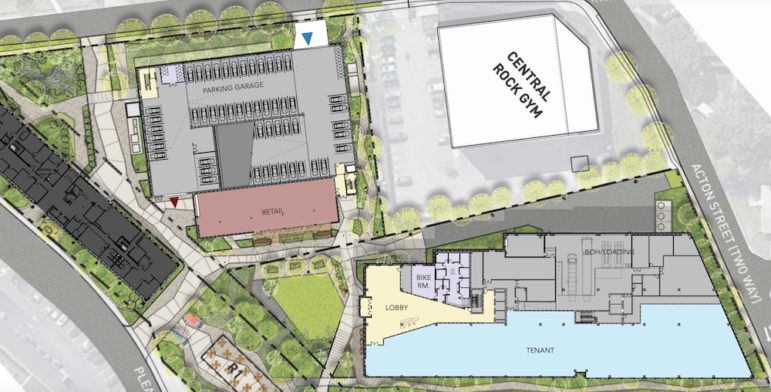 The plans would also reduce the flooding impact of the site by cutting the amount of asphalt and other impervious parts of the site, and adding street trees. Developers also want to make the site more inviting.
"(T)he project will contribute high-quality public retail and open green spaces that bring people and families together, as well as landscaped connections to the surrounding neighborhoods, Charles River Greenway, and improved bicycle and pedestrian circulation," the letter reads.
A central open space will be created, with a "cyclist-friendly amenity" for tenants and the broader community, according to the project narrative. The open space would include a lawn space, a covered pavilion, and a variety of seating areas, according to the narrative.
Click here to see the documents submitted to the Planning Department (scroll down to Click Here for Applications, Reports, Plans, and other project documents).