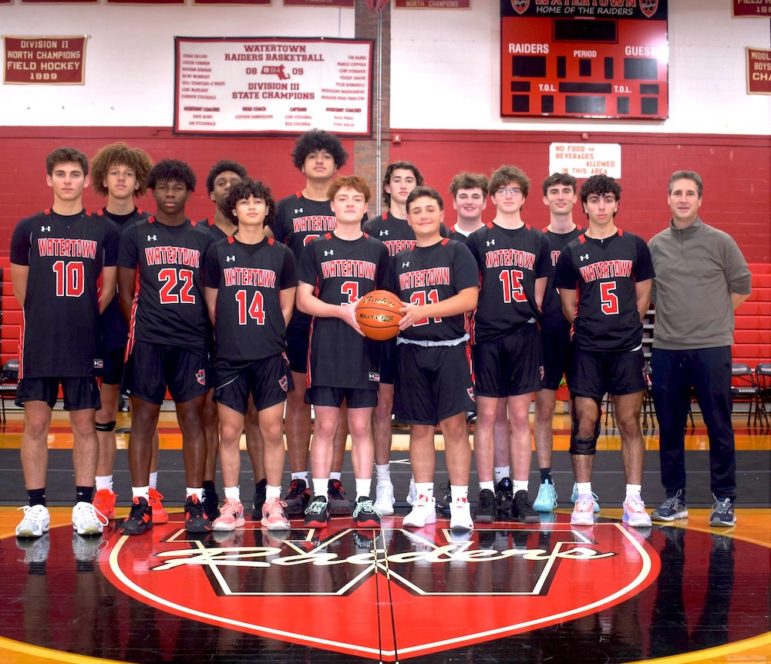 During introductions at the Raiders Hoop Night on Saturday, the Watertown High School boys basketball team had a new cast of headliners, but they hope to build on the success of last year's State Finalist team.
All five starters from a year ago graduated, but Watertown Head Basketball Coach Steve Harrington believes the 2022-23 Raiders will have success. The Raiders tip off their season Tuesday night when they host Arlington at 7 p.m.
"We lost ton of experience, leadership, playing time — the whole ball of wax," Harrington said. "Luckily, we are filling it with a great group of guys who waited their turn."
The core of the team will be Riley Donlan, Davit Karapetyan, Ben Kullman, Johnny Cacace, Robbie Iannetta, and Isaiah Ettiene. Harrington called them "a bunch of good leaders."
"I'm excited. Glad we have all these guys on the team in particular and I think we are going to surprise a lot of teams. These kids we have are pretty good. They've been playing together, this senior class, for quite a while," Harrington said. "I know Jeremy Kullman, who runs Youth Basketball for us in town, he's done a heck of a job with them and this is kind of his group that he molded together. It's kind of a unique group. They are a great group of kids."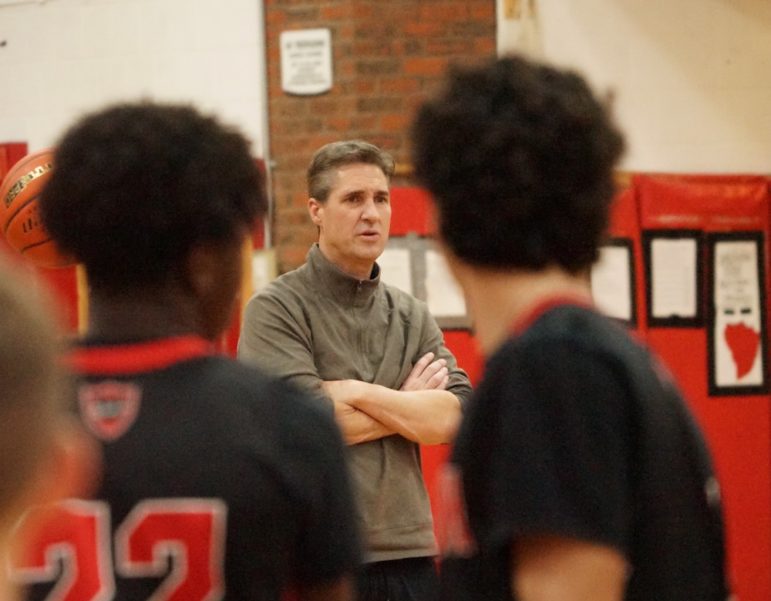 Donlan looks forward to getting on the court with his teammates.
"I love the team, I call us dogs, I think we have a lot of dogs — we all go out there and we all get into it, and we just have a lot of grit," Donlan said.
He has played with the other seniors since they were in fifth grade.
"We are all really close, we just have a really good chemistry," Donlan said. "It is easy to talk to each other and direct each other and let each other know how we can do better."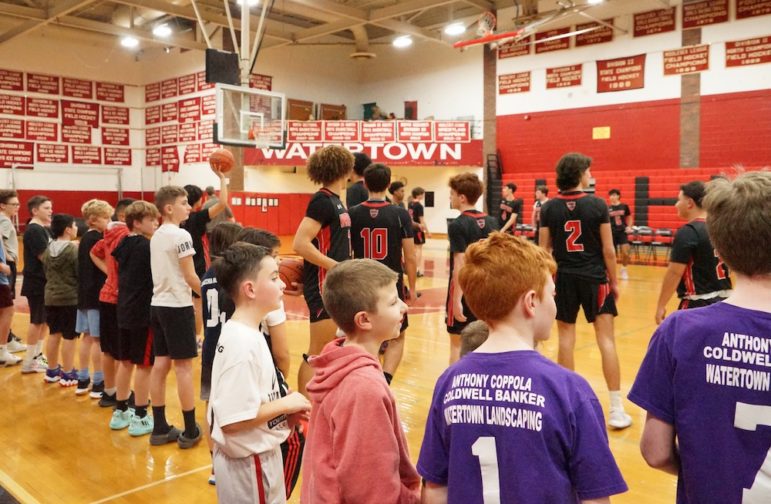 Even though they didn't see a lot of game time last season, Donlan said they got a lot of experience.
"Last year, we had a great team and practice was so competitive it shaped us into this year and into what type of players we are this year," he said.
The different lineup doesn't mean they have a different goal.
"Our only goal is to win a state ring," Donlan said. "If not, we have failed this season. That's it."
Home Schedule
The Raiders start the season with two straight home games, Tuesday against Arlington and Friday against Melrose. The Raiders have a non-league game against Chelsea on Dec. 30, and Belmont comes to town on Jan. 3.
After three straight road games, Watertown hosts Reading on Jan. 17 and Stoneham on Jan. 20. Wakefield plays in Watertown on Jan. 27, before the final two home Middlesex League games: Feb. 3 vs. Burlington and Feb. 7 vs. Wilmington.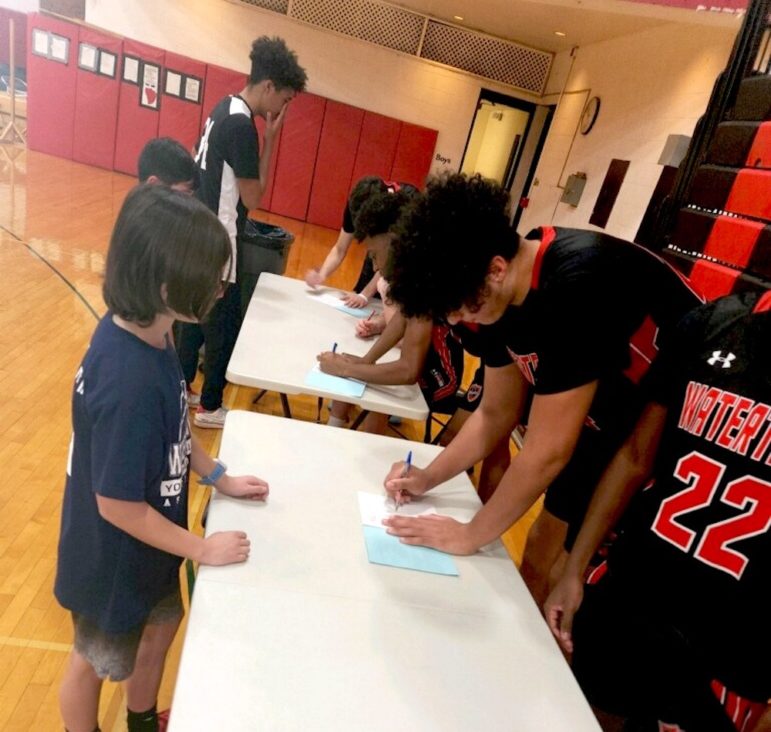 The Raiders end the regular season with three non-league games, including a pair at home: Feb. 17 against Oakmont and Feb. 19 against Burke.
Home games are broadcast live on Watertown Cable's Education Channel. See more at wcatv.org.
2022-23 Watertown High School Boys Basketball Schedule
| | | |
| --- | --- | --- |
| Date/Time | | Opponent |
| Tue Dec 13 7:00 PM | vs | Arlington High School |
| Fri Dec 16 5:30 PM | vs | Melrose High School |
| Tue Dec 20 6:00 PM | @ | Lexington High School |
| Fri Dec 30 7:00 PM | vs | Chelsea High School |
| Mon Jan 3 7:00 PM | vs | Belmont High School |
| Thu Jan 6 5:30 PM | @ | Burlington High School |
| Mon Jan 10 7:00 PM | @ | Woburn Memorial High School |
| Thu Jan 13 5:30 PM | @ | Wilmington High School |
| Mon Jan 17 7:00 PM | vs | Reading Memorial High School |
| Thu Jan 20 5:30 PM | vs | Stoneham High School |
| Mon Jan 24 6:00 PM | @ | Winchester High School |
| Thu Jan 27 5:30 PM | vs | Wakefield Memorial High School |
| Mon Jan 31 7:00 PM | @ | Melrose High School |
| Thu Feb 3 7:00 PM | vs | Burlington High School |
| Mon Feb 7 7:00 PM | vs | Wilmington High School |
| Thu Feb 10 7:30 PM | @ | Stoneham High School |
| Mon Feb 14 7:00 PM | @ | Wakefield Memorial High School |
| Thu Feb 17 7:00 PM | vs | Oakmont Regional |
| Sat Feb 19 2:00 PM | vs | Burke High School |
| Mon Feb 21 11:30 AM | @ | Chelsea High School |