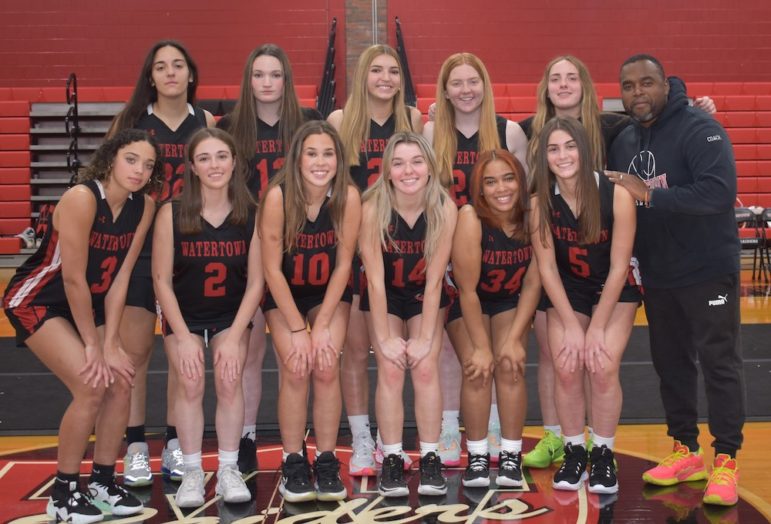 Watertown High School's girls basketball team will have to replace a couple big contributors from last season, but Head Coach Pat Ferdinand said he wants to build on the foundation the team built last year.
Gone are 1,000+ point scorer Taylor Lambo and long-time starter Ellie Monahan, who were part of last year's team that won a State Tournament game before falling to the eventual State Champion, St. Mary's.
The 2022-23 season got off to a good start on Tuesday night. The Raiders defeated Arlington 43-32. Junior Lily Lambo led the way with 14 points and 2 steals. Watertown tips-off its home schedule Friday night against Melrose.
Ferdinand spent the summer trying to devise a system to fit the players on this year's squad, and said it will have to change to fill some of the holes left by graduation. However, the basic philosophy stays the same.
"Last year the biggest thing we said was: what do you do for someone else on the court? We grew a lot in the season," Ferdinand said.
Some keys are to be patient, pass the ball and find the right shot. Ferdinand noted that as the team's pass per possession increased, so did the Raiders' point total.
"We are trying to really push the agenda. We've got to share the ball, we've got to defend together, you have to be really locked in and paying attention to detail to make sure that it's not just about 'I'm trying to shine out there.'"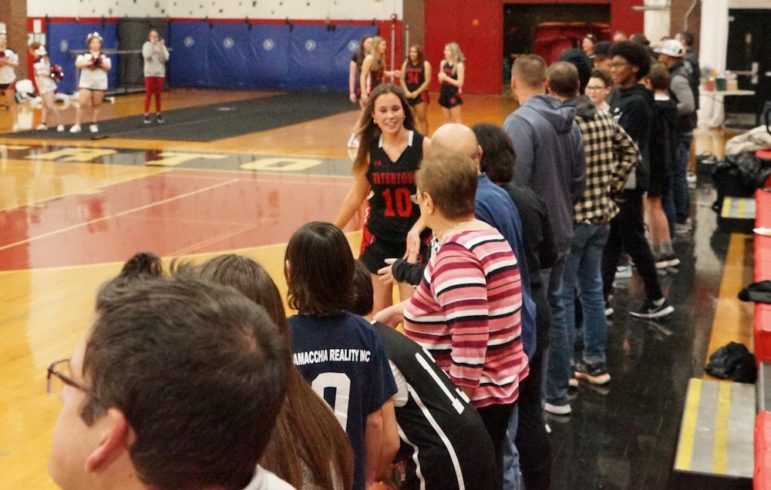 Watertown returns some leaders from last season, including senior captain Maeve Lawn who said she is honored to be captain again. She looks forward to the team finding its personality.
"We are going to stick to passing a lot, which was always kind of the core, but it's going to be a whole new system without Taylor and Ellie," Lawn said. "It's going to be a lot different. It's going to be fun to learn."
Entering the season she was the loan captain, but Ferdinand said the team will choose another captain, or captains as the season goes on.
"We want that person to hold our philosophies and what we hold as a culture to really be at the forefront, so we don't take that lightly," said Ferdinand who said that the Raiders captains should have certain characteristics such as being selfless, humble, a hard worker, bring people together, and be a tough person.
The Raiders got to know something about each other, and themselves with an off-the-court activity last Saturday.
"We did a military bootcamp with the Marines. We are assessing that," Ferdinand said. "We can see how kids behave and act in moments like that as well. So kids have an assessment of themselves and have an assessment of teammates as well."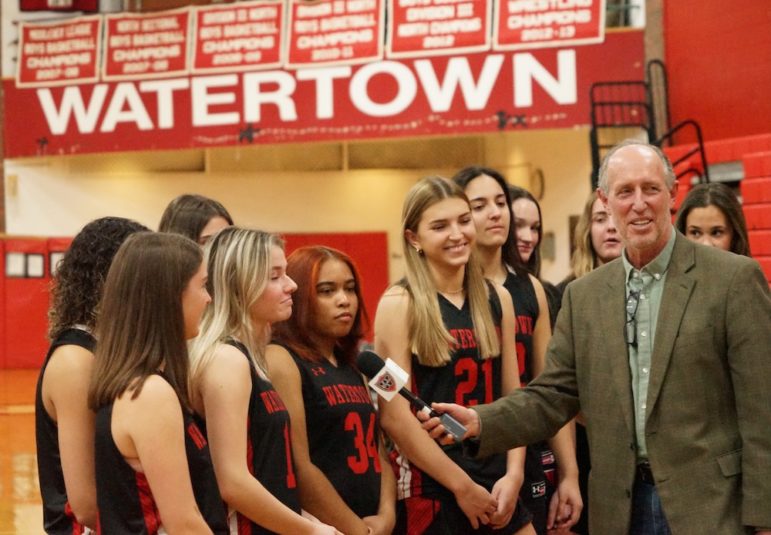 The activity included a fitness exam, Lawn said, including carrying around 30-pound weights.
"It was really hard, but it was good," she said. "It was really fun!"
Also on Saturday, the girls varsity team joined the boys team for Raiders Hoop Night. Ferdinand organized the event as a way to celebrate the teams and bring Watertown's basketball community together.
"It's the last year of the gym (before the construction of the new high school begins), so that was in my head," he said. "How can we get word out? How can we get us ready for the season? Come to the gym, hang out. And we wanted to do something on the court community-wise."
During the event, the Raiders players were introduced, the cheerleaders performed, and both teams interacted with youth basketball players. Then there were 3-on-3 games between the Watertown Police and Watertown Firefighters, and with WHS staff.
While this year's team has been building relationships with the next generation, they have also received help preparing for the season from those that came before them.
"Former players are coming to practice to help us out," Ferdinand said. "We have a whole lot of mentors coming in to help the kids. Some of the college players who are mentoring them , we are scrimmaging with them. It's a really fun environment. They are growing a lot from it, and there is a maturity piece."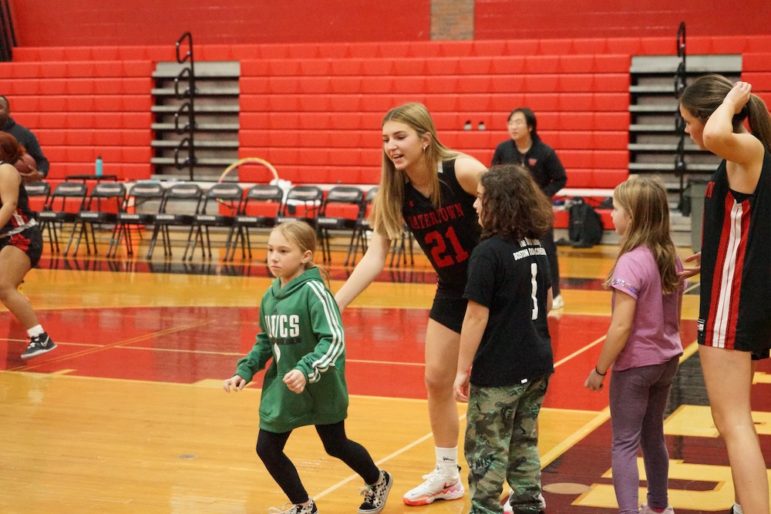 They even got help from a former opponent, Ferdinand said. Kayla Raymond played for Oliver Ames against the Raiders when the teams met at the TD Garden for the Eastern Mass. Final in 2016. She went onto play Stonehill College
"She has a friend on the staff now, and she comes in and helps us," Ferdinand said.
As for team goals, that is yet to be determined, Lawn said.
"We'd love to go all the way, but we really want to focus on just getting better and improving ourselves," Lawn said.
Ferdinand added that nothing is a given, and he can't promise the team anything. He told his players that they have to work as hard in practice, build through the season, and see how far they can go.
"We talk about, bottomline, you want a team of kids who are going to work really hard," he said. "You want a group of kids you can win with and you can lose with, that stay level and stay focused, and understand there's a bigger picture and you are trying to build memories."
2022-23 Watertown Girls Basketball Schedule
| | | |
| --- | --- | --- |
| Tue Dec 13 7:00 PM | @ | Arlington High School, W 43-32 |
| Fri Dec 16 7:00 PM | vs | Melrose High School |
| Tue Dec 20 7:00 PM | vs | Lexington High School |
| Mon Jan 3 7:00 PM | @ | Belmont High School |
| Thu Jan 6 7:00 PM | @ | Burlington High School |
| Mon Jan 10 7:00 PM | vs | Woburn Memorial High School |
| Thu Jan 13 7:00 PM | @ | Wilmington High School |
| Sat Jan 15 1:00 PM | vs | Arlington Catholic High School |
| Mon Jan 17 6:00 PM | @ | Reading Memorial High School |
| Thu Jan 20 7:00 PM | vs | Stoneham High School |
| Mon Jan 24 7:00 PM | vs | Winchester High School |
| Thu Jan 27 7:00 PM | vs | Wakefield Memorial High School |
| Mon Jan 31 5:00 PM | @ | Melrose High School |
| Thu Feb 3 5:30 PM | vs | Burlington High School |
| Mon Feb 7 5:30 PM | vs | Wilmington High School |
| Thu Feb 10 6:00 PM | @ | Stoneham High School |
| Mon Feb 14 5:30 PM | @ | Wakefield Memorial High School |
| Mon Feb 21 6:30 PM | @ | Arlington Catholic High School |
| Tue Feb 22 7:00 PM | vs | Arlington High School |