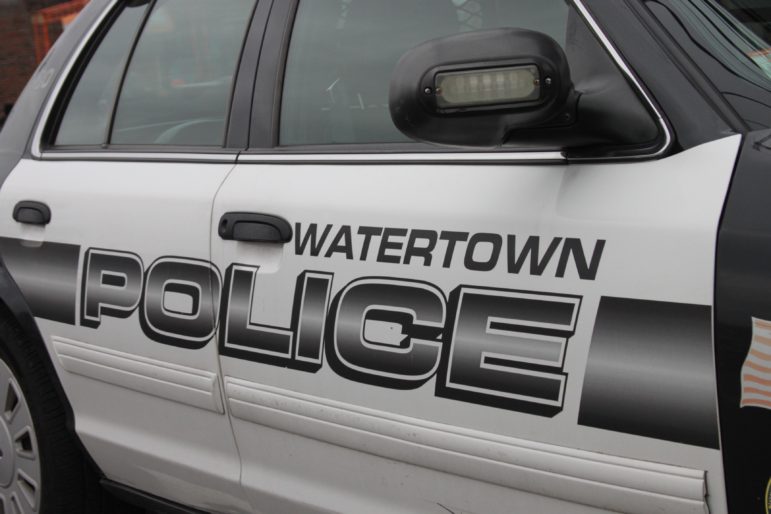 The following information was provided by the Watertown Police Department.
Arrests
Dec. 5, 2:19 p.m.: A car pulled out of a parking lot on Mt. Auburn Street near Cottage Street and struck a vehicle heading eastbound. Police arrived and spoke to the drivers. The driver of the vehicle that struck the other one had an odor of alcohol and other signs of impairment. The man admitted to drinking alcohol before driving. John Driscoll, 55, of Medford, was arrested on a charge of driving under the influence of alcohol and was cited for failing to yield to oncoming traffic.
Dec. 6, 11:40 a.m.: Management of the apartments at Arsenal Yards called police to assist them with an eviction. The woman was asked many times to leave the apartment, but she refused to do so. She was told that she would be placed under arrest if she did not leave, and she continued to refuse and said, "Then arrest me." Lejuan Wang, 52, of Watertown, was arrested for trespassing.
Dec. 7, 12:35 p.m.: Employees working on the project at 100 Forge Road reported that someone had taken copper wire from the construction site. They identified a subcontractor on the project who was seen loading four or five spools of copper wire into his vehicle. An employee tried to speak with the subcontractor, but he refused and drove away. Officers responded and looked around but could not locate the man. Then they got a call that the subcontractor was back. They stopped him and found that he took wire worth between $1,600 and $4,000. Police also found the man did not have a driver's license. Maurizan Viera de Araujo, 48, of Everett, was arrested for larceny over $1,200, and unlicensed operation of a motor vehicle.
Dec. 10, 3:15 p.m.: Two people were placed under arrest after Police were called to Hillcrest Circle for a disturbance. People were outside of their vehicle causing a disturbance. Police arrived and discovered that the driver of the vehicle had a suspended license and warrants for his arrest. Some of the other people in the car were intoxicated, and officers found a case of Corona beer with some bottles still inside, an open bottle of vodka, an unopened case of Modelo beer, and a bottle of schnapps. One of the passengers had three warrants for his arrest. The driver, Mynor Deleon Lopez, 28, of Waltham was arrested for driving with a suspended license and warrants from East Brookfield and Concord district courts, both were for operating with a suspended license. The passenger, Esvin Barrando, 23, of Boston, was arrested on two warrants: the first from Ayer District Court for reckless operation of a motor vehicle, unlicensed operation of a motor vehicle, a marked lanes violation, and a person under 21 in possession of alcohol; and the second from Waltham District Court for driving under the influence of alcohol and a person under 21 in possession of liquor. 
Incidents
Dec. 5, 9:05 a.m.: A large window at the building at 100 Forge Road was broken. The foreman of the site believed that someone threw a rock at the 8 x 20 foot pane of glass, which cost $12,000. It is on the Arsenal Park side of the building in Arsenal Yards.
Dec. 5, 4:23 p.m.: A woman was spotted taking items at Best Buy and was stopped. She put numerous items into a bag, including Beats headphones, six outlet surge protectors, and two Logitech webcams. In total, the items were worth a total of $559.94. The 26-year-old woman from Cambridge was summoned to Waltham District Court for shoplifting by concealing merchandise.
Dec. 6, 3:58 p.m.: Three women were seen walking around the Nike store in Arsenal Yards placing items into a black mesh shopping bag, and then left the store without paying. The incident occurred on Dec. 1 between 1 p.m. and 1:30 p.m. All three suspects were wearing surgical face masks, and they took a total of $569.95 in merchandise. The first suspect is described as a heavyset Black woman wearing a grey hooded sweatshirt, a light colored coat, grey pants, and a black fleece. The second was described as a heavyset Black woman wearing a black zip-up sweatshirt, black leggings, and a white T-shirt. The third was described as a heavyset Black woman wearing a white shirt, black fleece, grey ripped jeans, and had a young child with her. Police are trying to identify the suspects.
Dec. 6, 6:01 p.m: A package went missing from a home on Franklin Street. The resident received a notification that a package had been delivered at 2:20 p.m. and it was there when the the resident got home at 5:20 p.m. When the resident went back out at 5:50 p.m. it was gone. The package contained a winter coat bought for $70.
Dec. 7, 6:24 a.m.: A Spruce Street resident spotted a man attempting to open her rear door. At about 6:10 a.m. she heard her back screen door open. When she went to investigate she saw a man walking away, and headed down her driveway toward Lincoln Street. There were no signs the man got into the home. Police were called and looked around the area but could not locate the man. A doorbell camera from a nearby home showed a white male, about 6-feet tall, ages 50 to 60, wearing a hooded jacket, a surgical mask, and light-colored flip flops. The homeowner did not recognize the man.
Dec. 7, 1:17 p.m.: Security at Best Buy said an elderly woman came into the store, went to the laptop section, removed a computer from its box, and placed it into her bag. She left the store and got into a blue Subaru hatchback. The HP laptop is valued at $699.99. The incident occurred on Dec. 6 at about 6:30 p.m.
Dec. 8, 4:56 p.m.: A man came into Roche Bros. and put items into a shopping cart, and left with $162.93 in food items. The suspect is described as a white male, 6-feet tall, 180 pounds, with a black beard. He was wearing a black baseball hat; a red, white and black checkered flannel coat; black pants; and black sneakers.
Dec. 8 5:26 p.m.: The bottom portion of the glass door at W House of Pizza was broken. The window was broken between Dec. 6 and Dec. 8. It is not clear how it happened, or who broke it. It will cost $1,400 to replace.
Dec. 9, 2 a.m.: A burglar alarm went off at American Check Cashing Corp. on Mt. Auburn Street. Police responded and found that the deadbolt lock had been pried open. They searched the building with a police K-9, but didn't find anyone. Surveillance cameras showed at 1:56 a.m. a man broke the lock of the front door and then was seen running from the scene. The business has been closed since April, and it did not appear that anything was missing. The suspect is described as a male, wearing a dark-colored hoodie, light colored pants, black shoes, and gloves. Police are investigating.
Dec. 9, 12:26 p.m.: A shoplifter was detained at Target after security saw a person put several items into a carriage and go through the self checkout. The woman took a barcode from something that cost $1, and scanned it for every item in the cart. The merchandise cost a total of $215.64. The 32-year-old Watertown woman was summoned to Waltham District Court for shoplifting by recording false value.
Dec. 9, 6:19 p.m.: A woman reported that someone took her purse from her car. She parked in the Home Depot parking lot at about 5 p.m. and went into the store. When she returned to her car, the purse was gone. The vehicle had been left unlocked. The purse contained some credit cards and $60 in cash.
Dec. 9, 9:26 p.m.: A bike was taken from a rack outside the AT&T store at Arsenal Yards. It was locked there around 7 p.m. and when the owner came back at 9:15 p.m. it was gone. The silver Trek mountain bike is worth $600, and the lock is worth $50.