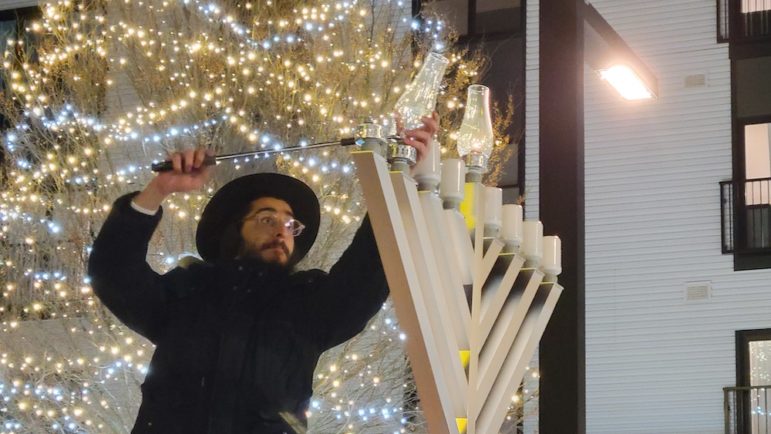 The Festival of Lights was on full display in Watertown Monday night, with a Hanukkah Menorah lighting, a gelt drop, and even a fire dancer.
The first annual Watertown Menorah Lighting took place in a courtyard at Arsenal Yards, and the event was organized and presented by Chabad Watertown, a recent addition to town.
Rabbi Dovid Zaltzman, from Chabad Watertown, said Hanukkah celebrates a miracle that occurred back in Biblical times. The Jewish people had just defeated the Greeks in a war, but during the war the Jewish Temple was damaged. They looked to light the candelabra in the temple, called the menorah, but had trouble finding oil to light it.
"They found that little last jug of oil and it lasted for eight days, and God showed us he was with us, and we want to publicize that miracle with the world by lighting a menorah and coming together with everyone and celebrate that," Zaltzman said.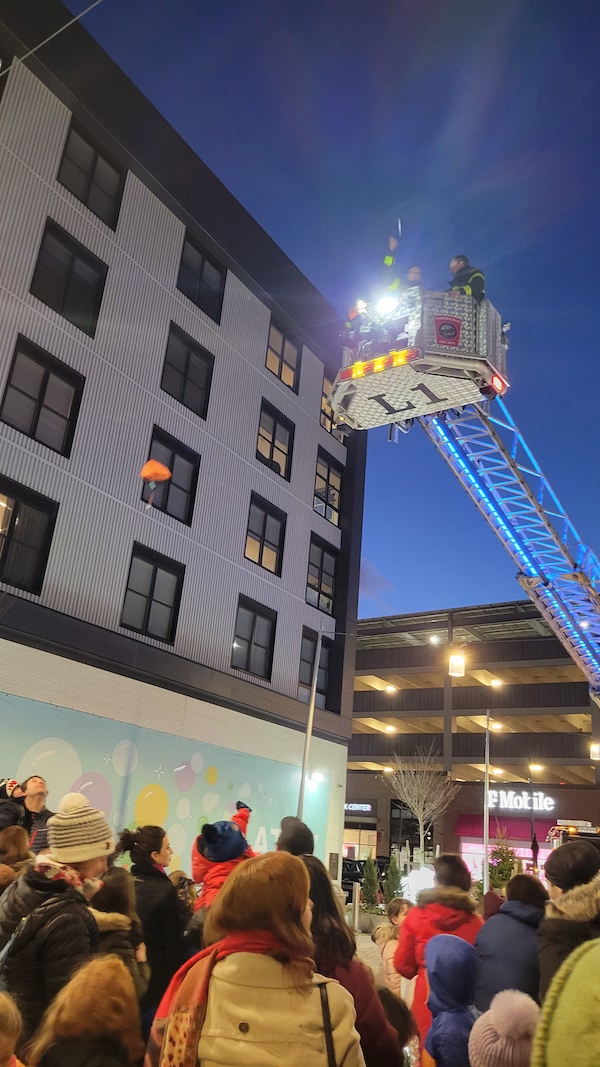 City Manager George Proakis, Provisional Fire Chief Ryan Nicholson and Provisional Police Chief Thomas Rocca attended the event, which drew dozens of families. Proakis was called upon to light the first candle on the 12-foot tall menorah.
Proakis said that Hanukkah reminds people that miracles can occur in the darkest moments, and it calls on them to help bring light and hope. 
"I appreciate that Hanukkah is also the opportunity to celebrate and acknowledge our resilience in dark times, and certainly we've had some ups and downs as a community and as a society in general over the last few years," Proakis said. "And being able to gather and celebrate light, hope and peace in the holiday season is something I really appreciate, and really appreciate having the opportunity to have more events like this and to have the opportunity to have our community come together." 
Watertown does not have a synagogue, and besides the Jewish Community Day School there was no presence in town. Chabad of Eastern Massachusetts expanded into the City recently, said Rabbi Chaim Prus, regional director of Chabad of Eastern Massachusetts.
"We just started a new office. We have them all over the place, but Watertown is an up and coming community, growing, so we thought it was time to give an opportunity to provide services to the Jewish community," Prus said. 
Zaltzman moved with his wife Shternie and his two children to Watertown to establish Chabad Watertown.
"We moved here a year and half ago to see what we can do for the Jewish community," Zaltzman said.
The office is located on Mt. Auburn Street, and Chabad Watertown holds services on holidays, as well as on shabbat (the sabbath), if requested.  
"We do mainly events: shabbat dinners, one-on-one connections with families, we have playdates, things for tots Saturday morning, Torah classes — one-on-one sessions,  group sessions," Zaltzman said. "Also, we do a lot of other humanitarian work through the community: making packages for the elderly, humanitarian aid for Ukraine and places like that."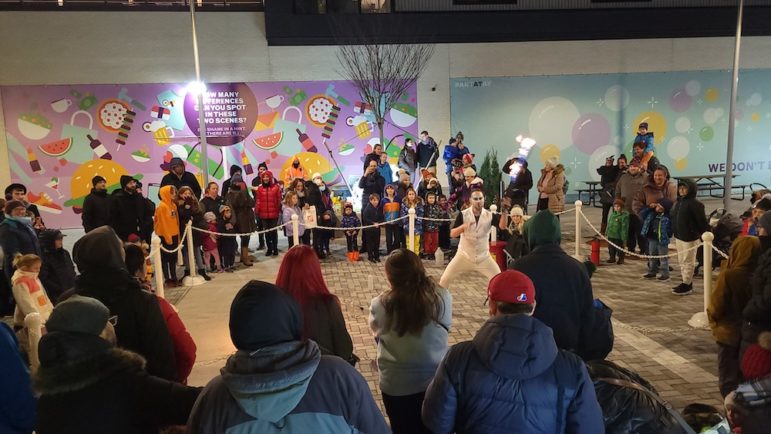 When he planned the Menorah lighting Zaltzman approached Arsenal Yards, and worked with Marketing Director Jessica Peterson to organize Monday's event. The festivities took place in Bond Square, an area between apartment buildings and the restaurants and retail in the center of the complex.
"We're excited. It's the first one," Peterson said.
Home Depot provided menorahs made from wood with bolts for the candle holders, there were dreidels, cookies and other activities. The Watertown Fire Department dropped gelt — chocolate coins wrapped in metal foil — from the bucket at the end of a ladder truck. After the big menorah was lit, a fire dancer performed, twirling sticks with flames on the end, eating fire, and blowing balls of fire.
Find out more about Chabad Watertown at ChabadWatertown.org.