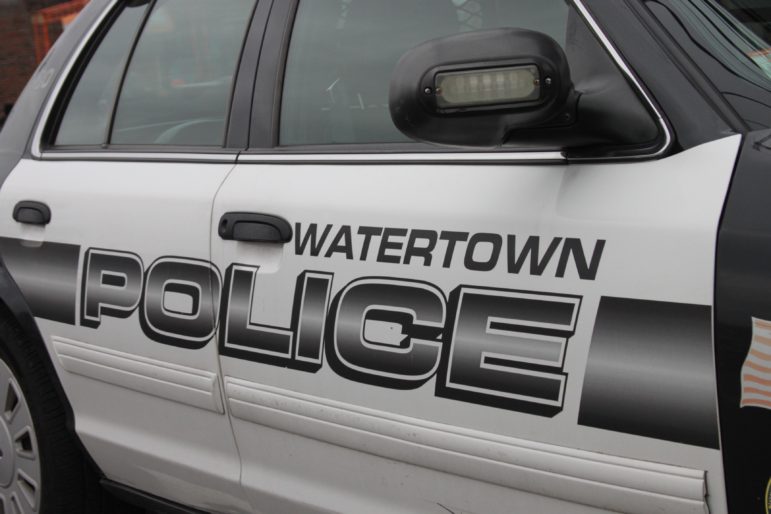 The following information was provided by the Watertown Police Department.
Arrest
Dec. 14, 6:25 p.m.: A vehicle rear ended another one on Arsenal Street. Police arrived and noticed that one of the drivers was unsteady on her feet, and had an odor of alcohol on her breath. She was asked if she had been drinking alcohol and she said yes. She did not pass field sobriety tests. Margaret Casterline, 60, of Boston was arrested for driving under the influence of alcohol and following too closely.
Incident
Dec. 12, 9 a.m.: A Hillside Road resident discovered someone had been walking through the backyard sometime overnight. There were footprints left in the snow.
Dec. 12, 4:40 p.m.: Two people were spotted walking around Target placing items into a cart and left without paying. Security attempted to stop them but they yelled at the person and walked past them out of the front entrance. They took two LOL dolls, a Willow doll, a Party Machine microphone, a Nerf gun, and an Our Generation Pinto Horse. They cost a total of $382. The suspects were described as a Black male wearing camouflage pants, a grey shirt, black jacket, and black shoes. The second suspect is a Black woman wearing black pants, a black shirt, black jacket, and a surgical mask.
Dec. 13, 12 a.m.: A person was seen walking around the backyard of a home on Hillside Road. The man was walking around and acting suspiciously, but there were no signs of breaking and entering at that home.
Dec. 13, 5:45 a.m.: All four tires and wheels were taken from a vehicle on Williams Street. The owner parked in her spot, went out the next morning and saw the tires were gone and the car was up on cinder blocks. Police are investigating.
Dec. 13, 11:07 a.m.: A Russell Avenue resident reported a case of fraud. The woman met someone on Instagram in September named Chad Ryg. The man sent a picture of an U.S. Army ID, and his passport, so she believed he was real. In October, he asked if he could send her a package, but didn't say what was being sent. He told her she needed to provide a picture of her ID so he could send the package. Then he said the package was being held in customs due to a missing label and she needed to send $750 to get it sorted out. She sent the money by CashApp. Then she got a message from someone from someone calling themselves Gregory who said he was a Boston Police officer. She was worried about being arrested so she sent $3,500 to him. She got suspicious and contacted Watertown Police, who are investigating.
Dec. 13, 1 a.m.: A motorcycle parked on Galen Street was stolen. The owner did not lock it with a chain, but locked the handlebars and engaged the clutch lock, so it could not be rolled away. When the resident came out the next morning it was gone. Security footage shows a newer minivan — possibly a Toyota — drive down Galen, pull up near the motorcycle, back up and the driver got out, opened the backdoor and two other men got out. In less than a minute they got out, picked up the motorcycle, put it into the van and drove away. The suspects are described as three Black males, ages 20 to 30 years old. Two were wearing ski masks. Police are investigating.
Dec. 13, 4 p.m.: A Watertown resident got into the car, turned it on and realized something was wrong. The car was taken to Toyota of Watertown where mechanics found that the catalytic converter was stolen.
Dec. 13, 5:54 p.m.: A Honda Pilot was parked on Williams Street and the owner discovered the catalytic converter had been cut out. The piece was cut clean out from under the vehicle.
Dec. 14, 2 p.m.: A shoplifter was spotted in Target cutting security tags off of items with a knife and then he tried to leave without paying. He was stopped with a Sharper image theragun, a Shark vacuum, and an electric scooter. They were worth a combined $683. The 40-year-old Pawtucket, Rhode Island man was summoned to Waltham District Court for shoplifting and unlawful removal of a theft detection device.
Dec. 15, 4 p.m.: A driver turned from Russell Avenue onto Mt. Auburn Street when a red SUV sideswiped her car. She drove a bit and the SUV was behind her. She pulled over on Walnut Street and thought the other driver would follow and stop, but the person drove away.
Dec. 15, 2:30 p.m.: A Quimby Street resident parked in a spot, and there are no assigned spots for the area. She came back the next day and found the right side of her driver-side door had been dented, there was mud smeared on the vehicle, and someone spit on her windshield. Police are investigating.
Dec. 15, 5:50 p.m.: Best Buy security saw a man go over to a locked case, pry it open, and take six cameras and lenses worth a total of $6,000. The man walked out without paying. He is described as a Black male, wearing black pants, a blue shirt, and glasses. Police are investigating.
Dec. 16, 12:30 p.m.: An employee at China Rainbow came into work through the rear door, and found the front door and the register had been broken into. They had both been pried open. The North Beacon Street restaurant closed at 11 p.m. the previous night, and the inside had been ransacked and cash had been taken from the register. Police are investigating