The entire student body recently squeezed into the Watertown High School gymnasium to hear the story of a basketball superstar from Massachusetts whose career was derailed by his need to drug use problems.
Chris Herren starred at Durfee High School in Fall River before heading to Boston College and Fresno State. He was drafted by the Denver Nuggets, and then was traded to his hometown team: the Boston Celtics. But while it appeared his career was on the rise, his personal life was crashing.
Now Herren spends 220 days a year visiting schools, sports teams, and other groups to tell his story, and the pitfalls of drugs and alcohol. He said has spoken to almost 2 million high school students in more than a decade of doing this work.
He remembers going to anti-drug assemblies like the one at WHS when he was in high school. At the time he didn't think they applied to him.
"Just like some of you, I walk into this with an attitude: All I did was drink and smoke. Drug assemblies are a joke," Herren said. "I'll never be that guy."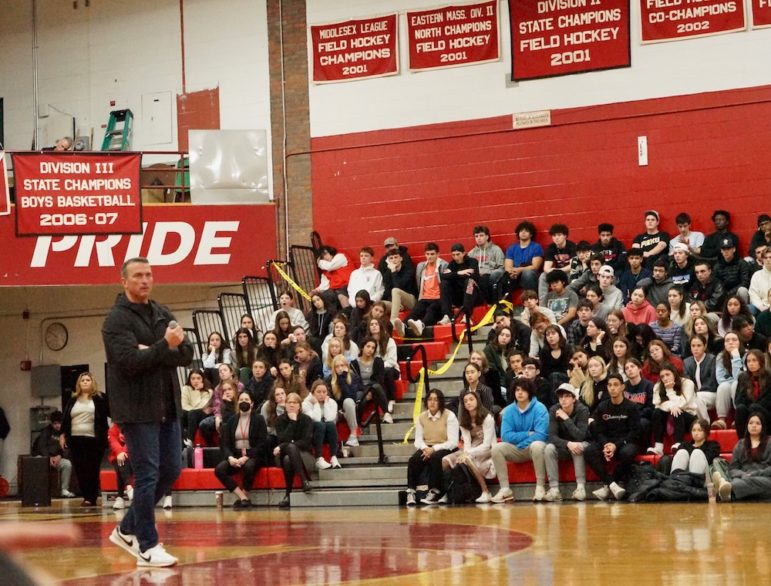 Drugs, however, took over his life, and ended his NBA aspirations. According to his website, Herren appeared to be living a dream, but in reality addiction was controlling life.
In high school he started drinking and smoked, but it was in Chestnut Hill where his substance use problem became public when he tested positive for cocaine. His basketball career got back on track at Fresno State, but in California he again had drug problems. Herren went to rehab and his career future looked bright when he was drafted to play in the NBA. The return to Boston also meant he was back on familiar turf where he had family, friends and also contacts who would get him drugs, in particular opioids.
In 2001, after two season in the league, he continued playing for teams overseas, first in Italy and then went on to play in Poland, Turkey, China, Germany and Iran. His addiction also continued, and he almost died.
On his website Herren's bio said: "In June of 2008, within hours of a heroin overdose, Chris was released from a hospital and sent back out on the street. Only partially through detoxification, with no healthcare coverage and little money to his name, he was overwhelmed by a sense of shame, with few options and no place to turn. Thankfully, friends stepped in to support Chris – emotionally and financially – and helped him get into an extended treatment program to recover from substance use disorder. This was his lifeline, his chance at recovery … and he took it."
He told the WHS students that he wishes he had listened during the drug awareness assembly at his school. At that point he was already on the path to being that guy, as were many of his high school teammates.
"Out of 14 kids on my basketball team that were laughing at the assembly, mocked it, seven of us became heroin addicts," Herren said.
They thought it wouldn't happen to them because they were talented athletes, and they just drank and smoked.
"I never heard one of my friends on Friday night with a red Solo cup in his hand … walking around in my best friend's basement, say, 'I can't wait to lose my family. I can't wait to break their hearts,'" Herren said. "See, that conversation never comes up in high school because nobody knows you're going to suffer, yet."
Looking back, he said he knew he had a problem, but he wasn't ready to admit it to himself or his parents.
"I scored 1000's of points in high school, but I didn't want to let my mom know who I really am," Herren said.
Herren said he now considers the people who weren't drinking at the parties were the courageous ones. He sees the discussion not really about drugs, but about how people see themselves.
"Everybody who thinks this conversation is about drugs and alcohol. I think it's about your insecurities. I think it's about self-esteem and confidence. I think it's about the way you have to pretend they are being your friend," he said. "I think it's about moms and dads, brothers and sisters. I'd do anything to go back in time and tell my friends, 'let's not do this.'"
Through his anti-drug work, Herren has been able to speak with many professional sports teams, and has met many super stars, including Tom Brady, Russell Wilson, Steph Curry, Lebron James, Kevin Durant, David Ortiz, Derrick Jeter, and Arron Judge. He noticed some common traits among these top athletes.
"Every superstar I spoke to had one thing in common, all of them sat in the front row and every single one of them raised their hand and asked a question," Herren said. "They don't want hype, they want their friends to know what's out there. They are not embarrassed. They don't care what people think about them."
He also sees a common thing in all the schools he goes to around the country. Some kids understand and others don't.
"There's kids in that gym right now who don't get it …," Herren said. "There's kids in this gym that don't have a daddy, that their mom is struggling. And that's why I find it so sad when I do these presentations and there are kids joking and I see kids sitting in total silence thinking of how their life is going." 
Sometimes he makes connections with students. Herren told the Watertown students about one girl who he has stayed in touch with. She raised her hand during Herren's presentation at her school, but she put it down when people laughed and made fun of her. He tried to find her afterward but lost her in the crowd.
Two months later he got an email from her, and Herren said it changed the way he did his presentations. In the message she explained how she has problems at home, with a father who drinks too much and a mother who is depressed after having to deal with him. The family does not have enough money so she goes to school in the same clothes every day.
The girl said she was the butt of jokes at her school, but Herren's talk inspired her to approach the popular kids and just sit down at lunch with them. He read from her letter:
"I told them that day it's not my fault my father's a drunk … It's not my fault my mother suffers from severe depression. I tell them how exhausting it is to try to make your mother smile." Herren said.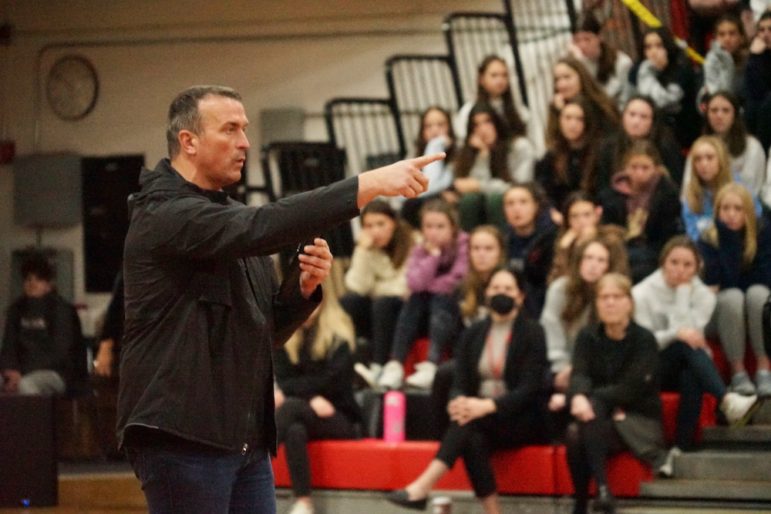 After that day, they stopped laughing at her and one girl approached her and gave her clothes and helped her out.
The letter continued: "I want to thank you, not for coming to my school and telling your story. I want to thank you for giving me the courage to tell you mine."
Herren has been interacting with the girl for 10 years, and he said the emails mean the world to him.
"Her emails I get checking in, telling me she's healthy and happy, to this day means more to me than anything I've achieved in my life as a basketball player," Herren said.
Learn more about Chris Herren's substance use, treatment and prevention work at https://herrenproject.org/