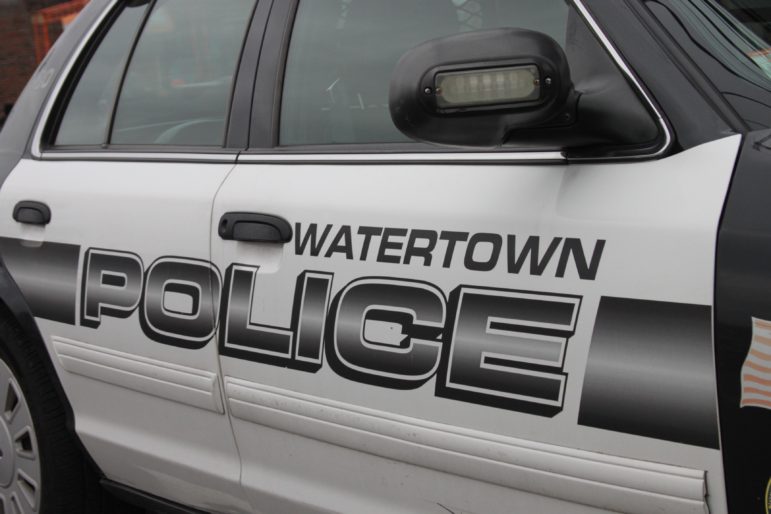 The following information was provided by the Watertown Police Department.
Arrests
Dec. 29, 9:53 p.m.: Watertown detectives who were in the parking lot of Target attending to another matter spotted a car with New Jersey license plates pull in. Then a second person walked over and got into the vehicle. The car pulled out of the lot and got onto Arsenal Street. The officer observed the vehicle get stuck trying to make an illegal left turn into Arsenal Yards from westbound Arsenal Street. The car then headed west on the wrong side of the road. Police pulled over the vehicle on Bond Street in Arsenal Yards. The officers asked the men what they were doing in the Target lot and one said he was meeting someone to collect $15,000. Based on the officer's experience and knowledge he suspected a drug sale was taking place. He got permission to search the vehicle and in the rear of the car he located a kilogram of a substance suspected to be fentanyl. A field test of the substance confirmed it was fentanyl. Aneudy Richardson-Jimenez, 34, of Jersey City, New Jersey, and Socorro Alcantra De La Cruz, 34 of Jersey City, New Jersey, were arrested. Both face a charge of trafficking fentanyl.
Incidents
Dec. 26, 12:34 p.m.: A Hall Avenue resident discovered the rear tire of the vehicle was flat. The resident called AAA and the roadside service person said it appeared to have been slashed with a sharp object.
Dec. 27, 6 p.m.: Officers patrolling in Arsenal Yards spotted two men get into a physical confrontation near Condesa restaurant. One of the men, a 52-year-old Foxborough man, confronted the second, a 64-year-old Watertown man, and accused him of overstaying the 60 minute parking limit for the space. The verbal argument escalated and got physical. They pushed and shoved. The officers separated the men. They were told they could seek charges at Waltham District Court. They went their separate ways.
Dec. 27, 7:26 p.m.: A package was taken from The Gables apartments. The resident received a delivery confirmation from FedEx. When the person went to look, the package was not in the package room. It contained $1,000 in merchandise, but the person would not disclose what it contained.
Dec. 28, 2 p.m.: An officer on the DCR path between Cottage and Arlington streets found graffiti on the walls of the under path under Grove Street. Words and drawings were made with red spray paint.
Dec. 28, 9:26 pm.: A Pierce Road resident went out at 9:15 p.m. to start the car for her husband who was leaving for work. The keys were in the vehicle and the doors were unlocked. When the husband went out a short time later, the vehicle was gone. He had left a wallet in the vehicle with $1,500 in cash, and possibly some work tools. Officers searched the area, and found a doorbell camera which showed a person run over, get into the vehicle, and crash it into another vehicle in the driveway before speeding off. At about 11 p.m. Watertown Police got a call from Lexington Police saying they recovered the stolen vehicle which had been involved in a motor vehicle accident. The driver fled, but on Dec. 29 at 4:24 a.m., Craig Monahan, 35, of Westford, was arrested in Lexington on charges of aggravated burglary — a second offense, simple assault and battery, attempt to commit a crime, and a warrant, according to the Lexington Arrest Log.
Dec. 29, 3:36 p.m.: A resident reported an identity fraud. The person got a notification from AT&T saying there was an outstanding balance of more than $300. The person had never opened an AT&T account and was not sure how it was opened. The resident told Police, and AT&T is investigating the incident.
Dec. 29, 3:43 p.m.: Police were dispatched to Stop & Shop on Watertown Street for suspected shoplifters. Management said a man tried to walk out of the store with a carriage full of grocery items, along with a second man. They were in the store for about 20 minutes and were confronted and asked for a receipt, and the man said he forgot his wallet and left. Police were unable to locate the suspects. There was $477 in the cart. The suspect is described as a Hispanic man in his late 40s wearing an orange and black jacket, beige pants, and a grey baseball hat. The second man was a male in his late 40s wearing a white jacket and a red and white beanie hat. The same thing happened the day before, and when the men were confronted they left a cart full of $624 of groceries.
Dec. 31, 8:50 a.m.: Target reported a shoplifting in progress. The suspect fled, and officers located him on Arsenal Street. A security officer identified the person, who was seen taking items and putting them into his bag. Police recovered an Amazon FireStick, an Anker power station, headphones, and two Nintendo Switch game controllers. They were worth $260 in total. A 51-year-old Boston man was summoned to Waltham District Court for shoplifting by concealing merchandise.
Jan 1, 12:20 a.m.: A man was spotted trying to get into a motor vehicle on Westminster Avenue. At about 11:55 p.m., the homeowner got a notification from a door cam and the video showed a man unsuccessfully try to get into the vehicle, leave the driveway, and walk west on Westminster Avenue. The video is not clear, so a description could not be obtained. The vehicle was not entered and police could not find any other vehicles in the area that had been broken into.
Jan. 1, 6:35 p.m.: A resident of a two-family home on Common Street left the home at about 6 p.m. to pick up some takeout food. When he returned at about 6:30 p.m., he found the rear porch door was ajar, which he found that odd. He also noticed a wood panel of the interior doorway had been cracked, as if someone had tried to gain access. It did not appear that anyone had gotten in, and nothing was out of place inside the house. Officers searched both units, but did not find anything suspicious. Police are investigating.