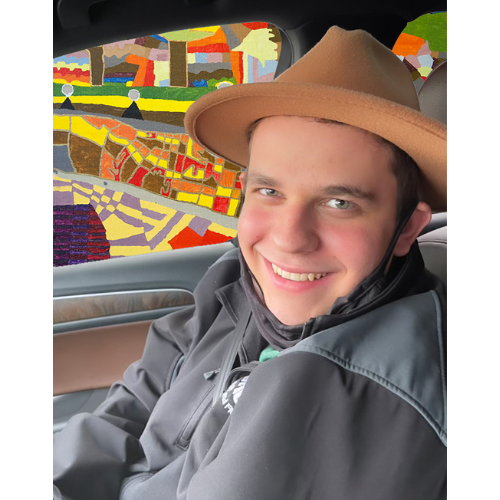 Dominic Killiany, who is autistic, has difficulty communicating verbally, but he has been able to express himself in his paintings. Works of art created by the 24-year-old Watertown resident are now on display at LabCentral in Cambridge's Kendall Square, and a public reception will be held on Jan. 25.
His mother Susan Cicconi explained about Killiany's artistic approach in the artist statement for the exhibit: "Dominic's art is his passion. He is autistic, his art is his visual poetry and connection to the world. His thoughts, emotions and expression are represented through a symbolic language of theme, color, texture, composition and material."
She added "He wants them to engage you, invite you to witness our collective interconnection, inspire you to experience the exotic in ourselves and others and evoke primal emotion."
From a young age, Killiany expressed himself visually. He has a different approach to creating his art.
"At 3 years old, from his car seat, he observed the world going by from his window. He read street signs, remembered the journey and illustrated it when he got home," Cicconi wrote. "By 14 years old he was enjoying the painting process for hours developing intricate patterns of interlocking shapes and forms through paint by numbers. He is inspired and self- taught and continues to be self-directed. His family, teachers and friends form a circle of support that embrace him and encourage him to express himself through painting, exhibiting and selling his works."
Killiany's work was first shown in public in 2014 at the Watertown Public Library. In 2017, he had his first solo exhibition at the Landau Gallery in Belmont. In 2018, he was invited to exhibit at the Open Door Gallery at the Worcester Art Museum which continued on to Boston. His work has also been published in Studio Visit Magazine.
He graduated from Nashoba Learning Group in Bedford in 2016 and Boston Higashi in Randolph in 2020. Both are private learning centers for children and young adults with autism. 
There will be a public viewing reception of Dominic's exhibit at LabCentral in Kendall Square on Wednesday, Jan, 25 from 4:30 to 6:30 p.m. LabCentral is located at 238 Main Street in Cambridge.
See more about Killiany's exhibit in a piece by Fox 25 Boston by clicking here.