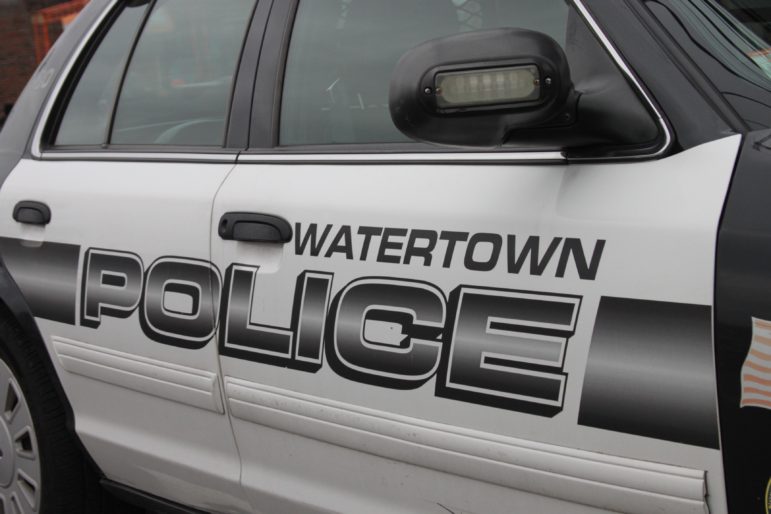 The following information was provided by the Watertown Police Department.
Arrests
Jan. 10, 1:11 a.m.: A vehicle struck a utility pole on Watertown Street near Galen Street. Police responded to the area and spotted the vehicle on the sidewalk near 20 Watertown St. The vehicle had been traveling westbound on California Street and when it merged onto Watertown Street it crossed over the traffic island and struck two signs. Then it went into the westbound lane and went onto the sidewalk and struck a utility pole. Officers spoke to the driver who had a strong odor of alcohol on his breath. He said that the accident occurred because he was driving his brother's vehicle, a 2011 Range Rover, with which he wasn't familiar. He also said he had 6 to 8 beers before driving. Officers found empty beer bottles in the vehicle. The driver did not pass five field sobriety tests. Victor Ventura Flores, 20, of Watertown, was arrested on charges of driving under the influence of alcohol and being a minor in possession of alcohol.
Jan. 10, 10:13 a.m.: Employees at Ulta Beauty in Arsenal Yards reported a woman who came into the store with numerous Marshalls and Target bags, and took multiple items. She took the security devices off three bottles and took two additional bottles, worth a total of $431. Then the woman left the store. Police got a description of the woman, and they located her at the Watertown Mall in front of Target. She also had $780 worth of cosmetics, plus electronic items from Target and Best Buy. The total from all three stores was approximately $2,000. Anne Driscoll, 36, of Orleans, was arrested on three counts of shoplifting, and three counts of unlawful deactivation of a theft detection device. Plus she had two warrants: one from Cambridge District Court for attempting to commit a crime, and destruction of property; and the second from Barnstable District Court for OUI drugs, and negligent operation of a motor vehicle. While she was being booked Police found she had fentanyl and six Suboxone strips for which she did not have a prescription. She was also charged with possession of a Class A drug and possession of a Class B drug.
Jan. 14, 4:19 p.m.: A van was seen speeding up Richards Road and then striking a tree at the intersection of Richards and Stonleigh Circle. The driver ran away, but officers located him behind the garage of a home on Richards Road. A strong odor of alcohol was detected on the man's breath and he was unsteady on his feet. He refused to do any field sobriety tests. The man admitted to striking the tree. When he was told he was going to be placed under arrest he said he wasn't going anywhere and clenched his fists and said "OK, let's go" like he wanted to fight officers. Police were able to de-escalate the situation and the man was arrested. Ryan Allen, 34, of Watertown, was arrested for driving under the influence of alcohol.
Incidents
Jan. 9, 11:08 a.m.: A woman reported fraudulent activity on her SNAP account. She said she tried to take money from the ATM, but found she had only $7.80 in her account. She should have had $500 available. The card never left her possession. Police suspect the account was likely hacked electronically. The incident was reported to SNAP, which will investigate.
Jan. 10, 9:28 a.m.: A Watertown man reported that he received a letter from Visa saying he had applied for a credit card. He had not applied for a new card. It appears his personal information had been stolen and used to open an account. He asked for the account to be shut down.
Jan. 10, 12:15 p.m.: A woman reported a case of ID fraud. She got a call from Credence Resource Management looking to collect a $600 debt she owed to AT&T. The woman had never had an AT&T account in her name. She is in the process of disputing the charge with AT&T.
Jan. 11, 1:07 pm.: A 73-year old Watertown woman reported a scam. She had received an email from PayPal saying that her account had been compromised. It had a phone number and said to call "Mark Henry" for further instructions. The person who answered a fraudulent bank account had been opened in her name in Russia, and now the Federal Trade Commission was investigating. The man instructed her to take the money out of her bank account and wire it to a protected bank account. He provided the information and she sent $180,000 to a Coinbase Inc. account. She realized it was a scam and contacted police. Police are trying to recover the money but it may have been an overseas transaction.