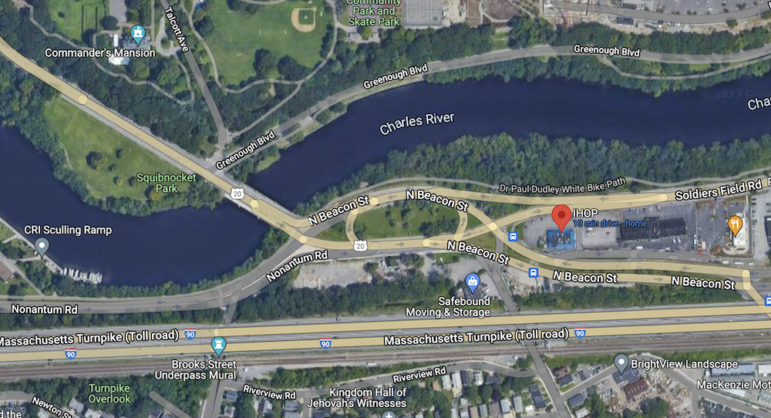 The late-night dining destination on the other side of the Charles River from Watertown may become a complex with residential and commercial space.
Universal Hub reports the plans will soon be filed for a residential project on property on Soldiers Field Road in Brighton where the IHOP (1850 Soldiers Field Road) and motel stand. The location sits near where North Beacon Street crosses from Watertown heading east, and converges with Soldiers Field Road, Nonantum Road, and the Birmingham Parkway in a rotary intersection.
Developer Trammel Crow Co. filed documents with the Boston Planning & Development Agency describing the project. The residential part will include two residential buildings with 200 units that are "affordable living spaces for Boston's families and will average 60% AMI (Average Median Income) – true affordability," according to the letter of intent.
The commercial space will "support the affordable housing components," according to the letter.
Trammel said it plans to build the infrastructure required for the residential buildings, and then will donate the land to The Community Builders, which will build the affordable housing.
The letter also said, "the project will also include significant improvements to the Leo M. Birmingham Park and Parkway to which the project site is immediately adjacent, as well as improvements to the I-90 underpasses that, today, fail to provide a safe or aesthetically pleasing connection between the neighborhoods and the Charles River, that have been separated by the Massachusetts Turnpike for decades."
The IHOP was built in 1960, and the former Charles River Inn was built in 1955. The McDonald's will not be part of the project.
See the BPDA file on the project by clicking here.