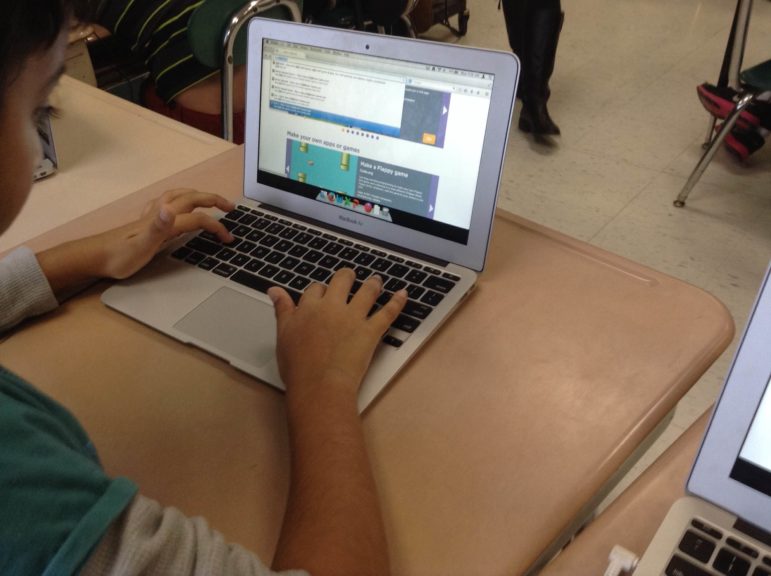 The Watertown Free Public Library will offer a series of technology classes in Spanish.
The classes were made possible through the Public Library Association Digital Literacy Workshop Incentive, supported by AT&T. In November and December, the Library worked with the Watertown Housing Authority to offer a set of classes.
All four classes will be held at the Watertown Library, 123 Main St., Watertown, in the Lucia Mastrangelo Room on the second floor.
The schedule of classes can be seen below:
Clases de Tecnologia Gratis en WFPL
Los Básicos del Internet
Martes, 21/2/2023 | 19:00 | en WFPL | Mejora tu confianza en buscar y navegar en la web.
Los Básicos del Internet
Sábado, 25/2/2023 | 11:00 | en WFPL | Mejora tu confianza en buscar y navegar en la web.
Los Básicos de Email
Martes, 28/2/2023 | 19:00 | en WFPL | Aprende enviar, recibir y organizar tu email.
Los Básicos de Email
Sábado, 4/3/2023 | 11:00 | en WFPL | Aprende enviar, recibir y organizar tu email.
Las cuatro clases se llevarán a cabo en la Biblioteca de Watertown, 123 Main St., Watertown, en la Sala Lucia Mastrangelo en el segundo piso.
Supported by Grant
These programs are offered free to the public thanks to support from the Public Library Association Digital Literacy Workshop Incentive, supported by AT&T.
AT&T sent out the following announcement:
As part of AT&T's* support for digital literacy initiatives nationwide, the company is helping Public Library Association (PLA) bring free bilingual, in-person digital literacy workshops to nearly 160 libraries across the country, including in Massachusetts. These contributions are part of our $2 billion commitment made in 2021 to help bridge the digital divide.
The selected libraries in Massachusetts are:
Berkshire Athenaeum in Pittsfield
Centerville Public Library Association
Holyoke Public Library
Milton Public Library
Watertown Free Public Library
The workshops will utilize online digital literacy courses available through AT&T ScreenReady® and PLA Digital Learn. Created in collaboration with PLA, the courses teach skills ranging from technology basics to avoiding scams. Interested residents should contact the libraries for workshop dates and times.
"Everyone deserves the power to use technology with confidence," said John Emra, President – AT&T Atlantic Region. "Our collaboration with PLA will help students of all ages gain the knowledge and tools necessary to harness the digital world's extraordinary potential. Now more than ever it is critical to ensure the right resources are getting into the right hands and we are honored to play a role in this effort across Massachusetts."
"Our nation's public libraries serve as powerful partners in advancing digital equity and lifelong learning for all," said PLA President Maria McCauley. "PLA is excited to team up with AT&T to enhance and expand our digital literacy resources to reach new families and communities through AT&T, their Connected Learning Centers, and local organizations."
Public libraries play a vital role in providing access to the internet, devices, and digital content, and knowledgeable staff to all — particularly to people of color and youth in low-income households. In 2019, nearly 54 million Americans accessed the internet in public places, and public libraries alone hosted nearly 224 million public internet use sessions.
Additionally, in Massachusetts, AT&T recently collaborated with Human-I-T to provide the Boys and Girls Clubs (BGC) of Springfield with 200 refurbished Chromebooks to distribute to students across the city. Each device donated includes a one-year warranty, technical support, and access to digital inclusion programs, including low-cost internet sign-up assistance and digital literacy training. AT&T also provided more than $100,000 in financial support to Tech Goes Home to support their digital literacy and digital divide efforts in Boston and across Massachusetts.
According to the U.S. Department of Education1, about 16 percent of U.S. adults are not digitally literate. In addition, about 40% of disconnected students face significant adoption barriers including insufficient digital literacy skills, according to a report from Common Sense Media.2 To close the digital divide it's important that families have accessible and affordable internet connectivity, but equally as important is that they have the digital literacy skills needed to use and benefit from the internet.
To learn more, visit att.com/connectedlearning.
About Philanthropy & Social Innovation at AT&T
We're committed to advancing education, creating opportunities, strengthening communities and improving lives. As part of our companywide $2 billion commitment from 2021 to 2023 to address the digital divide, we launched AT&T Connected Learning to invest in connectivity and technology, digital literacy and education solutions to help today's learners succeed inside and outside of the classroom. Since 2008, we've committed to programs that help millions of students across all 50 states and around the world, particularly those in underserved communities.
About Public Library Association
The Public Library Association (PLA) is the largest association dedicated to supporting the unique and evolving needs of public library professionals. Founded in 1944, PLA serves nearly 10,000 members in public libraries large and small in communities across the United States and Canada, with a growing presence around the world. PLA strives to help its members shape the essential institution of public libraries by serving as an indispensable ally for public library leaders. For more information about PLA, contact the PLA office at 1 (800) 545-2433, ext. 5PLA, or pla@ala.org