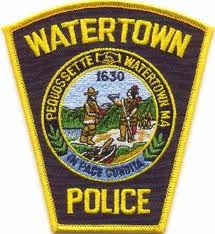 A Watertown man faces criminal charges after he allegedly stabbed a dog that was attacking his dog and would not release it.
On Feb. 13, just before 6:30 p.m., police received a report of a fight between two dogs at Filippello Park. When they arrived the two owners, one who had a dog about 20-25 pounds in size, and the other had two dogs that were 40-50 pounds each.
The men had been walking along a path in the park when the altercation happened, said Watertown Police Lt. James O'Connor.
"At some point one of the bigger dogs broke free from the leash and attacked the smaller dog," O'Connor said. "Both the owners were trying to separate the dogs. The smaller dog was squealing and was being bit in the head and neck. They were unable to separate them."
While trying to separate the dogs, the owner of the smaller dog was bit in the hand.
"The guy with the smaller dog said he was in fear his dog was going to get killed," O'Connor said. "He said 'Get your dog off or I'm going to stab him.' Then he took out a utility knife and stabbed the larger dog three times, and they separated."
Police spoke to the owner of the larger dog.
"He told officers the guy said, 'I'm going to kill your dog if you don't get him off,' and then his dog was stabbed," O'Connor said.
The owner took the dog that had been stabbed to Angel Memorial Hospital in Waltham. Paramedics came and treated the man whose hand had been bit.
Watertown Police requested a summons from Waltham District Court for the owner of the smaller dog, a 34-year-old Watertown man on a charge of cruelty to an animal.