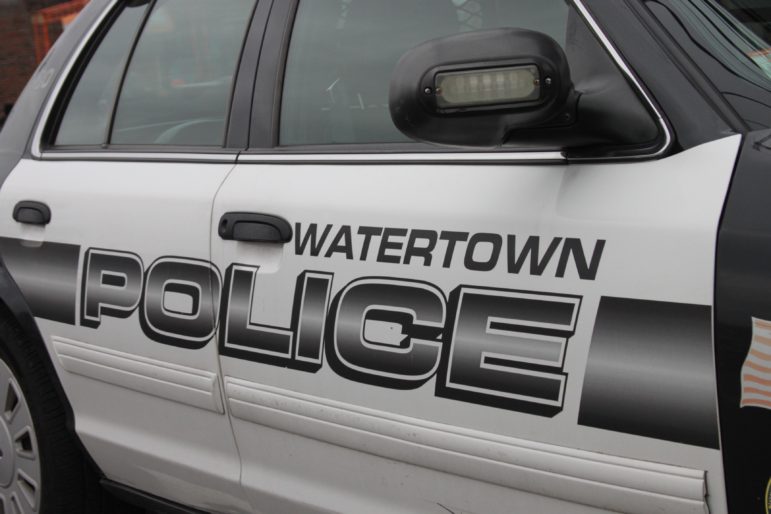 The following information was provided by the Watertown Police Department.
Arrests
Feb. 25, 8:36 a.m.: Police received a report of a 911 hangup call from a cell phone, and found the call came from Robert Ford Road. They located a woman who accidentally called 911. Officers discovered she had a warrant for her arrest. Jennifer Mastrangelo, 35, of Watertown, was arrested on the warrant out of Waltham District Court for vandalism of property. 
Feb. 26, 6:07 p.m.: A witness called 911 after seeing a person drive up onto the curb on Pleasant Street heading toward Watertown Square. The person also crossed into the opposite lane of travel. The driver turned onto Spring Street and then parked on Summer Street. Police located the vehicle and found her eating inside the vehicle. The woman showed signs of intoxication, and she admitted to consuming alcohol before driving, and also said she had driven up on the curb. She did not pass field sobriety tests. Christine Haverty, 55, of Belmont, was placed under arrest for driving under the influence of liquor. 
Incidents
Feb. 21, 6:21 p.m.: A Burnham Street resident reported a scam involving PayPal. The person called a number she found online for Amazon Pharmacy. When she was on the phone a male voice interrupted her call and said he was part of the Amazon tech department and told her her computer was running slowly. She gave him an app to download called WebRoot and was told there was a fee to do so. She didn't give the man permission to access her computer but noticed that $245 was withdrawn with her PayPal account. She contacted her bank and she was reimbursed, but since the incident she has received about 80 calls from scammers.
Feb. 22, 9:22 a.m.: The maintenance director of Oakley Country Club checked the club's security camera footage and it showed what appeared to be four teenagers walking around the maintenance area at about 10:43 p.m. on Feb. 20. One dug around into the ground, and another accessed a golf cart, which was later found in a sand bunker on the golf course. Police are investigating.
Feb. 23, 9:17 a.m.: Security footage at Lexus of Watertown showed suspicious activity. At 10:37 p.m. on Feb. 22, three people dressed in dark clothing and wearing ski masks walked up to the storage area, which is behind a fence with a padlocked gate. No access was gained and nothing was missing, but they reported the incident to police.
Feb. 24, 8:43 a.m.: The owner of Direct Tire got to work and discovered someone had tried to break into the side entrance. The door handle had been broken and there were what appeared to be pry marks on the door and doorframe. No entrance had been gained and nothing was taken. The manager locked up on the evening of Feb. 23, and returned at 7 a.m. the next morning.
Feb. 24, 1:48 p.m.: A worker at the construction site at 69 Galen St. parked on the street at 7 a.m. and when he came back at 2 p.m. his 2015 Fiat 500 was gone. He is not sure if he left the keys in the car, but he did not have his keys with him.
Feb 24, 1:50 p.m.: A man came into Work N Gear at the Watertown Mall and he took a jacket and left without paying. The manager confronted the man as he was leaving, but he kept walking quickly toward the rear entrance of the Mall. He took a Carhartt jacket valued at $120. The suspect is a white male, 50-60 years old, wearing a dark grey baseball hat, glasses, a white sweatshirt, and black sweatpants.
Feb. 24, 5:40 p.m.: A resident reported a scam involving Amazon gift cards. He said he had issues with a gift card, so he searched for a number to call about the Amazon gift card. When he called a person claiming to be an Amazon representative answered and told the man to download an app called Quick Support so tech support could access his phone. When he did so, the resident realized that $300 had been taken out using his Venmo account, and a $20 Xbox gift card was purchased without his approval.