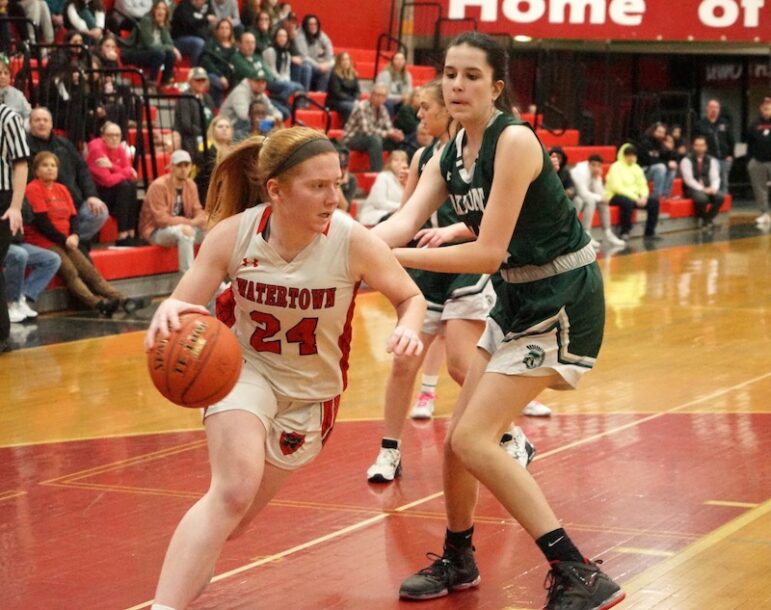 Watertown High School's girls basketball team closed out the final game in WHS's Kelly Gymnasium in style, doubling up Oakmont, 44-22, in the MIAA Div. 3 Round of 32 game on Friday night.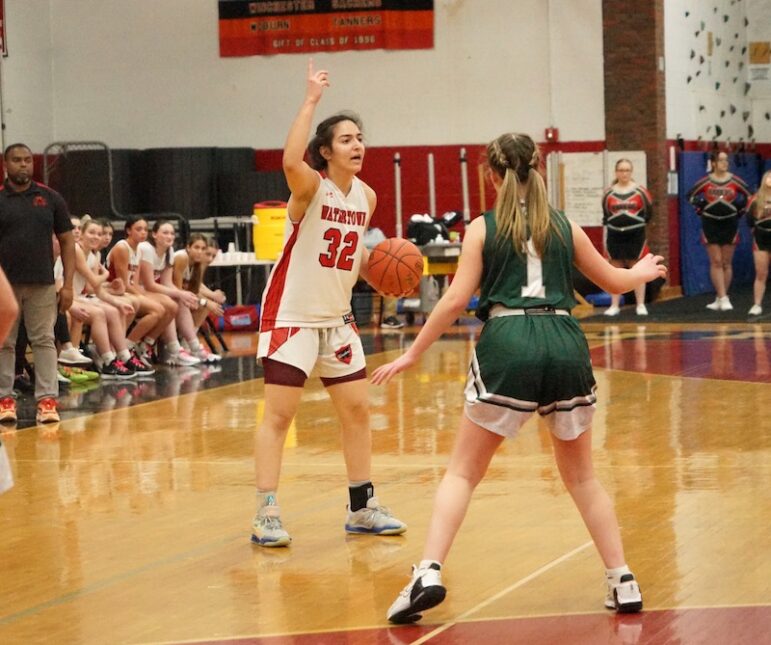 Three Raiders scored in double digits, and Coach Pat Ferdinand cleared the bench in the fourth quarter of the contest.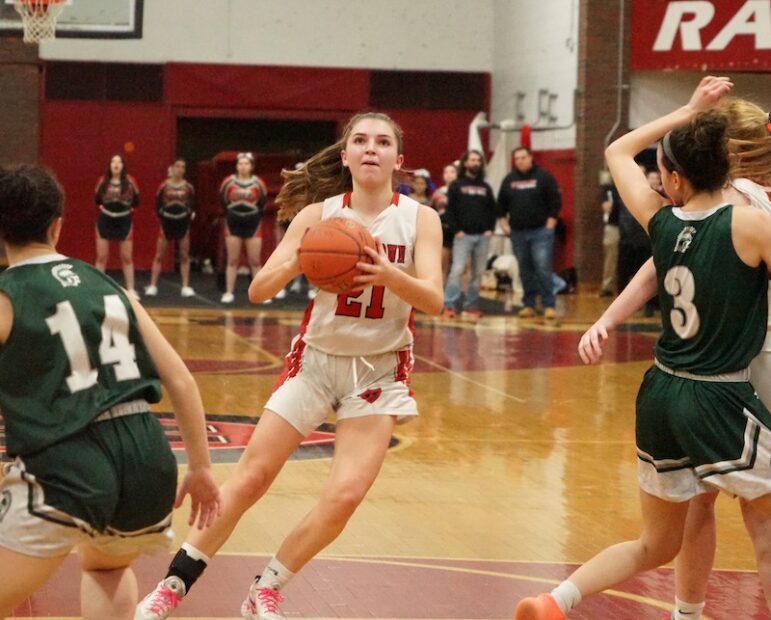 Watertown jumped out to a 6-0 lead to start the game, but Oakmont got a couple baskets to make it 6-4 with 2:35 left in the first quarter. The Raiders went on an eight-point run capped by a three pointer by junior Lily Lambo. They led 14-4 after one quarter and never looked back.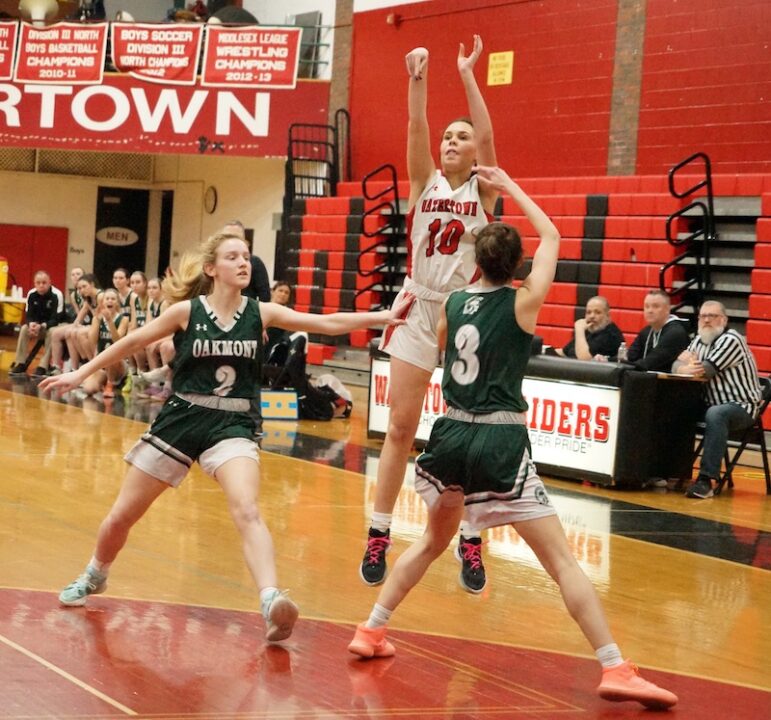 The Raiders struggled for offense early in the second quarter, but junior Emma Garapetian's three pointer extended the lead to 19-6 with just over three minutes left in the first half. The basket sparked a run, and the second quarter ended with Watertown up 25-6.
The Spartans matched their first half offensive output in the third quarter, but the Raiders had their highest scoring quarter of the game. A basket just before the buzzer by junior Sarah Morrissey made it Watertown 40, Oakmont 12.
In the final quarter, Watertown's reserves got their chance to play in the State Tournament. The Spartans outscored the Raiders, 10-4, but still finished 22 points behind.
Morrissey finished with 13 points to lead Watertown. Senior Maeve Lawn added a dozen points, and Lambo scored 10. Garapatian added 5 points, and sophomore Caroline Andrade and freshman Mia Caterino each had two points.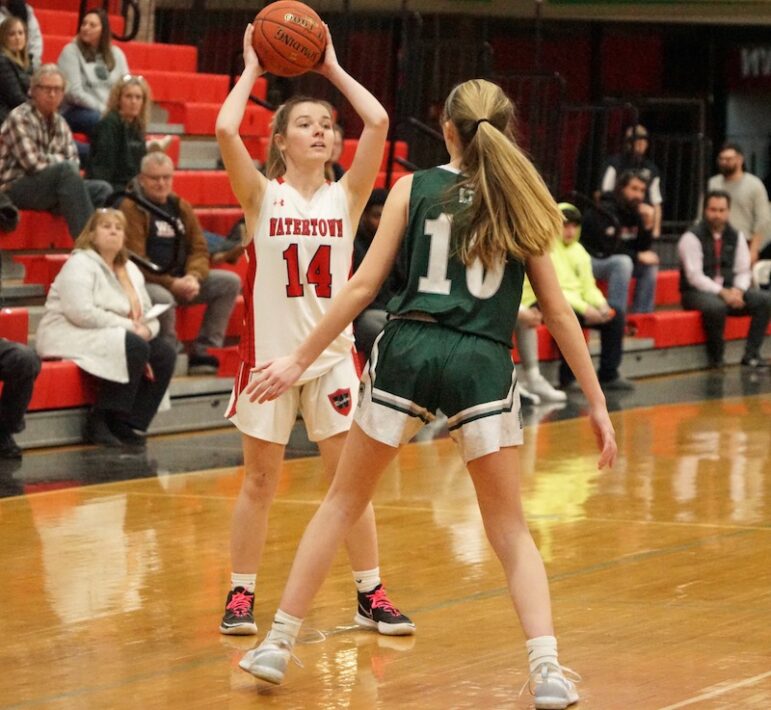 Next up for the Raiders is a trip to Peabody to take on No. 3 seed Bishop Fenwick on March 7 at 6:30 p.m. The Crusaders defeated Quabbin Regional, 50-20, on Thursday.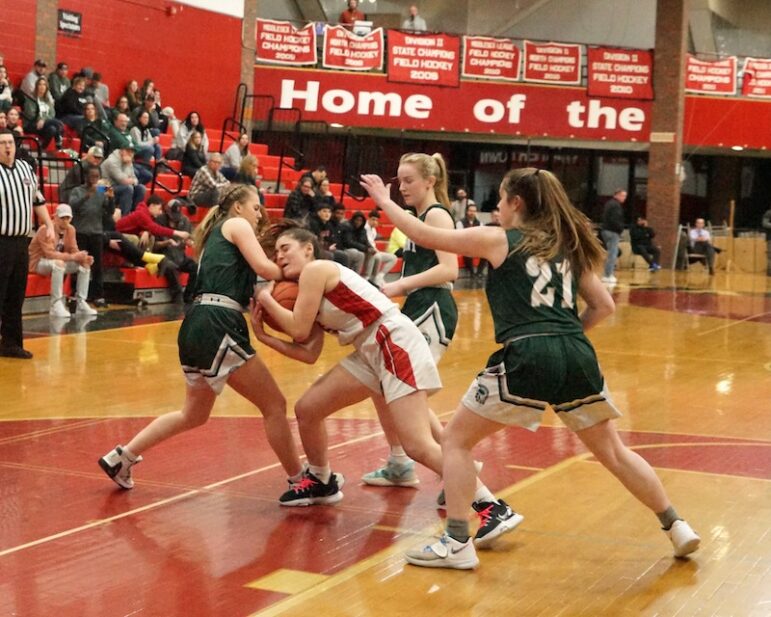 Kelly Gym will be demolished, along with the rest of the school, to make way for a brand new Watertown High School, scheduled to open in the fall of 2026.