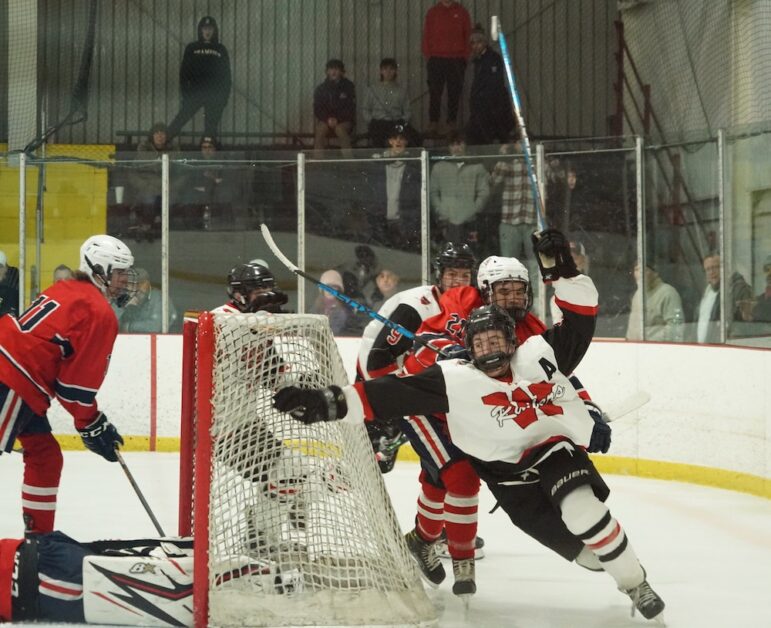 Having survived a double overtime in the first round of the MIAA Div. 3 State Tournament, the Watertown High School boys hockey team skated to a relatively easy victory Saturday night, putting half a dozen goals on the scoreboard against Dracut/Tyngsboro. The Raiders won the Round of 16 game 6-2 at John A. Ryan Arena.
Watertown Coach John Vlachos was confident his players would be ready.
"There was a lot of overtime games in the first round with some of the top seeds, so we told the boys, you continue to work hard, you got 60 shots on that goalie from Southeastern (in the Round of 32 game)," Vlachos said. "I said, if we put 60 shots on them tonight we're gonna win."
"We felt good. We had two good days of practice, we had meetings — I felt we were in good shape going in. I felt the boys were razor sharp, ready to go."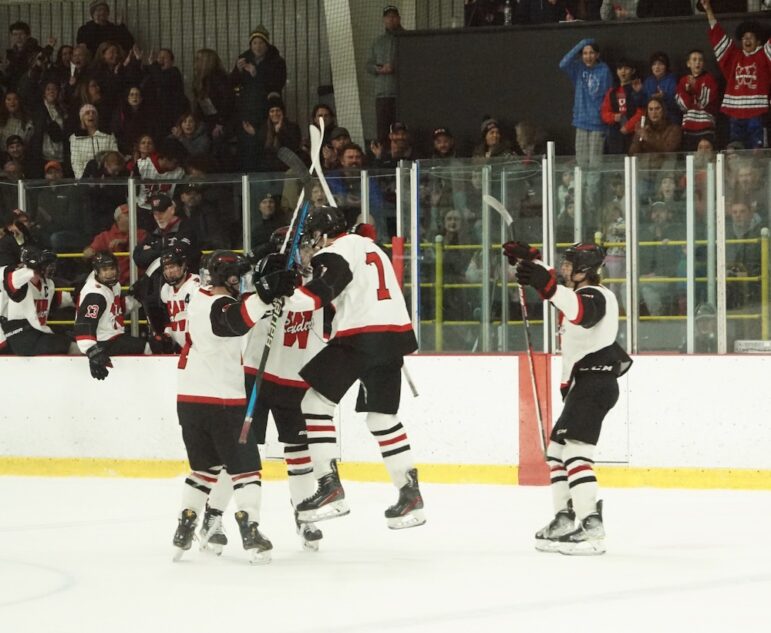 Early in the Round of 16 game, the fifth-seeded Raiders and 12th-seeded Middies had quality opportunities, but the first goal came with 5:15 left in the first on an innocent looking chip into the zone by junior defenseman Caden Salzman. The puck took an odd bounce and eluded the goalie and wound up in the net. Senior Jack Dickie and junior Alec Banosian got assists.
Banosian found the net with 1:50 left to give the Raiders a 2-0 lead heading into the first intermission. Senior Daniel Tattrie and senior Ryan Desmond, who hails from Wayland, notched assists.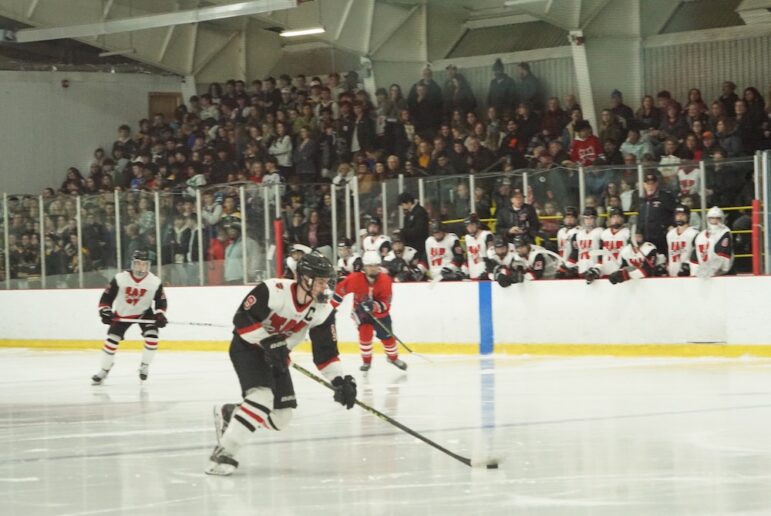 Junior James Erickson struck next with a breakaway goal just over five minutes into the second period. Dickie got the assist. Just two minutes later, Dracut struck back with a power play goal. The second ended with the Raiders leading 3-1.
Watertown seeks a second straight trip to the TD Garden to play for a State Championship, but Vlachos said this year's road is more difficult. The team added several players from Wayland who are are part of a co-op agreement with Watertown. That also resulted in the Raiders moving up a division.
"We told the boys going in, Div. 3 is not going to be Div. 4 where you score 12 goals or 8 goals," Vlachos said. "We put six goals up tonight, but that game wasn't over until maybe the 9 minute of the third period."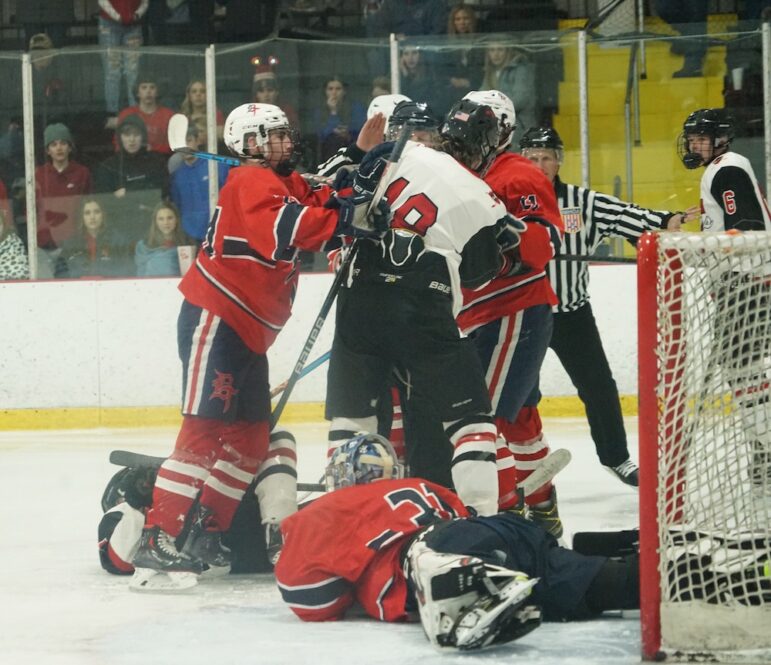 The Raiders cashed in on a power play with 9 minutes left. Erickson scored off an assist from senior Aidan Campbell.
Just over a minute later, Erickson got his hat trick, putting Watertown up 5-1 with 7:39 left.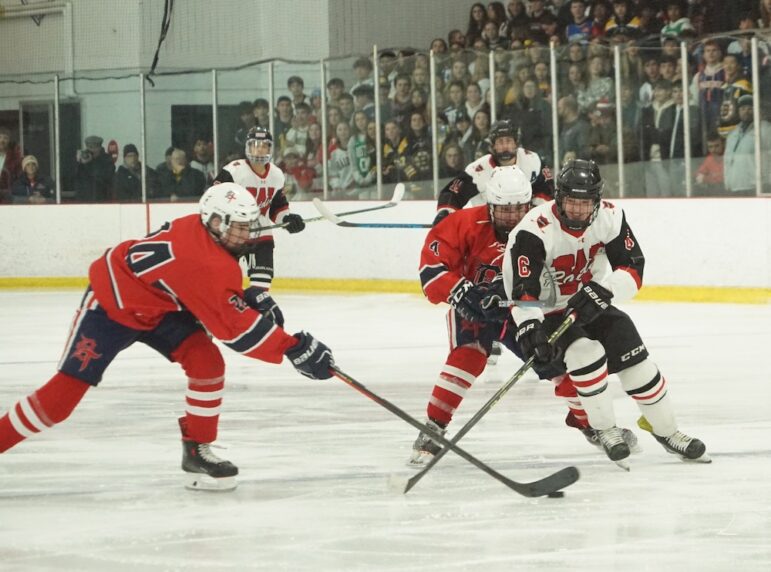 Dracut struck again on the power play to cut the lead to 5-2 with just over 6 minutes left. They would not get any closer, and Dickie got one more for Watertown on a 4-on-4 goal assisted by Tattrie.
"It was a nice win. It was nice to put some goals on the scoreboard," Vlachos said. "Playing in the Middlesex League there have been a lot of close games, so it was nice to put six goals in the net; James Erikcson getting on the hat trick, we had a lot of players getting points tonight — goals and assists, and Casey Williams played outstanding in the net again. It was a nice win for us."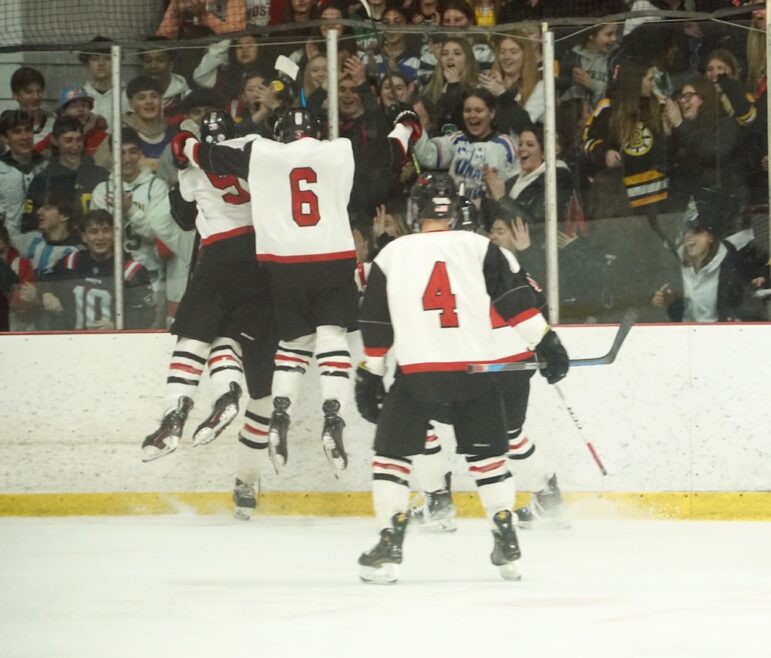 The Raiders (13-6-2) will face Nauset Regional (17-5-2) on Wednesday, March 8 at 6 p.m. at Charles Moore Arena in Orleans. The Warriors beat 13th-seeded Hopedale 3-2 in overtime on Saturday afternoon.
Vlachos had hoped Nauset would be making the two-hour trek, but when the brackets came out the team from the Cape would up ahead of Watertown.
"They took our fourth spot. We were hoping to get that fourth spot. But, we've been a good travel team this year," Vlachos said.
Saturday's game was the final home game for the Raiders. The winner of Wednesday's game moves onto the State Semifinals, which will be played at a neutral site.