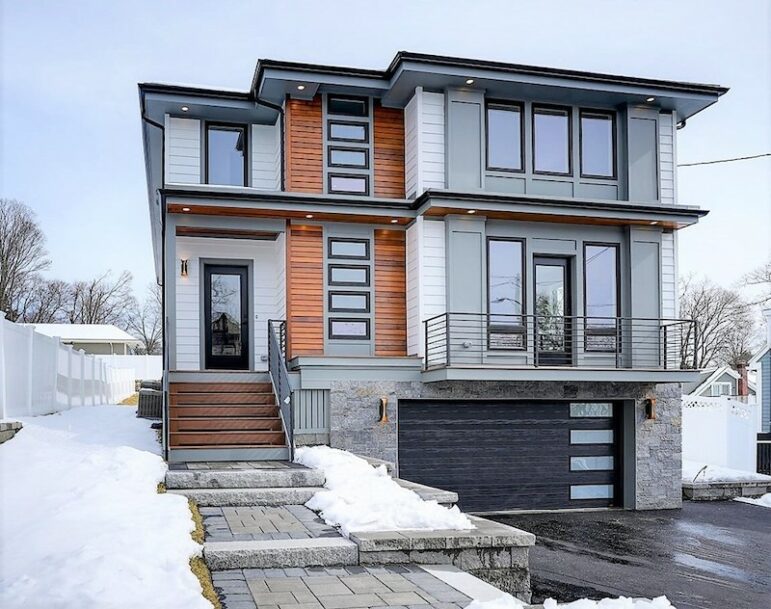 Perched near the top of the hill above Watertown High School sits a newly constructed home with a modern look, bright spacious rooms, and views far beyond the City limits. The asking price for the 4,718 sq. ft. single family home: $2.6 million.
If the home goes for that much, it will be the most expensive home in Watertown, said listing agent George Mavrogiannidis of Real Estate Advisors Group.
Watertown homes began to tip over the $1 million mark almost a decade ago. In 2014, a seven-bedroom Victorian on Russell Avenue went for $1.1 million. Two years later another home on Russell Avenue went for $1.6 million, the same week that a home on Bailey Road sold for $1.01 million. In April 2018, a Victorian on Robbins Road went for $1.65 million, and in June of the same year a Colonial on Barnard Avenue sold for $1.75 million.
The Watertown housing marking has some oddities, however, Mavrogiannidis said.
"In Watertown townhouses always sell higher than single family homes, which has always puzzled me as a realtor," Mavrogiannidis said. "Why would someone pay more for a townhouse where you are living next to someone else."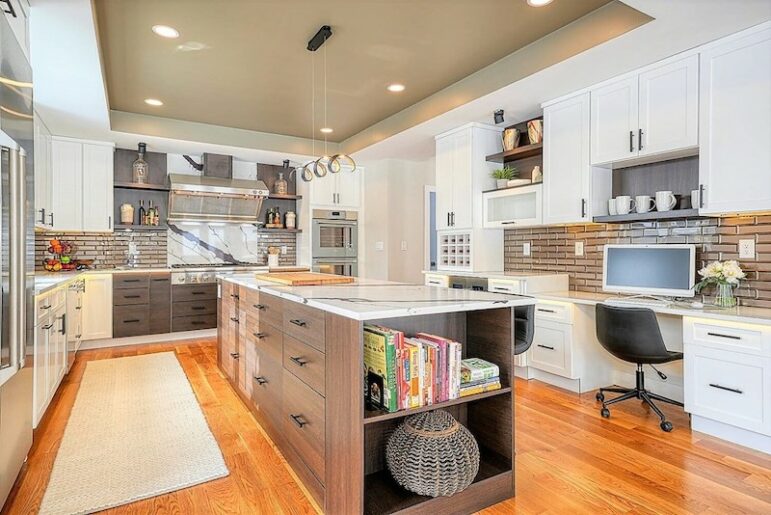 As an example, last year a home on Stoneleigh Road went for $1.705 million, and around the same time a townhouse on Bridgham Avenue eclipsed that price, selling for $1.73 million.
Rita Chekijian, one of Mavrogiannidis' partners, explained: "There are not many new construction single families in Watertown, so there are more new construction townhouses," adding that "People want new, especially with the prices of materials and construction costs. People just want to be done and get in and not worry about renovating."
That is changing. Two weeks ago, the home being sold by Mavrogiannidis was one of two with asking prices over $2 million, and they were just a few doors down on Robbins Road. The second $2 million listing is a 5-bedroom 5,294 sq. ft. home going for $2.099 million. Both are newly constructed.
Originally, Mavrogiannidis said he and his partners did not plan to construct a brand new home.
"It was a smaller single family home that, I think, someone inherited," Mavrogiannidis said. "When we first saw the house someone had gutted the house, totally. There was no walls, there was just studs. Even the floor was not there. There were boards to walk on."
The house did have some tenants.
"There was a hole in the ceiling and raccoons used to live in there," he said.
"It was enter at your own risk," Chekijian added.
When they started planning for the renovation, City officials told them that they would have to apply for a demolition permit.
"We said, 'we're not knocking down the house.' They said, well you are making major changes," Mavrogiannidis said. "We did apply. We got a permit. At that point, if we are going to go through all this, because it delayed us a year, why not just knock it down."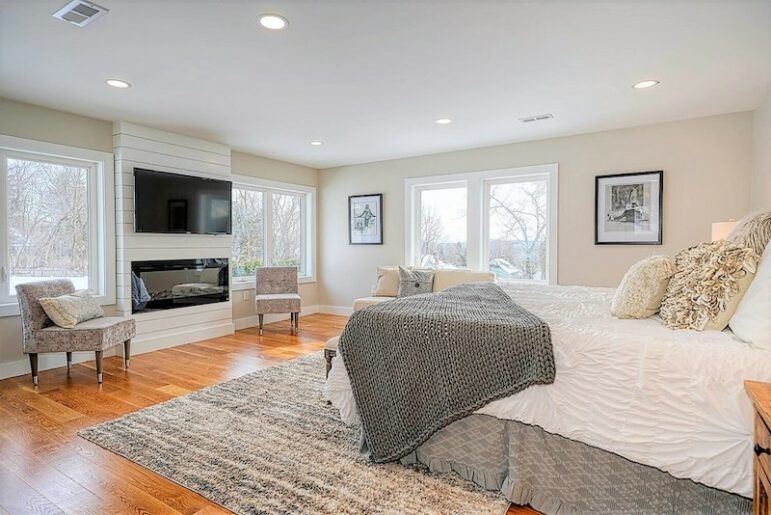 When planning the new house, Mavrogiannidis said he wanted it to have a look that sets it apart.
"This is built to be a little bit different," he said. "I believe that every house should be a little bit different. We shouldn't be making these cookie cutters that look the same again and again and again. That's boring.
Inside and out, the house has a lot of wood to accent the white materials. The first floor is not quite open concept. A partial wall divides the living room/dining room area from the kitchen.
"People like open concept, but people also like some separation with the kitchen," Chekijian said. "It's tough to place furniture if you don't have some sort of wall."
All four bedrooms have an ensuite bathroom, including the master bath that has a tub in which you can look out a pair of large windows while soaking.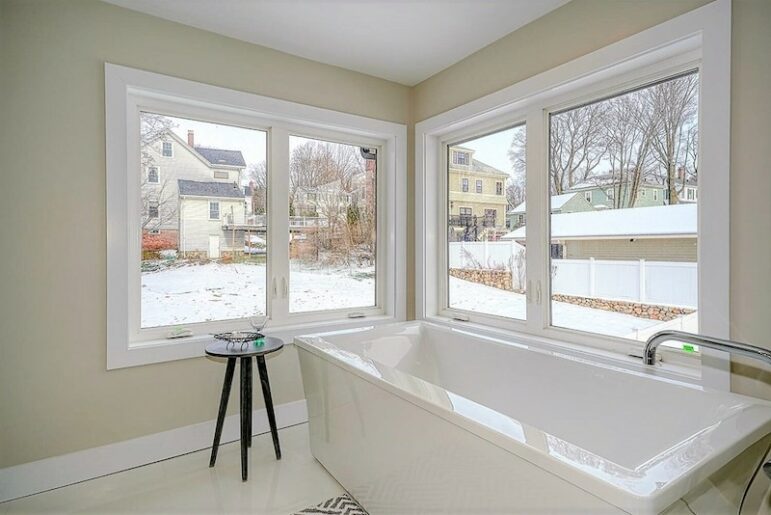 The house has been on the market for a couple weeks, and while it has not yet sold, Mavrogiannidis said they have had more than a dozen interested buyers tour the house, along with some curious neighbors.
He is confident it will sell, in part because of Watertown's position geographically and in the housing market.
"Cambridge people like to come here, and California buyers," he said. "California people see it as cheap and Cambridge buyers come say it's great we don't have this, we don't have that. So, if they are looking for something like that the only town that is a lot more affordable — believe it or not it is affordable, it's a hard word to choose but Watertown is affordable."
People like the convenience of living in Watertown, being close to the Mass Pike with easy access to Boston, Logan Airport and the Rte. 128 area. That is starting to give an edge on another similarly-priced and nearby community.
"My opinion is that Watertown is going to surpass Arlington," Mavrogiannidis said. "It is already getting close to that. Townhouses in Watertown are selling for more than townhouses in Arlington. Single families — not yet, but it's getting there. … I think give it another 2 or 3 years and I think Watertown will be more expensive than Arlington."
"I believe in Watertown," he added.