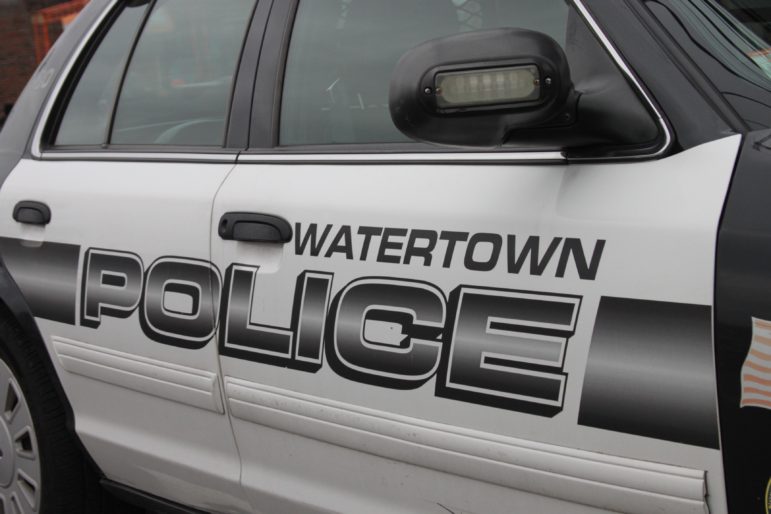 The following information was provided by the Watertown Police Department.
Arrests
March 16, 3:52 p.m.: Security at Best Buy reported a man who had taken several video games and left the store without paying. Police located a man fitting the description near Nike at Arsenal Yards and he was unwrapping a Nintendo DS game. Officers spoke to the man who said he was at Best Buy and when he was leaving he realized he had not paid for the games, but he continued to exit the store. Police looked inside the man's backpack and found 10 Nintendo games, plus a Nintendo DS game that had been reported stolen from a vehicle parked in the parking lot near Best Buy. Police are not sure if the man broke into the vehicle but he had the stolen game. Benjamin Cooper, 28, of Boston, was arrested on charges of shoplifting and receiving stolen property.
March 17, 2:34 a.m.: Police had responded to Elan Market apartments on Arsenal Street for an incident, and while they were there they spotted a woman the knew was wanted on warrants. They confirmed the warrants and placed Rosemary Taverna, 45, Watertown, under arrest on the three warrants from Waltham District Court: the first for larceny under $1,200, the second for larceny under $1,200 and breaking and entering, and the third for breaking and entering.
March 17 12:15 p.m.: Watertown Police working with the Southern Middlesex Regional Drug Task Force observed a drug deal on Piermont Street. Members of both groups had been conducting a narcotics investigation for several months and they placed the home under surveillance. On March 17, they saw a man park outside the house, and a resident came out and entered the vehicle to conduct what officers believed to be a drug transaction. Police stopped the men and found they had a substance believed to be cocaine. Bryan Gutierrez, 23, of Chelsea, was arrested on charges of distribution of cocaine and possession with intent to distribute cocaine. No charges have been filed on the resident, but the case remains under investigation.
Incidents
March 13, 5:20 p.m.: A Waverley Avenue resident reported a package had been taken from the front step. The resident ordered security cameras worth $956, and a doorbell camera valued at $212 from Best Buy on Jan. 25. It was confirmed delivered on Jan. 27, but when the resident went to get the package it was gone. The theft was reported on March 13.
March 14, 6:12 a.m.: Tools had been taken from a construction site on Arsenal Street. On March 11, the man locked his personal toolbox in the job box at the construction site at 617 Arsenal Street. The man's toolbox contained about 40 tools worth between $600-700. The lock on the job box has a universal key and is accessible by multiple contractors working on the site.
March 14, 10:45 p.m.: Two women who were shopping in Target reported a man exposing himself. They were in the men's clothing section between 9 and 10 p.m. on Feb. 8, when they saw a man who pulled down his pants and made lewd gestures at them. They told store security, and saw the man leaving the rear entrance of the store. The man was last seen getting into a silver SUV. The suspect is described as a Black male, 5-foot-6-inches to 5-foot-10-inches tall, about 160 pounds, in his 30s and was wearing a black jacket.
March 16. 11:04 p.m: A vehicle was broken into in the parking lot near Best Buy. The owner, an employee of Best Buy, said he had parked and when he came back he realized someone had entered the vehicle and took a Nintendo DS system valued at $300 and a game valued at $100. Security footage shows a person in all black with white sneakers and carrying a backpack. There was no forced entry, and the vehicle was likely left unlocked.
March 16, 5:55 p.m.: The manager of Roche Bros. reported that a couple came into the store and took eight lobsters without paying. They came into the store on March 15 at 6:45 p.m. and ordered eight lobsters for $239.88. They were put into three separate bags and the couple went to self checkout. It appears that they scanned a price tag of less expensive items and then left without paying for the lobsters. One suspect was a white female, medium build, 5-foot-8, with brown hair, and wearing a white shirt, beige coat and pants. The other suspect is a white male, medium build, 5-foot-8, with dark facial hair, wearing a black baseball cap, a black puffy jacket, black pants and black sneakers.
March 17, 7:13 p.m.: A vehicle parked at Home Depot caught fire. An employee saw the flames coming from the 2004 Toyota 4Runner and grabbed a fire extinguisher to put out the flames. The Watertown Fire Department arrived and made sure the fire was completely doused. It is not clear how the fire started.
March 18, 3:35 p.m: A Clayton Street resident reported that his crypto currency had been taken. The man said he received a call from a person who identified himself as being from Coinbase, which is where the resident keeps his crypto currency. The caller said someone was attempting to hack into his account by trying to change his username and password. The man was told he could stop any fraudulent charges if the man downloaded Any Desk software and gave him access to the account. The resident did so and allowed access to his computer. The caller took $11,900 in crypt currency from the account.