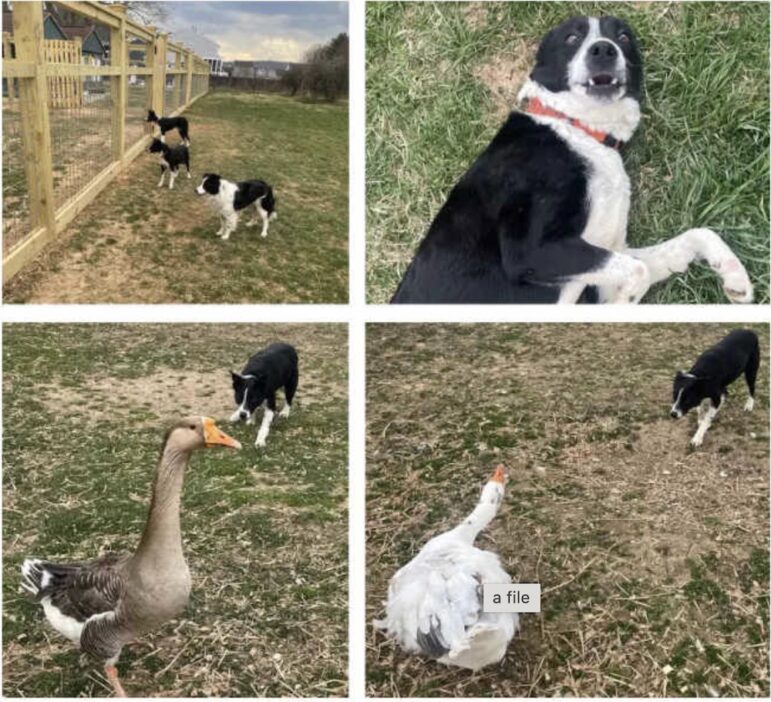 Watertown's newest employee will get plenty of exercise, time outdoors, and her reward for doing a good job will be treats — doggie treats.
Vee, Watertown's goose control dog, will soon be patrolling the parks and fields around the City to make sure the flocks of birds don't get too comfortable or leave their marks. She will live with and accompany Department of Public Works Parks and Cemetery Supervisor Bob DiRico to work, said Watertown City Manager George Proakis.
"In a few days Mr. DiRico will go to Leesburg, Virginia, to pick up Vee," Proakis told the City Council on Tuesday. "She is our new city-owned border collie from a facility that specifically trains dogs for goose control."
According to the DPW's announcement, Vee was born on Sept. 22, 2018, she is a good eater, can work ducks or sheep, and is an "old soul" who tends to stick close to her handler and not play with other dogs when not working.
Vee has her own page on the City of Watertown's website, where it describes what commands she responds to, her daily schedule at the training facility, and even her brand of dog food. See the Geese Mitigation Dog page by clicking here.
Geese taking up residence at Watertown's fields and parks has been something that Proakis has heard about since he arrived in town last summer. Parents of young athletes and people who like to stroll through parks have complained about interactions with the birds, as well as dealing with their droppings.
City officials looked at a variety of tactics to control the geese, including spraying a chemical deterrent on grass, buying a remote control car that chases the birds, or putting wooden dogs on fields. Proakis said one solution stood out.
"The most environmentally friendly and effective solution to the geese problem is dogs. A daily run on the field by a border collie sends geese elsewhere — they just move on," Proakis said. "If it is regularly repeated they will eventually choose another field."
Dogs who scatter geese have been used by many golf courses and private resorts, Proakis said, but few municipal governments own their own dog.
The City could hire companies to bring in dogs to chase the geese, but Proakis said that is "substantially expensive to maintain in the long run." He heard from his staff that when DiRico first joined the DPW, he used to bring in his dog to run around on the fields and disperse the geese.
"It was actually a very effective, but once (the dog) passed away, the geese returned to the fields and have been there ever since," Proakis said.
Vee will make daily runs on Watertown's fields to keep the geese away.
Working out the details to bring a goose control dog onto the City staff took a while. They had to figure out what the dog will be doing, who owns the dog, who covers insurance, and who feeds it. Then the City had to get on the waiting list for a trained goose-control dog. Proakis also had to find a place in the City's budget for Vee.
"She will live with Bob and accompany him to work," Proakis said. "She is the City's dog and the purchase comes from the Animal Control revolving account, so it will not be adding to our annual budget account. The City will, with our annual budget, cover her food and vet costs, which is lower than contracting an outside agency."
Councilor Lisa Feltner said she was excited to hear about Vee coming to town.
"A shout-out to Bob DiRico at DPW and (Recreation Director) Peter Centola and others who have been concerned about this," Feltner said. "This was in my budget policy guidelines not get through committee. I am happy to see staff took it on anyway."
City Council President Mark Sideris added, "In all years I have been on the Council I've never talked about goose poop."