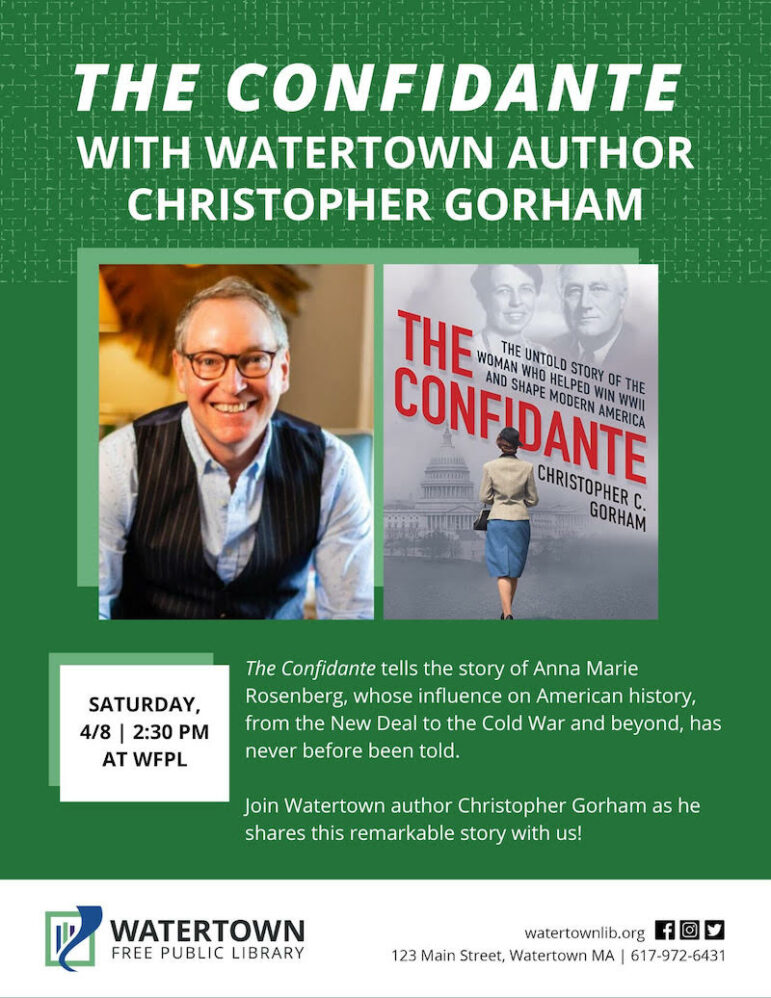 Watertown author Christopher Gorham will appear at the Watertown Library to discuss his book about a woman who was influential in the New Deal, the Cold War and beyond.
Gorham will be at the Library, 123 Main St., on Saturday, April 8, from 2:30-4 p.m. in the Watertown Savings Bank Room. The event is free and open to the public.
The Watertown Library provided the following information:
The Confidante: the Untold Story of the Woman Who Helped Win WWII and Shape Modern America tells the story of Anna Marie Rosenberg, whose influence on American history, from the New Deal to the Cold War and beyond, has never before been told. Her life ran parallel to the front lines of history — and her story, though forgotten for too long, is extraordinary, inspiring, and uniquely American. Join Watertown author Christopher Gorham as he shares this remarkable story with us!
Christopher Gorham holds degrees from the University of Michigan, Tufts University and Syracuse University College of Law. After practicing law for over a decade, for the last several years he has taught Modern American History at Westford Academy, outside Boston. His writing has appeared in the Washington Post and online publications. The Confidante is his first book. He and his wife, Elizabeth, live in Watertown and Chatham, Massachusetts.