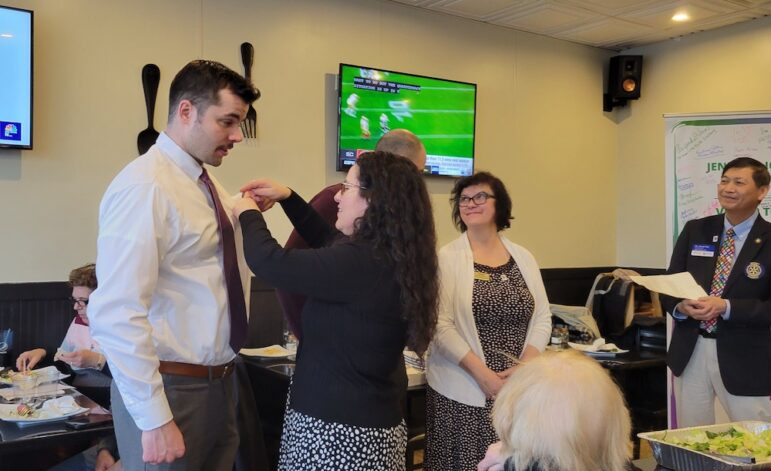 Coming out of the pandemic, the Rotary Club of Watertown struggled with attendance at its weekly lunch meetings and events, but recently, the club's membership has started growing.
On March 28, three new members were inducted as Rotary Club members in a ceremony held at Demos Watertown: Diane DiMascio Cinar of CK Realty Group, Christian Dallas of Dallas Insurance, and Massimo Zeppa of Keller Williams Realty.
All three of the new members said that Rotary's service mission attracted them.
"I am so happy to be a Rotary member," said DiMascio Cinar. "I have lived in Watertown since 1957. I'm a retired teacher in the Watertown (and) Waltham public schools. I graduated from Watertown High, so happy to give back to the community where I have lived all along." 
Dallas said: "My family's business has been in the Watertown community for close to 60 years or so, I am still pretty new to the area, I've been working here about two years, but since I've started everyone in the Watertown community has been very welcoming to me. I am happy to be here."
Zeppa said he is grateful to the community that he grew up in.
"I am a lifelong resident. Watertown has given me so much, and finally my girlfriend inspired me to give back to the community that I am a part of," Zeppa said. "For the rest of my life I will be giving back to Watertown because I don't know where I would be without Watertown."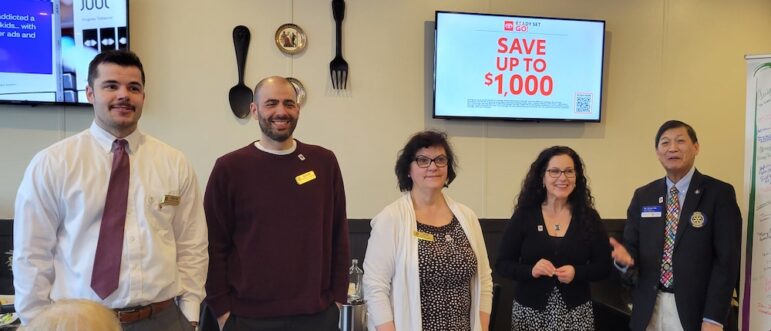 Among Watertown Rotary's service projects are the annual Senior Cookout and the Scholarship program for high school seniors.
The ceremony was attended by members of the Rotary District leadership, including District 7910 Governor, Dr. Victor Tom, of Bedford, who swore in the new members.
"By joining, you are entering a fellowship of 1.4 million Rotarians throughout the world, in over 200 countries," Tom said. "You can travel through most of the world and find a Rotary Club not too far. Rotarians will welcome you warmly. Even though the language may be different, the food may taste different, and the location far from home, you will find a welcoming Rotarian."
John Marchiony, an Assistant District Governor, told those gathered at Demos that he has seen the excitement growing in Watertown Rotary, and credited President Kim Severino.
"You have a tremendous president here who keeps on pulling people in," said Marchiony.
All three members said Severino was part of the reason why they joined. Dallas has worked with her through the Watertown Business Coalition; DiMascio Cinar was introduced to her by Rotary member Maria Papadopoulos and has already worked with Severino on projects to help residents of the Watertown Nursing Home; and Zeppa met Severino at the Watertown Boys & Girls Club's 50th Anniversary Gala, which he attended with his girlfriend Stephanie Barker.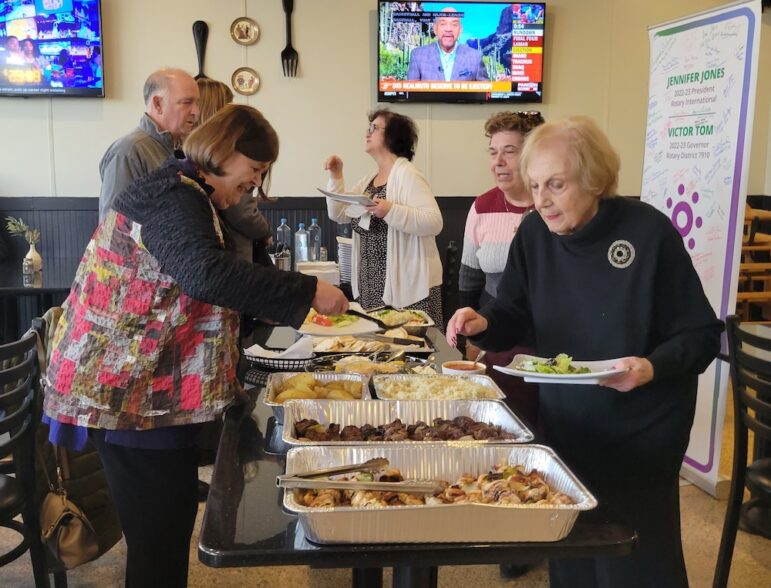 Marchiony added that Severino volunteered to have Watertown Rotary members be guest judges at the Children's Business Fair hosted by his club, Weston-Wayland Rotary. Watertown is planning to have a similar event, where children ages 6-14 present their business plans to a panel of judges, in the fall.
During the event, Severino will continue her presidency next year.
"We are going to do great stuff together, all of us," she said. "We are just getting started."
The Rotary Club of Watertown meets Tuesdays noon at Donohue's Bar & Grill, 87 Bigelow Ave.