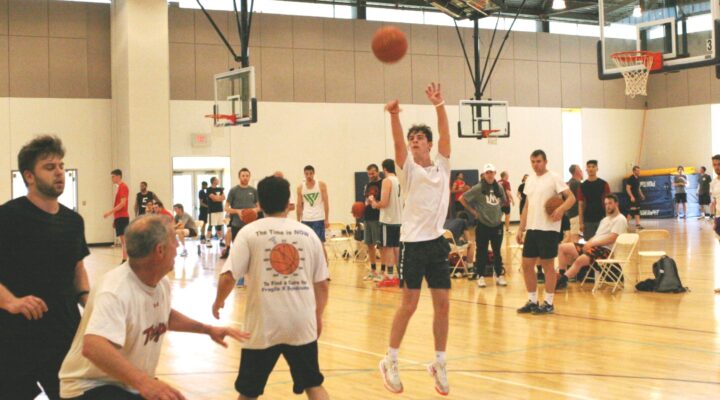 The Patrick's PALS 3-on-3 Basketball Tournament returns in for the 27th time, and it will have a new home at Bentley University.
This year's tournament will take place on June 3, 2023, at Bentley University's Dana Physical Education Center. The event raises money for FRAXA Research Foundation, which does research into Fragile X syndrome, the most common inherited cause of autism and intellectual disabilities that affects 1 in 4,000 boys and 1 in 8,000 girls worldwide, according to FRAXA.
Patrick's PALS was inspired by Watertown's Patrick Nolan Vershbow, born in February 1993 to James and Pamela Vershbow. Patrick was diagnosed with Fragile X Syndrome in December 1993. Within one year of his diagnosis, James and Pamela had met FRAXA co-founders Katie Clapp and Michael Tranfaglia, who were also parents of a boy with Fragile X, according to Patrick's PALS webpage. Many fundraising events led by the Vershbows followed. In 1997, spurred on by three very close friends, Patrick's PALS 3-on-3 Basketball Tournament was born.
"The idea was simple: four men in their 30s invited their friends to form teams and participate in a double-elimination basketball tournament. The tournament took place on the first Saturday after Memorial Day, and the Shady Hill School in Cambridge hosted it for the first two years. The event saw modest success in terms of both fundraising and participation, with $12-$15K raised and between 16 and 24 teams," the Patrick's PALS page reads.
The tournament moved to Buckingham Browne & Nichols (BB&N) in 1999 and it hosted the event for 21 years.
"Due to the pandemic, we were unable to host an in-person event for Patrick's PALS in 2020 and 2021, but we were overwhelmed by the incredible support we received through our annual mailing. However, in 2022, the basketball tournament was able to return, and we were thrilled to have Shady Hill as our host once again since 1998. Thanks to the generosity of our supporters, we raised an impressive $170,000," the website reads.
The tournament is double elimination. Rosters have a maximum of four players. Entries cost $50 per player, which includes breakfast, lunch and refreshments. The opening ceremonies are at 9 a.m., with play starting at 9:15 a.m. (check-in begins at 8 a.m.). There will also be a half-court shooting contest with prizes, a 50/50 raffle and a raffle for sports.
For more information contact tournament director James Vershbow at patricks.pals@comcast.net. To register or for more information go to fraxa.org/patricks-pals.