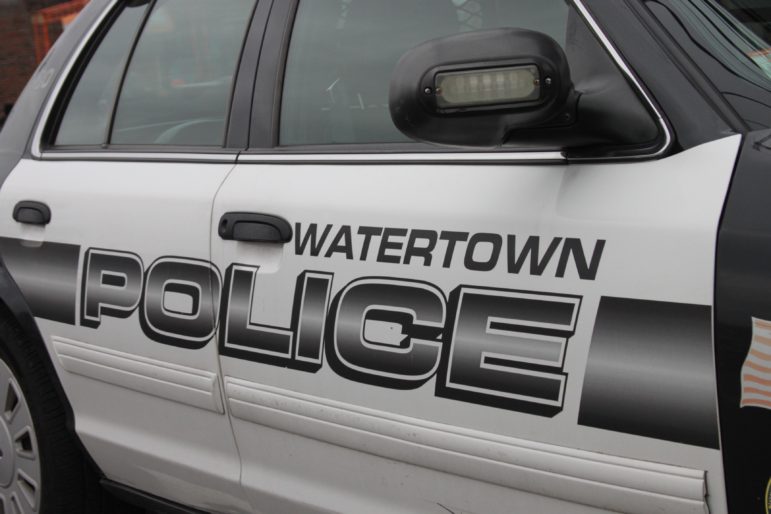 The following information was provided by the Watertown Police Department.
Arrest
April 8, 6:43 p.m.: A shoplifter at Target grabbed a bike buggy, left the store without paying and fled. Police received a description, and they located the man walking toward the bike path behind Target. He had hidden the buggy behind a dumpster near the path, but officers found it and returned it to the store. Police also determined the man was wanted on a warrant from South Boston District Court for possession of a Class A drug, possession of a Class B drug, and intent to distribute a Class B drug. Matthew Boudreau, 41, of Somerville, was arrested for shoplifting and receiving stolen property.
Incidents
April 4, 2:53 p.m.: A Hersom Street resident reported that a catalytic converter had been stolen. The vehicle was parked in the driveway at 7 p.m. the previous evening and it was discovered missing at 9 a.m. on the 4th.
April 5, 9:03 a.m: A vehicle's catalytic converter was stolen. It had been parked at an Emerson Road address on April 4, and the owner came out the next day and it had been stolen.
April 5, 6:04 p.m.: A person reported a laptop had been taken from a vehicle that had been parked on Cypress Street. The car was parked there at 6 p.m. on April 4 and had been left unlocked. The laptop is valued at $400, and loose change was also taken.
April 6, 10:47 a.m.: Police went to Charles Street for a report of a stolen catalytic converter. The vehicle was parked in the driveway on April 2 at 4 p.m., and the owner returned at about 8 a.m. on April 6 and noticed the catalytic converter was missing.
April 6, 1:07 p.m.: A resident reported a telephone scam. The 37-year-old woman said that she got a call from someone saying they were from the U.S. Customs and Border Patrol. The person provided a badge number and case number. She was told that the agency had a package that was addressed to her and was sent from Mexico. They said it contained illegal items. The caller listed several banks and asked if the resident had accounts in any of them. She did not. Then the person went through several addresses in Mexico and Texas to see if she had any affiliation with them. She said she didn't. The agent told her that her identity had been stolen and was being used for criminal activity, and that the case was being sent to the U.S. Marshals Service. A short time later the resident got a call from someone who said he was a U.S. Marshal. The person said her ID had been compromised and she could hire an attorney to resolve the issue but that would likely cost her $89,000. He offered her an alternative to have the Marshal Services and Customs freeze her identity and they would get it back from the criminals. The woman was told she should safeguard her money by transferring it to a Bitcoin ATM, and it would be protected by the U.S. Treasury. She transferred $15,000, and later realized it was a scam and contacted Police. Watertown Police said that no one should be sending money to law enforcement and people can contact the Watertown Police to confirm if it is a legitimate request. The number is 617-972-6500.
April 7, 10:33 a.m.: A vehicle was reported stolen from the BP gas station on Galen Street. The manager told Police that he reviewed security footage on April 5 at 11:54 p.m. and it showed a person walk into the parking lot and drive off in a vehicle. The keys had been left in the black 2012 Nissan Pathfinder and it was left unlocked. Police are investigating.
April 7, 1:55 p.m.: A resident was alerted by his bank that someone attempted to cash a check he had written and it had been altered. The man wrote a check to the City of Watertown to pay a $188.06 water bill. He mailed the check, but someone intercepted it and changed the amount to $9,250.10 and changed the "pay to" line. Police are investigating.
April 7, 5:47 p.m.: Two men came into the Nike store at Arsenal Yards and one walked around putting numerous items in his bag. Meanwhile, the other man walked around the store talking to employees in what appeared to be an attempt to distract them. The items taken were worth $434.89. The first suspect is a Caucasian male, 30-40 years old, wearing a black San Francisco Giants hat, a black jacket, khaki pants, white sneakers and had a goatee. The second suspect is a Black male, wearing a Giants hat, a green sweatshirt, khaki pants, white sneakers and a black backpack.
April 8, 5 p.m.: Carter's employees reported a pair of women who came into the store and took multiple items of children's clothing. They concealed the items, worth $204, in their personal bags and left without paying. The first suspect is a Black female, wearing a black coat, green hoody, and grey pants. The second suspect is a Black female, wearing a green and white shirt, and had neon colored UGG boots.
April 9, 5:54 p.m.: A Belmont Street resident reported that a package had been stolen. The woman had ordered clothing valued at $77, and it was confirmed delivered but it was gone when she got home. Her home surveillance showed a woman walking past the front porch, who then came back and took the package. The suspect is described as a white female with blond or light brown hair, wearing jeans and a black hoody, and carrying a Stop & Shop grocery bag.