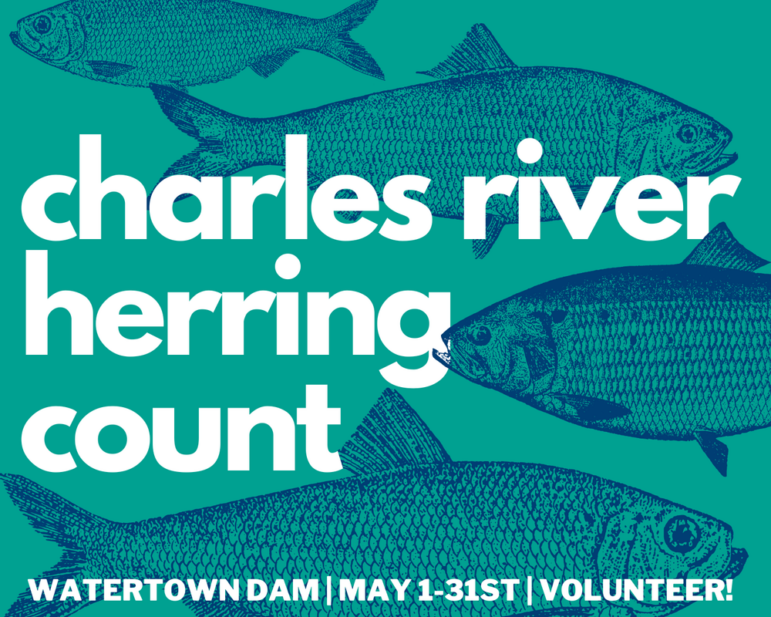 Volunteers are wanted to help the with the First Charles River Herring Count in Watertown.
The count runs through the month of May at the Watertown Dam, and is coordinated by the Charles River Watershed Association.
The count count tracks the number of herring and other migratory fish head up the Charles River. The Watertown Dam, just east of the Galen Street Bridge, is a place where some fish are blocked or hindered in their upstream journey.
The CRWA sent out the following information:
Help us monitor migratory fish passage!
You're herring that right – we need you to count migratory fish! 
Each spring, thousands of migratory fish return to the Charles River to spawn from the ocean, many are stoped short of defunct dams.
We need YOU to help us collect data on how many fish are able to use the ladder at Watertown Dam! By counting fish, you will play a critical role in our understanding how dams affect American Shad, Blueback Herring, Alewives, Rainbow Smelt, White Perch, Striped Bass, and American Eel.
We're looking for volunteers to dedicate just 10 minutes of their day on a weekly basis to help us study fish passage at Watertown Dam. Register and find out more at: https://www.crwa.org/fish-count