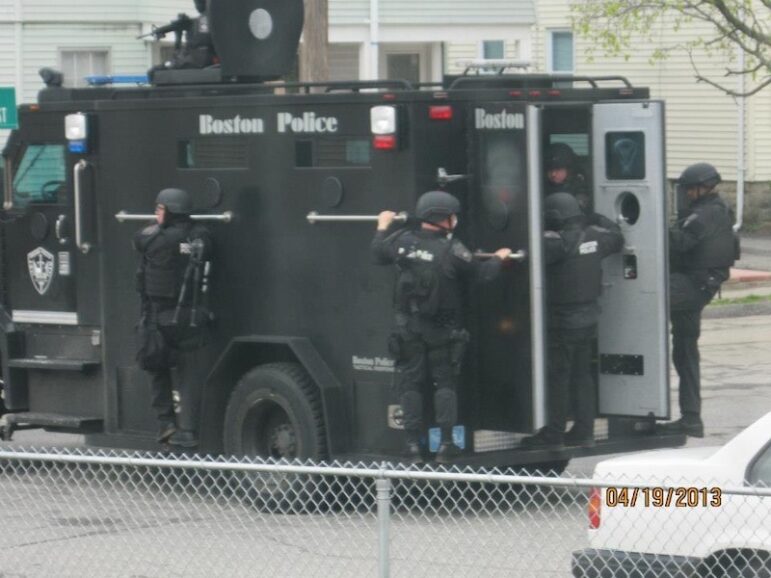 It seems like ages ago and at the same time just like yesterday that Watertown was rocked by gunfire and explosions, then went into lockdown as police scoured homes and yards for the Boston Marathon Bomber, before locating and capturing him in a boat parked on Franklin Street.
On April 19, 2023, the 10th anniversary of the Watertown Shootout and Manhunt, Watertown News is sharing the memories of readers of that monumental day in our community.
The area was already on edge. On April 15, two bombs went off at the Boston Marathon finish line and the culprits remained at large.
When the Marathon Bombing occurred, Jade Burke, who grew up in Watertown, was at the South Shore Hospital with a person from a group home for whom she cared.
"We were in the emergency room. We were locked down in the hospital for hours. We weren't even allowed to step outside. We finally got an all clear to go home later that night. It was an incredibly stressful day," she said. "The unit we were on had a group from the hospital running the marathon that day. I remember screams, crying, people pacing, watching the news. Trying to get their friends/colleagues on the phone just to know they were safe."
Burke's family has lived in a two family home in the East End for nearly 100 years.
"It was always such a quiet, safe place. It's always been home. I've never felt fear in the confines of this town. Not until that day," Burke recalled.
Late on the afternoon of April 18, the FBI released images of the photo in the media. On the evening of April 18, MIT Police Officer Sean Collier had been shot in his car by the Bombing suspects, later identified as Tamerlan and Dzhokhar Tsarnaev. After killing Collier, the Tsarnaevs carjacked a Mercedes SUV in Cambridge, and the driver, Danny Meng, got away when they stopped at a gas station.
Shortly after midnight on April 19, Watertown Police officer Joseph Reynolds located the Mercedes wanted by Cambridge Police in connection with the carjacking.
The car stopped at the intersection of Dexter Avenue and Laurel Street in East Watertown. Tamerlan Tsarnaev got out of the car, and began shooting at Reynolds and Sgt. John MacLellan, who had arrived to assist in the traffic stop. The two officers fired back, along with others who responded to the reports of "shots fired."
Between 200-300 shots were fired, and the Tsarnaev brothers threw at least one pressure cooker bomb and five homemade grenades, three of which exploded.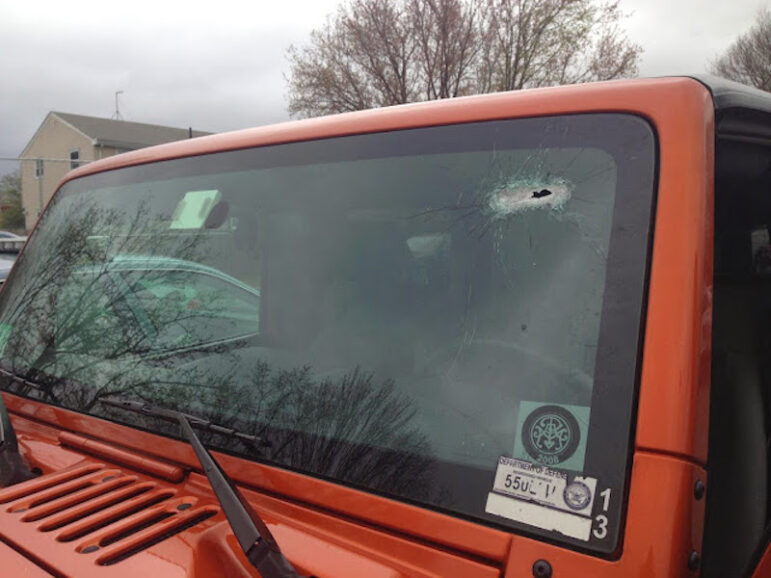 Liza Ketchum, who was living on Arthur Terrace, awoke to the sound of sirens and explosions.
"Looking out our bedroom window we saw someone lying down on Adams Street," Ketchum said. "We heard the shots that resulted in the death of one bomber and serious injuries to one policeman, a few blocks away."
Elaine Shore was living at 489 Mt Auburn St. at the time, which was close to the action.
"I could hear the cops saying to the (Tsarnaev) brothers 'get down get down' and then heard pop pop pop," Shore said.
Watertown Police Officer Tim Menton recalled he was working a road detail at a National Grid project nearby, and raced over when he heard about the shootout. During the firefight, MBTA Transit Police Officer Dic Donohue was hit in the leg by a bullet and lost lots of blood. Menton's brother Pat, who is a Watertown Firefighter, was one of the first on the scene, arriving in an ambulance.
Firefighters and police tried to save Donohue. Tim Menton recalls jumping behind the wheel of the ambulance with Donohue inside. He drove to Mount Auburn Hospital while Firefighters Patrick Menton and Jimmy Caruso, along with State Trooper Chris Dumont, were in the back trying to save Donohue. Transit Police Officer Luke Kitto rode along as a passenger. Donohue survived.
Tamerlan had been wounded in the shootout, but his brother Dzhokhar had jumped into a vehicle to flee. As he drove away he ran over Tamerlan, narrowly missing officers who were trying to take him into custody.
With Dzhokhar on the loose, hundreds of officers from around the area arrived. They cordoned off 20 blocks in the East End to begin the search for Tsarnaev.
At the time, Burke lived in Brockton. She suddenly awoke in the early hours of the 19th, her heart racing, and she suddenly had a bad feeling. She turned on the TV to see breaking news that a bomb had gone off in Watertown and she immediately recognized the area.
"It was a few blocks from my family's home. From my Mother. My daughter," Burke said. "One suspect was dead, the other had fled. They were canvassing trying to find him. I began to feel sick to my stomach."
She ran to the phone to call her Mother.
"She had been woken by an explosion of some sort, gun fire. She wasn't sure what it was. I told her to lock the doors. Turn on the news," Burke said. "We couldn't believe what was transpiring just blocks away. The suspect had to be hiding somewhere. We have a large backyard with a shed. I told my Mom not to let the dog out. Stay inside. Keep the phone near you."
Not everyone knew what was going on, even people living near the action, like Andrew Anderson, who was a couple blocks away on School Street.
"I never heard the gunshots, but the robo calls started soon after — they woke us up, and I couldn't sleep for the remainder of the day," Anderson said. "At one point there was about 50 police officers in front of my house with guns drawn, motioning for me to get away from the window. They set up a command post next door to me, but never once came to knock on my door, or check my garage, never searched my house."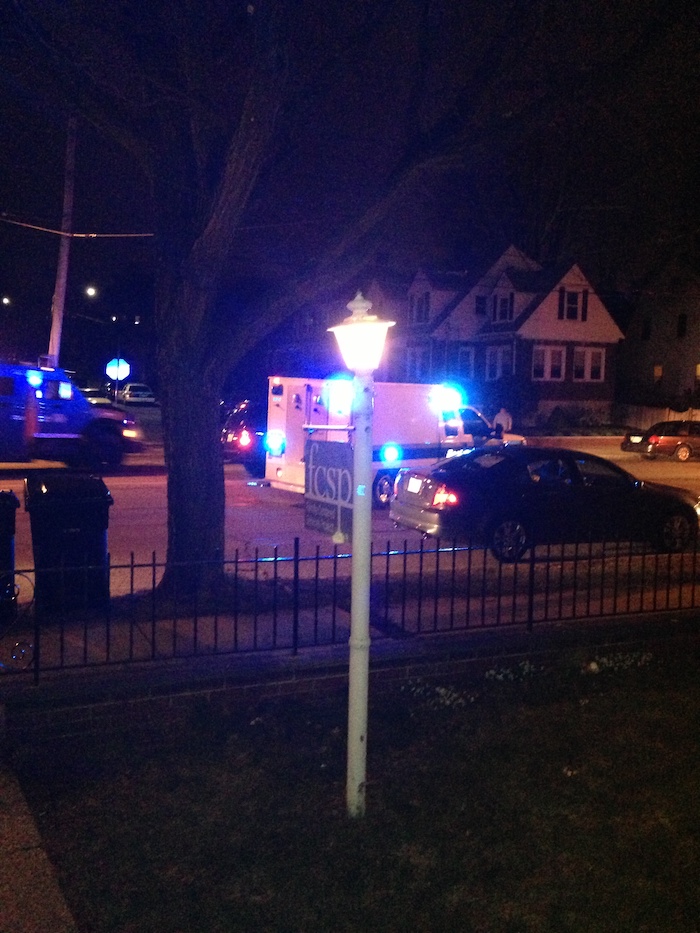 News spread fast Cynthia Wentz was on vacation in Florida on the day of the Marathon Bombing, which she noted was just one tragedy that occurred when she was on vacation. Others include 9/11 and the Virginia Tech Shootings. She had no idea what was going on in her hometown as she sat in her rental condo.
"I can remember how dismaying and disorienting it was to get the robo calls from the WPD in the middle of the night — no details other than a 'shelter in place' order," Wentz said. "More worried phone calls the following day from friends and family near and far to see if we were OK. My husband and I are abutters to the Whitney Woods: I remember anxiously wondering if the bomber chose that location to hide. Seemed like a good idea to me!"
As day broke, Gov. Deval Patrick declared that Watertown, and surrounding communities, were in lockdown and people should shelter in place.
Anne Civetta was also away that weekend, having gone to visit her boyfriend in Syracuse. She had to stay there due to the lockdown.
"My neighbor called in a panic wondering how to pick up her husband from his return flight to Boston. It felt surreal and disconnected not to be able to go home!" Civetta said.
Ketchum and her family were locked in her East End house all day.
"At one point, when State Police were standing in our alley, we realized that no one had checked the small yards behind our houses," Ketchum said. "Was our bulkhead closed? We didn't dare go to the basement. We peeked out our door and asked them to check. They found our yards were clear."
Westside resident Joan Gumbleton remembers the "extreme concern" that everyone had when they learned one of the suspects was somewhere in Watertown.
"I spent quite a bit of time on my front porch in the West End so I could look out to see if I saw anything," Gumbleton said. "I saw a young guy ride by on a bike when no one else was on the street and I thought that probably wasn't a wise idea for his family to allow him to do this."
During lockdown Lily Rayman Read was in the Winter Street apartment in which she lived with her family at the time.
"To distract my very energetic 3 year old on what was a beautiful and warm spring day, we made the following poster (pictured below), which was then hung in Tresca's," Rayman Reed said.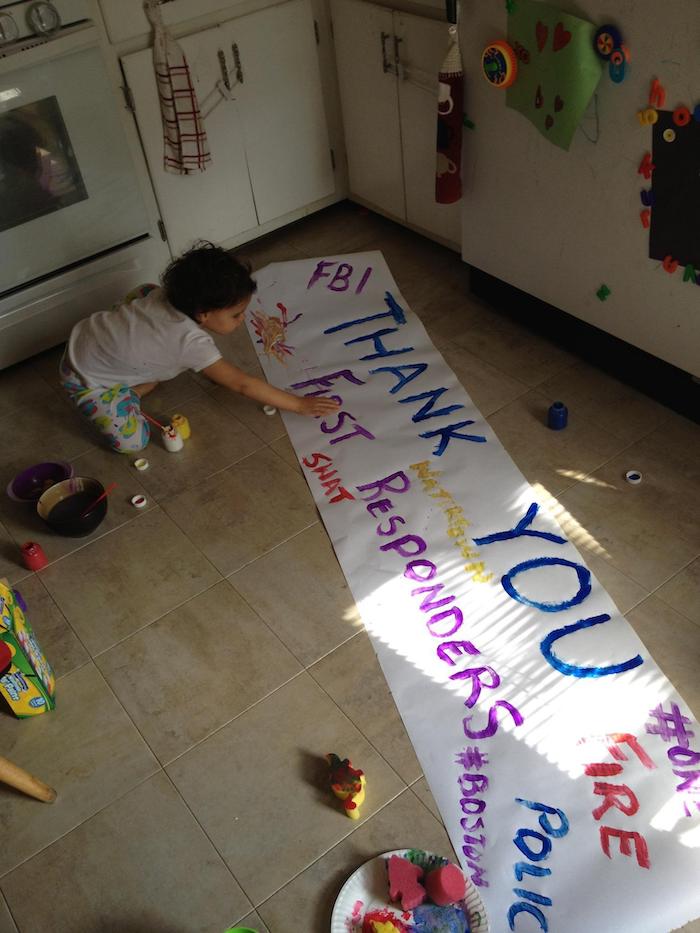 Burke had to wait impatiently as law enforcement scoured the town looking for Tsarnaev.
"You can't imagine my terror as a parent not being able to get to your child after something like this happens," she said. "To add to things there is a potentially armed bomber on the loose, who knows what this guy would do if he got into our yard/shed/house. I know everyone felt about the same."
She called multiple times to check on her mother and daughter.
"They talked about officers that looked like the SWAT team walking up and down the streets with assault rifles. At one point my mother poked her head out to ask one of them about letting the dog out and they yelled at her to "get back inside!" Burke said. "Armored vehicles and police cars rolled up and down the street. Officers in full gear marched through our backyard, clearing it for any signs of life. It was surreal."
Shore had police officers and armored vehicles staged right outside her residence.
"So it is something I will never forget," she said.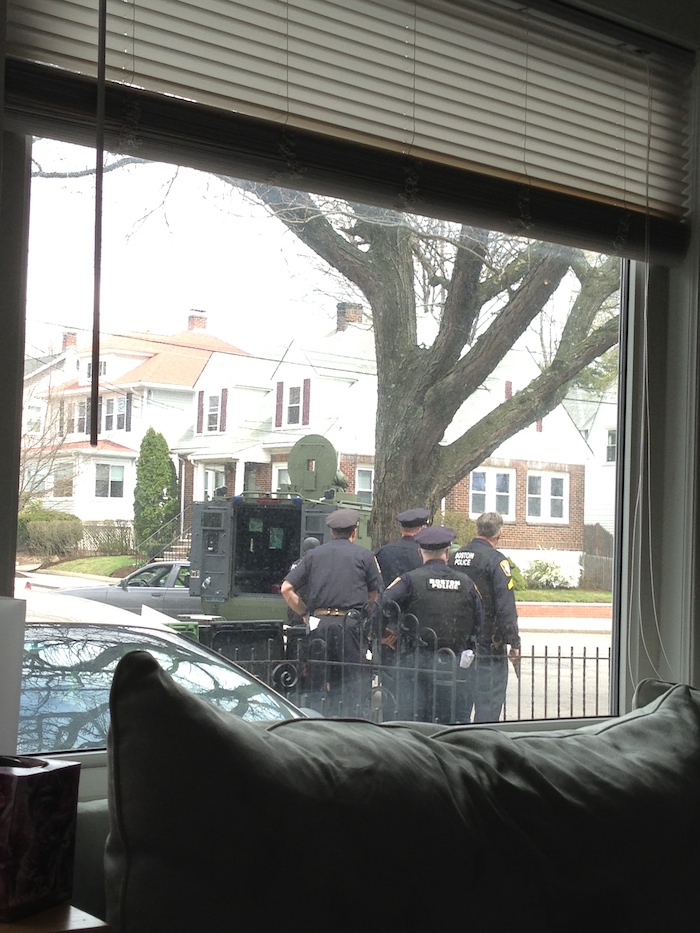 Late on the afternoon of the 19th, the announcement came that the lockdown had been lifted. Like many people, Anderson got out of the house. Soon after, Franklin Street resident Dave Henneberry saw something awry with his boat, looked inside and found Tsarnaev.
"When the shelter-in-place order was lifted, I went out to get smokes and drove up Walnut Street just as they discovered the boat," he said. "I was surrounded in seconds by police, I quickly made a U-turn and went the other way. I lost a day's pay because I wasn't allowed to leave. I also worked in the Fenway, and was at work on Marathon Monday and heard the bomb, and it was chaos trying to drive home that day, because I had to go towards Copley Sq to get around the marathon route … I'll certainly never forget it."
After Tsarnaev was found in the boat, police surrounded the area. Law enforcement fired into the boat and at 8:42 p.m. Tsarnaev was taken into custody.
"Eventually everyone was allowed out after what seemed like forever," Burke said. " The final showdown happened and the second bomber was located in the boat. It was a relief. That night I drove to pick up my daughter. I was so happy to see her, that she was safe. I was so happy it was over. It was a week on edge for everyone in the community."
Gina Consolini shared:
What a terrible day it was for the dear people of Watertown.

My heart went out to everyone there.

It was so scary for everyone concerned.

I prayed so hard they would find the bombers.

Law enforcement along with the residents of Watertown did.
After the capture of the Marathon Bomber, Watertown suddenly appeared on TV sets across the globe. Ketchum heard from family and friends from near and far.
"What amazed us was how far the news traveled. Our close friends in Nairobi, Kenya, who had visited us in the past, recognized the Town Diner on their TV coverage. They called to see if we were OK," she said. "My brother, in Connecticut, heard the news that the bomber had been found in the boat before we did. He called to find out if we were close (we weren't). But we threw a bag of clothes together, dashed to our car, and skipped town, as did other neighbors on the alley. For many months afterwards, a car's backfire could bring it all back."
Shore was interviewed about her experiences.
"As I speak Hebrew I was also contacted by Israeli radio and did a couple of interviews about the Marathon bombing," she said.
Gumbleton said she will always be grateful to the police who risked their lives and captured the Marathon Bombers.
"As we all know, there was so much confusion during this whole event and our police acted so bravely and quickly to be out there to protect us," Gumbleton said. "When there are times when police are blamed for situations, hopefully we'll all remember this event and similar ones where they put their lives on the line for us in terrifying situations and show them our appreciation."
Watertown Cable looks back 10 years
On the 10th anniversary of these events, WCA-TV will look back at Watertown Cable's news coverage and some local ceremonies in recognition of Watertown's first responders in the months following the 2013 Boston Marathon. You'll see interviews with Police Chief Ed Deveau and Fire Chief Mario Orangio the week following the shootout, a first responders' ceremony at Perkins School for the Blind, and much more.
Watch on WCA-TV's Public Channel, April 19th, 2023, 7:30 p.m. (Comcast 9, RCN 3) Online: http://vodwcatv.org/CablecastPublicSite/watch/1?channel=1