A Watertown High School science class recently got a visit from representatives from one of the City's life science companies, which also provided some donations that will help students learn about the human body.
In early April, three employees of Enanta Pharmaceuticals stopped by a WHS anatomy and physiology class to speak to the students about their work.
Joyce Sweeney Gibbons told the students that she did not take a direct road to her current position as senior scientist in virology at Enanta.
"If you have no idea what you want to do, that's OK," Sweeney Gibbons said. "When I got to college I didn't know what to do. I knew I wanted to help people and I knew I wanted a career where I wasn't bored out of my mind every day; one where I was learning new things."
For 10 years she worked in finance, which she said was a great career where she was well paid and had job security, but it wasn't the right fit. She quit, moved to China to teach English, and found that wasn't the career for her, either. Then she came across a microbiology book and read about viruses.
"Something about me, I love horror stories, I love sci-fi," she said. "I read about viruses — these parasites that can take over your body, and make you do things you wouldn't normally do. I said, that's super sci-fi, that's super horrific, that's really cool. I want to study these."
She took a community college class to make sure she wanted to go back to school. When she liked it, she went into doctorate program and got a Ph.D. in virology. Her first job out of grad school was at Enanta.
The company develops small molecules that interact with viruses to come up with cures. Sweeney Gibbons said her work involves making sure the scientists have enough virus for scientists to do their research and develop cures.
Enanta's first big breakthrough was coming up with a cure for hepatitis C, said Harry Trout, vice president of finance. He told the students that they have job opportunities in science in their backyard.
"You guys have got some really good science locally. You don't have to go to California. You graduate college and you have jobs right here in the Boston area," Trout said. "We don't have enough scientists in our industry. If we could have one or two of you decide to continue on into the science field that just helps our industry as a whole. Hopefully, one or two of you take that path. "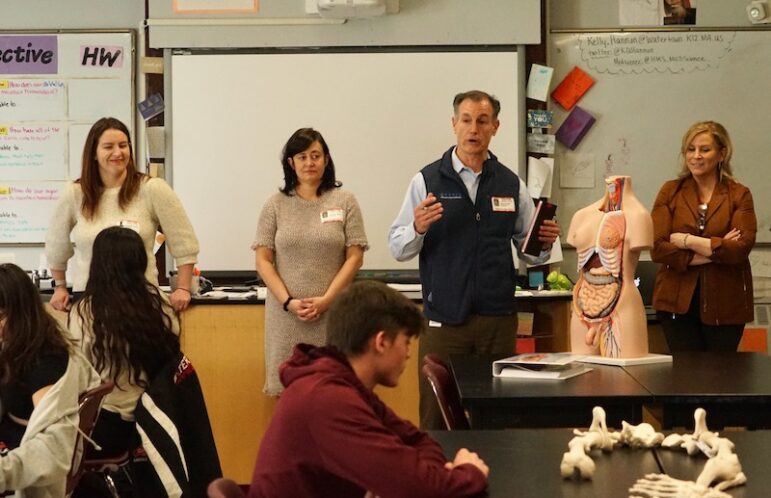 Along with scientists, Enanta has a range of support teams, including accounting, legal, and investor relations.
Enanta is one of the companies in Watertown inviting high school students to work as interns.
"We created a position on our operations team so you can walk around with one of our operations associates and deliver certain materials to labs and do odds and ends, but you get a really good snapshot into how the lab operates," Trout said. "It gives you: Ya that's what I want to do, or No I don't want to do this."
On the visit, the Enanta employees got to see one of the gifts the company provided to the WHS science department, a 3-D model of the human body. Anatomy and physiology teacher Kelly Hannon demonstrated how it could be used in the class.
"This is one that we chose because of the versatility of it," Hannon said. "You can remove all of the organs. They can practice putting it together themselves and see where they go. A lot of organs open up themselves and you can see the structures and will be able to see it in three dimensions. We don't have any other models like this, so it is pretty awesome."
Enanta also gave the school a skeleton in which the bones can be disassembled and put back together.
"We just finished a unit on the skeletal system and learned about each of the bones and how they differ," Hannon said. "It's a great learning tool. Sometimes it's easy to identify when the skeleton is all put together, but when bones are apart it is harder to identify them." 
The anatomy and physiology class is mostly seniors, with some juniors. It is aimed at students interested in going into the medical field. There are three different classes, but before the donations the school had only one skeleton that had to be shared by the teachers. The gifts will help the school, said Lynsey Kraemer, Science Curriculum Coordinator for Grades 7-12.
"We wanted to be able to, ultimately in the new high school, outfit each classroom with one, so now there will be three," Kraemer said. "We chose a range of models."
The two models provided by Enanta would cost about $3,000 combined, Kraemer said.