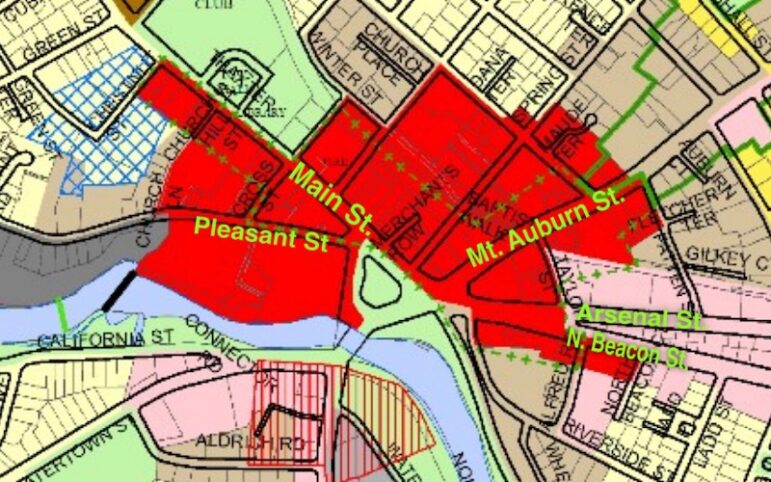 Tuesday night, the City Council will consider a citizens petition to reduce the size allowed for new buildings going up in the area around Watertown Square.
The City Council will meet on Tuesday, April 25 at 7 p.m. in City Hall, and will also have remote participation by Zoom. The agenda also includes a vote on funding for the recommended projects from the Community Preservation Committee. (See the agenda and Zoom links here).
The Petition
The Council received the petition requesting that the floor area ratio (FAR) be reduced from 4.0 to 2.2 in the Central Business District.
The petition was signed by more than 200 registered Watertown voters. It says: "We make this request out of concern that the current allowable floor area ratio is a relic of the 1960s "spine" planning and design theory and is incompatible with the goals set forth in the Watertown Comprehensive Plan for Watertown Square." It adds that focusing on numbers and rations makes it difficult for residents to understand, and "frequently does not address residents' concerns about the community's authenticity, historical heritage, and neighborhood scale."
(See the petition's entire language below)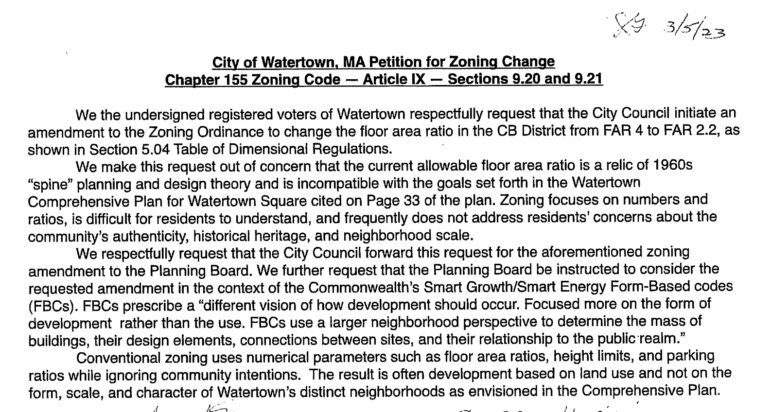 What is FAR?
The FAR regulates and restricts the height, number of stories, and size of buildings. Other factors impacting the mass and height of the building include the allowable height, the required setbacks from property lines, and the amount of open space required.
A FAR of 4 does not limit buildings to four stories, but rather the square footage of a four story building covering the entire property. If part of the property has landscaping or a parking lot, for instance, the building can be built higher but would cover a smaller portion of the property.
Watertown's Zoning Ordinance has required set backs and a maximum percent of the coverage of the property for most areas of town, but the Central Business District 100 percent of the site can be covered by a building and there are no required setbacks. There is a maximum height of 55 feet, but developers can apply to go over the maximum height, such as with the proposed project at 104-126 Main St.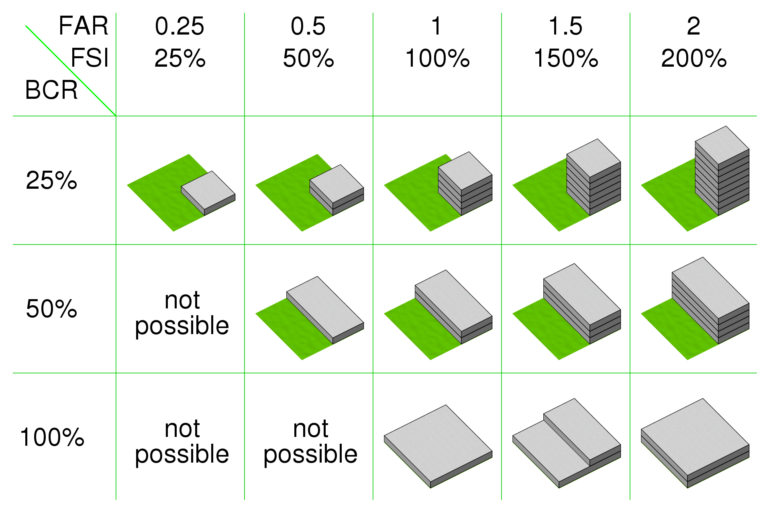 Process
Any change to Watertown's Zoning Ordinance must first be reviewed by the Planning Board and then approved by the City Council.
On Tuesday, the Council will discuss and vote on whether to refer the Citizens Petition to the Planning Board.
The Watertown Zoning Ordinance can be seen at https://ecode360.com/36825722