Katherine and Julia Tolman completed the Boston Marathon this year, and raised more than $25,000 for the hospital that treated their mother's cancer.
The sisters wanted to give back to the organization that gave their mother so much over the years: Mass. General Hospital. Their mother, Carolyn Tolman, worked at the hospital for 35 years as a nurse and a nurse practitioner, and when she was diagnosed with cancer, the hospital provided her treatment.
Katherine ran cross country and track all four years at Watertown High School. She went on to run at UNH, though she was hampered by injuries in her time there. She took a few years off from running after graduating college in 2020.
"After my mom got cancer I got back into running," Katherine said, adding that "I always wanted to run the Boston Marathon. I wanted to research or a charity program that funds clinical trials. That's really what's helping my mom."
Carolyn's bile duct cancer responded well to a treatment she received in a clinical trial at MGH.
"She's living a normal life right now," Katherine said. "She might need to do chemo again, but right now she is living it up. We are saying our prayers everyday and hoping it is going to stay the same."
The pair ran for the MGH Marathon Team and the money raised went to MGH's Children's Pediatric Cancer Program.
"It is really a difference maker in (my mom's) treatment, not only MGH but the clinical trials she was a part of," Julia said. "I was thinking so many people don't have access to targeted therapies because they are not in areas where some of world's mosts renown hospitals are located. Giving people access to this is really inspirational."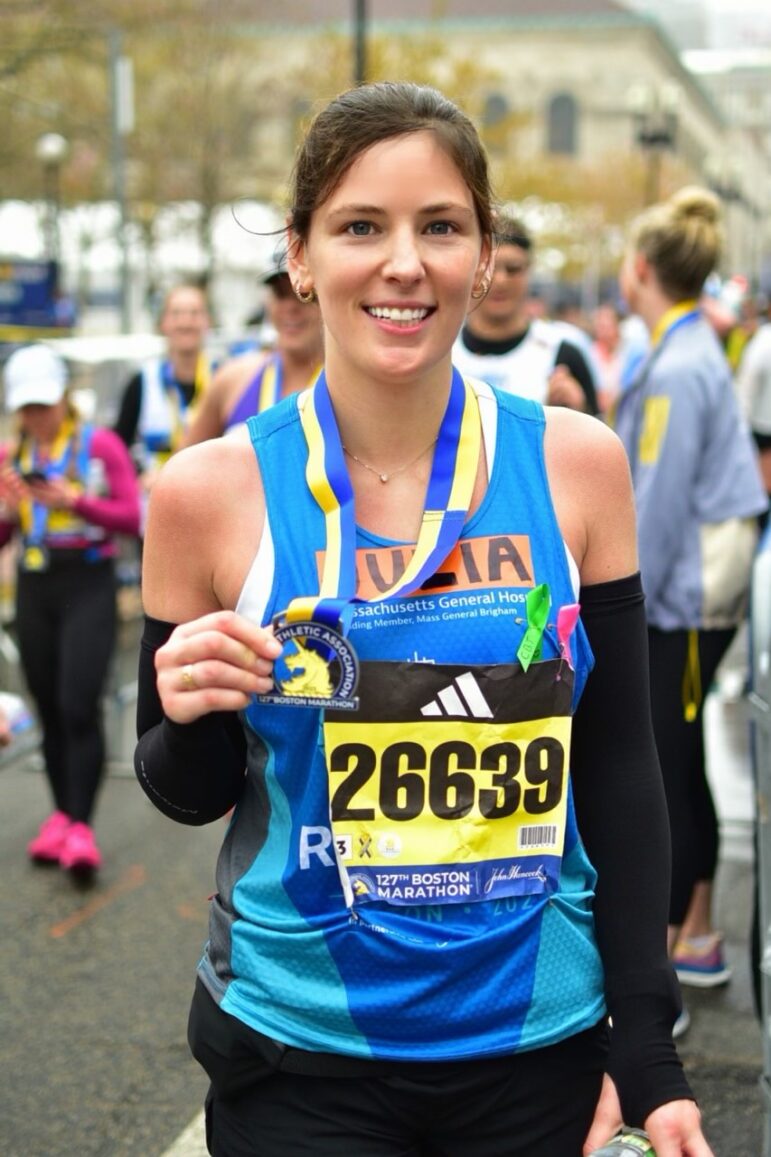 They were required to raise $7,500 each to be on the MGH team, and the Tolmans said they would raise $9,000, apiece. In the end they raised a combined $25,703.
Julia also ran track at WHS, but said she was more of a short distance runner. Running a marathon was not something she planned to do.
"I am not the type of person who had this on my bucket list all my life and something that would be exciting to check off," she said.
She began training with the MGH and got through the 20 mile training run when she felt a pain on the top of her foot.
"I had what they thought was a metatarsal stress fracture, the bone that connects your toe to the rest of your foot," Julia said. "It was not very fun. I was in the aircast as recently as two weeks (before the race). I didn't think I was going to be able to do it."
She stopped training completely, but then her doctor said that it wasn't a fracture.
"I did a 10 mile run, the last run we had before the marathon," Julia said. "That wasn't pain free either. I decided I came this far, I had so many people supporting my sister and me, and I was supporting a cause so near and dear to our hearts, and I thought I could do it."
Julia completed the 26.2 miles from Hopkinton to Boston in a time of 5:29.
"I am happy did it," she said. "I wouldn't say it was pain free."
Katherine got off to a slower start than she had hoped, running a 10:40 minute first mile, in part because of the crowd at the beginning, but also because she wanted to make sure she didn't exhaust herself early.
"I started picking up the pace around mile eight or so, then I hit Heartbreak Hill," Katherine said. "I maintained my pace and right around mile 21 was dropping 20 seconds a mile, and my last mile ended up being 6:40."
She finished in a time of 3:59, and had such a good experience she already has another race lined up.
"I'm signing up for Chicago now, I've really caught the bug," Katherine said.
She said her goal is now to complete five major world marathons: Boston, New York, Chicago, London and Berlin.
Julia thanked the Heartbreak Hill Running Company, which set up training and support for the marathon. For people looking to run the marathon for the first time.
"I would say finding a group to run with made all the difference with training," Julia said. "Even if you are not talking, just feeling their presence and knowing you are not alone on your journey does a lot to power you over whatever hill or whatever mile you are on."