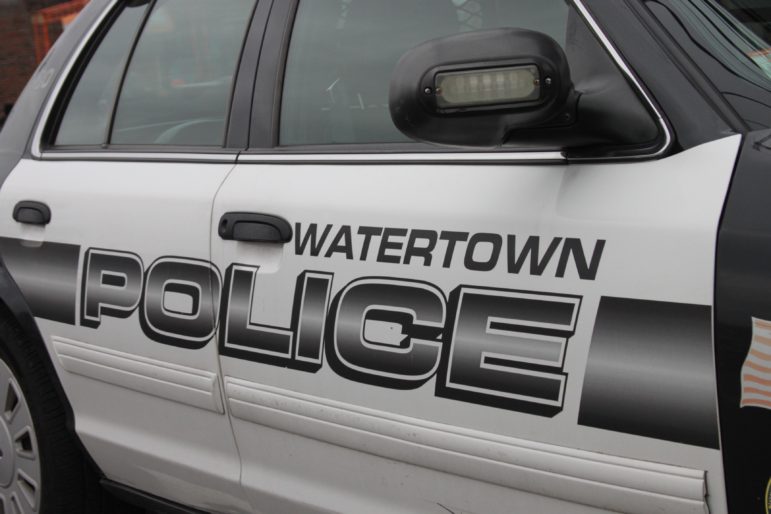 The following information was provided by the Watertown Police Department.
Arrests
April 14, 12:13 a.m.: Witnesses called police after seeing a silver and black SUV driving down Main Street with a flat tire and being driven erratically. The vehicle swerved a few times and almost lost control. Police located the vehicle on Prescott Street, and the driver was in the front seat slouched forward and asleep. It took several attempts for officers to wake the man in the car. He had a strong odor of alcohol and when he got out of the vehicle he was unsteady on his feet and had to be assisted out of the car. He first said he would perform field sobriety tests, but then declined. Due to the circumstances he was placed under arrest. Police also found he did not have a valid Massachusetts license. Jonathan Coronado, 32, of Watertown, was arrested on charges of driving under the influence of alcohol and unlicensed driving.
April 18, 2:44 p.m.: Target security detained a woman after she was seen shoplifting. The woman came into the store, put a couple Target shopping bags into a carriage and then pushed it around the store putting items into the bags. She had $522.68 in items and walked past the registers without paying. She was placed under arrest and when Police searched her belongings they found a driver's license and two credit cards that didn't belong to her. The suspect said she found the items in Boston several months ago. Police contacted the person on the license who said they had been taken from her place of work on Mt. Auburn Street in 2022. Rosemary Taverna, 45, of Watertown, was arrested for shoplifting and two counts of receiving stolen property.
Incidents
April 15, 11:28 a.m.: A 15-year-old from Newton was magnet fishing in the Charles River and he brought up a firearm. He contacted Watertown Police to report it and turn in the firearm, which appeared to be a Ruger revolver. It was rusted and decayed. Due to it being found in the river, it fell under the jurisdiction of the State Police. The revolver was turned over to the State Police and will be sent to the State lab for further analysis.
April 15, 3:16 p.m: A Gilkey Court resident had a package stolen. It was delivered by UPS between 1 and 1:30 p.m. and when the resident opened it they were expecting to find an iPhone battery case valued at $100. However, the box was filled with papers and appeared to have been opened and re-taped.
April 16, 12:42 p.m.: While doing a stock check, Best Buy employees discovered a Bose bass sound module valued at $850 was missing. Looking at security video, they saw a person take it on March 18. Police recognized the person from past incidents. The 60-year-old Saugus man was summoned to Waltham District Court for shoplifting over $250.
April 16, 6:24 p.m: Neighbors on Swettts Court got into an argument after one was working on a car and was revving his engine for 30 minutes. A neighbor said it was an ongoing issue and went over to ask the man to stop revving the engine. The man working on the car made an obscene gesture and spit on the ground near the other man. A third man came over and was very upset because he thought the man spat on the neighbor. He grabbed the man working on the car by the shirt and wrestled him to the ground. The scuffle was broken up. Police responded and witnesses confirmed that the third man was the aggressor. The 29-year-old Watertown man was summoned to Waltham District Court for assault and battery.
April 17, 7:55 p.m.: An Appleton Road resident reported her vehicle was stolen. She parked at 4:30 p.m. on the 16th, locked it and went inside. The white 2015 Hyundai sedan was there when she went out to walk her dog at midnight. The next morning she went out and it was gone. Home surveillance shows the vehicle parked at 4:30 a.m. and another vehicle pulled up and a silhouette can be seen walking in front of her car and the person shone a spotlight into the resident's vehicle. At about 4:52 a.m., the car drove away with its headlights on. The other vehicle appeared to be a dark colored SUV.
April 17, 7:30 p.m.: A Watertown resident came into the Police station to report an identity fraud. She noticed a withdrawal of $3,900 from her bank account made in North Carolina. She also noticed someone attempted to open an account using her Social Security number and driver's license. The bank is investigating, and closed the fraudulent account.
April 18, 7:26 a.m.: A piece of farming equipment was damaged at Gore Place. The Volvo vehicle had been parked on the eastern part of the property on April 15. When the person returned on the 17th he noticed two of the cabin windows were shot with a BB gun and were shattered. The damage cost about $400 to repair.
April 18, 12:23 p.m.: An electrical contractor working on a construction site at Forge Road reported that several tools were stolen from a lock box. About $7,000 worth of tools were taken over the weekend. When Police were there another subcontractor reported that $900 of tools were taken. The lock boxes had been left unlocked.
April 18, 6:30 p.m.: A man came into Arsenal Wine & Spirits and attempted to purchase two bottles of wine. His credit card was declined, and he picked up the bottles of wine along with two whiskey nips and exited the store without paying. He was seen heading toward Mt. Auburn Street. The items were worth $35. The suspect was described as a Black male, medium build with a beard, wearing black baseball cap, black pants, and black sandals.
April 20, 11:47 a.m.: A Fayette Street resident was contacted by her bank about a credit card opened in her name and linked to a fraudulent account. An unknown person opened the account in the resident's name and when doing so changed the email and phone number on the account. The person opened the account with the resident's driver's license and Social Security number. The bank is working to fix the problem.
April 20, 5:44 p.m.: A Watertown man received a letter from American Express saying someone attempting to open a new card using his personal information. He said he had not requested the new account. No money had been lost, and the account was closed.
April 20, 8:51 p.m.: An 83-year-old woman was looking something up on her computer when a message popped up saying her computer had a virus. It included a phone number to fix the issue. She called the number and provided personal information and details about her bank account. She also gave the person remote access to her computer. Later she found some suspicious purchases on her credit card, such as a $483 purchase at Sam's Club, and a $200 Airbnb gift card. The credit company refunded her for the purchases and are investigating.
April 21, 1:30 p.m.: A man came into the Police Station to report an assault by a co-worker at the construction site at 500 Forge Road. On the 20th at noon, he and two co-workers were having a discussion and he got into a dispute over an email. One of the men got angry, grabbed him and pushed him against the wall. The other co-worker broke it up. Police contacted witnesses and confirmed what happened. The other man admitted to pushing the man against the wall, and said he apologized. He was told he was no longer welcome on the job site. The man who reported the incident was told he could seek a complaint in Waltham District Court if he wished.
April 21 7:18 p.m.: A man was driving down Patten Street when he was hit in the face by what he believed was a BB. He looked around and saw a juvenile in the window of a residence on Patten Street. The man was not injured but reported it to Police. When officers were there someone told them that there were youths in an apartment building in the area with a BB gun. Police found five juveniles, ages 15, 11, 9, 13 an 16. They spoke with the mother of two juveniles who live in the apartment. She said they had a BB gun, but it was hidden from the children. None of the juveniles admitted to shooting the BB gun. Officers also spoke with the parents of the other youths. The man who was hit did not want to press charges, but wanted Police to speak with the juveniles.
April 22, 6:30 p.m.: A pair of resident reported that they were walking on Main Street when a white Jeep Grand Cherokee approached them and the a man and woman inside said he was selling jewelry. They agreed to meet and the couple purchased three gold rings and two gold bracelets for $400. When they got home they realized the jewelry was not real gold. They reported it to police, and described the suspects were described as a Middle Eastern man, and a Middle Eastern woman with gold caps on her front teeth.
April 22, 8:04 p.m.: An employee of GymIt came out and found that the driver's side front window of her 2017 Jeep had been smashed. She got to work at 6:10p.m. and came out at about 8 p.m and observed the damage. The vehicle did not appear to be rummaged through, and she does not know who would have damaged her vehicle. Nothing was taken from the vehicle, and police are not sure if it was vandalism or if someone attempted to break into the Jeep.
April 23, 12:08 p.m.: An employee at Gore Estate discovered that two damaged American flags were left on a dirt screening and sifting machine, and the word Rebellion was written in white spray paint on the machine.