Three Watertown residents recently traveled to Memphis to compete in the sport they have loved since they were young girls.
Meredith Rogers, Skyler Kelemen and Mia Lazarewicz represented Jurassic Gymnastics at the 2023 NAIGC (National Association of Intercollegiate Gymnastics Clubs) Nationals from March 30 to April 1.
All three gymnasts have competed in several nationals. Kelemen first competed at the NAIGC meet in 2017 and has competed in four, Rogers has been to a dozen and first went to the Nationals in 2006 when she was a college freshman, and for Lazarewicz it was her 16th time competing at Nationals, having first competed in 2003.
Lazarewicz and Kelemen competed in the Community Division Level 8, where Lazarewicz finished fourth on uneven bars in preliminaries which qualified to event finals where she finished third. Rogers qualified for vault, uneven bars, balance beam and floor exercise event finals in the Community Division Level 9. She finished third on vault, ninth on uneven bars, sixth on floor exercise, and won the balance beam event title. 
Despite years of experience, Rogers said she still gets a touch of the nerves at the big meet.
"When I'm competing, it's nerve wracking. Even though I've been competing for close to 30 years, I still get nervous," Rogers said. "Those nerves are amplified when it's the biggest competition of the year."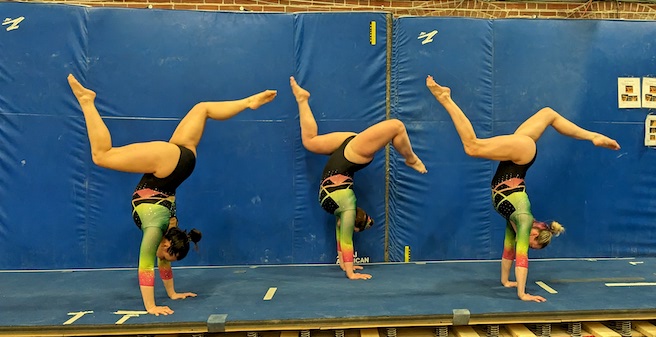 Being at the a gathering of thousands of other adult gymnasts is inspiring, Kelemen
"At nationals we are reminded that our robust New England adult gymnastics community is just a small piece of the overall adult gymnastics world! I love seeing cool new skills and routines, and witnessing and cheering on all of the small victories across all events and levels," she said.
Lazarewicz added: "It's always exciting to be a part of any huge gymnastics competition — you get to see such a wide variety of skills and abilities," she said. "But it's extra cool when it's adults; people with careers and kids and obligations. There is a fantastic camaraderie among adults who are willing to put on a leotard and show off their skills, no matter what level those skills are."
Rogers said that many people think that people's gymnastics career ends after high school or college.
"This competition proves it doesn't. There's people in their 50s competing, people with children and full time careers," she said. "It's inspiring to see us all come together because of our love for the sport."
Each of the three have been gymnasts since they were young. Rogers was enrolled in a class at her local YMCA when she was 5, and began competing at age 8. Kelemen took part in competitive gymnastics for 10 years as a child, until a "career-ending" injury when when was 15, but she has extended her career in gymnastics as an adult. Lazarewicz began gymnastics at age 4 and competed on a "fairly high level" through high school, and added "I assumed I would be finished then, but that was 21 years ago now!"
They found a team to compete with as adults that began in 2011, but dissolved during the Pandemic. In 2021, members of the former organization created Jurassic Gymnastics, based in Cambridge. Kelemen and Rogers serve on the board of directors.
"All of us found the previous organization through the internet, though today we get many new members via word of mouth or gymnasts who are familiar with Jurassic from seeing the team at competitions and then move to Boston for educational or professional reasons," Rogers said. 
Jurassic welcomes team members with a wide variety of skills, talent, and experience. Potential new members must be able to comfortably and safely program and execute their own workouts. Multiple members did not begin gymnastics until they were in their 20s, but many were gymnasts as children and returned to the sport. See more at https://www.jurassicgymnastics.org/'
The NAIGC is a 501(c)3 non-profit organization whose primary purpose is to support adult club gymnastics in the United States. Club membership in the NAIGC is open to any adult gymnastics club in the United States, including collegiate clubs. Individual membership is open to anyone with an interest in adult gymnastics. Find out more at https://naigc.org/