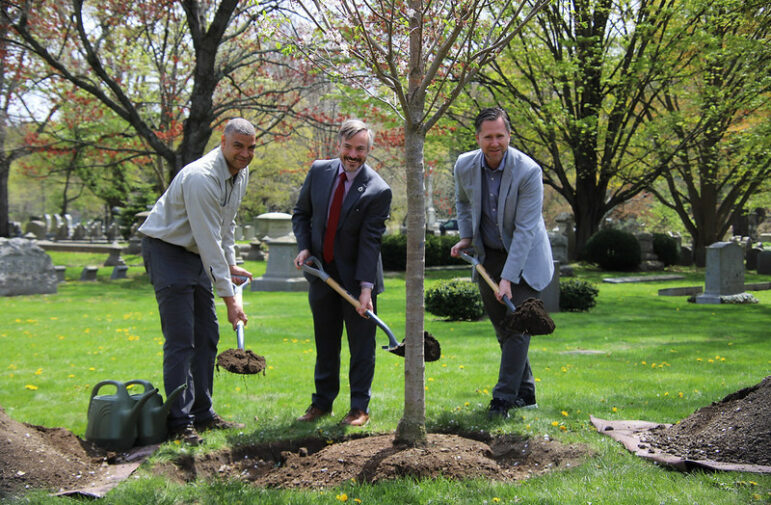 Already home to thousands of trees, Mount Auburn Cemetery added to its urban forest by planting a tree on Friday as part of its Arbor Day Celebration.
At the event, President and CEO Matthew Stephens also discussed steps the cemetery is taking to become carbon neutral by 2050.
On Friday, Stephens put one of the first shovels of dirt on the newly planted Yoshino Cherry. That is the same species as can be seen during the Cherry Blossom Festival in Washington, D.C.
The Yoshino is just one of about 6,000 trees at the cemetery, Stephens said. Mount Auburn's collection of trees includes a wide variety of species, including some of the largest of their kind in Massachusetts.
"We have 175 acres. We have been a cemetery for nearly 200 years …" Stephens said. "You can see our incredible collection of trees, many of which are State Champions because they had time on their side and thanks to our careful management."
State Champions are the largest of the particular species in Massachusetts. They must be measured and recorded by the Department of Conservation and Recreation to gain such a title, said Jonathan Webb, Mount Auburn Cemetery's Director of Horticulture and Landscape Operations.
Webb knows the trees around the cemeteries well, having planted about 1,000 of them. Some of his favorites are the Acer griseum (paperbark maple), the cedar of Lebanon, and scarlet oaks. His love of trees started early.
"What got me into trees and having an early love for trees was climbing them," Webb said. "If you want to get children into trees you can either sit them down and talk to them about carbon sequestration and filtration, or have them just get out and climb a tree."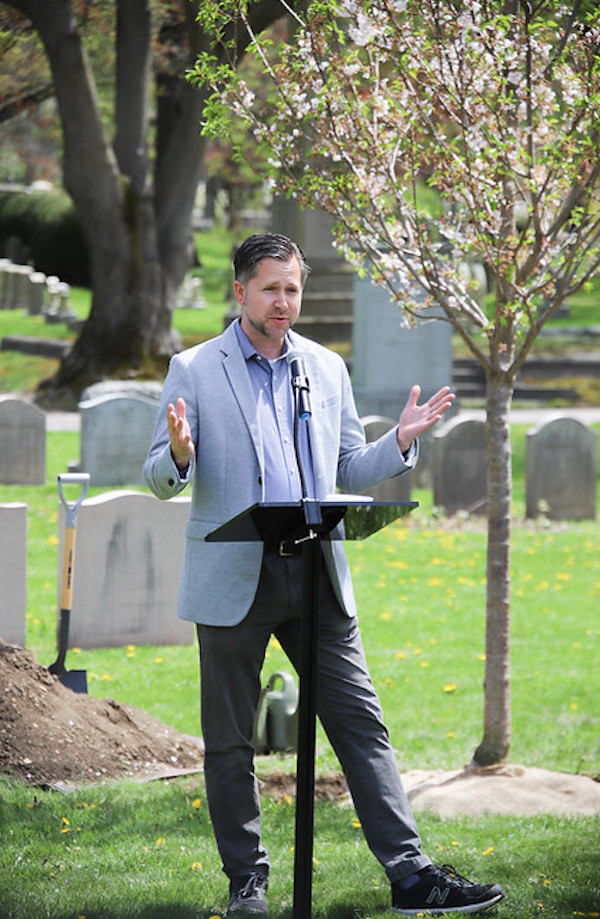 The cemetery has a goal to become one of the greenest in the world, and not just due to the plant life.
"Over the next two or three decades we will be transitioning Mount Auburn's carbon footprint to a place that is carbon neutral," Stephens said. "We believe we will be the first cemetery on earth to hit that goal and one of the first gardens to hit that goal in the country."
State Rep. Steve Owens said that he was able to get money for Mount Auburn's sustainability study in the House's Fiscal Year 2024 budget that was passed on April 26. Owens added said that Mount Auburn Cemetery plays an important role in the community.
"People are often surprised that my favorite spot in town is Mount Auburn Cemetery," Owens said. "It's a cemetery, but it's more than just that. It's a historic landmark, it's a garden, it's a living laboratory, it's a sculpture park, it's a wildlife refuge, it's a resource to Watertown and Cambridge and the region as a whole. And green spaces are critical today, and there is no better reminder than what happened the past couple years over the pandemic."
Mount Auburn's carbon footprint falls into three areas, the vehicles and machines used to care for the cemetery; heating, cooling and powering buildings on the site; and the cemetery's crematorium. Stephens said the Cemetery will be moving to electric vehicles and power tools, and will look to electrify the systems in its buildings. They will also seek to purchase clean electricity and also produce some of its own.
The third part is not as straightforward.
"The crematorium is a little tricky because right now in the United States there's only natural gas that is allowed," Stephens said.
In Europe, some crematoriums are electric, Stephens said, but that is not an option in the U.S. right now. There are also other alternatives, including water cremations and organic reductions, which Stephens said is when the deceased's body is reduced into soil in a composting process.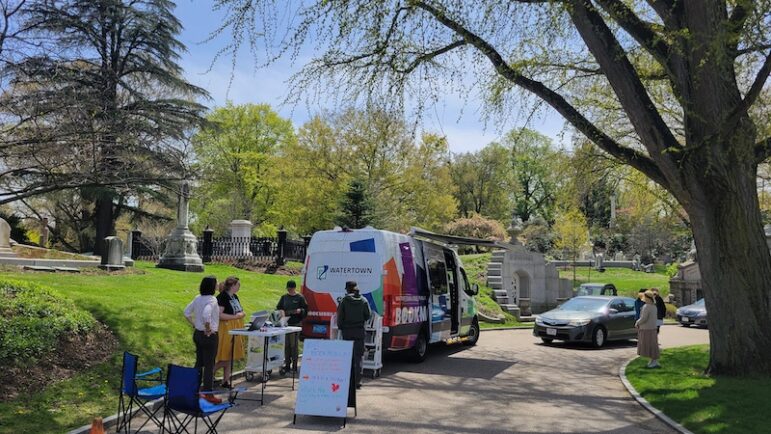 In the meantime, Mount Auburn's crematorium is the most efficient in the state.
"We put in a new crematorium five years ago," Stephens said. "It's state of the art, it meets the highest air quality standards and it is the best insulated so you use the least amount of natural gas. Our crematorium has the lowest carbon footprint compared to all the other cemeteries in the state."
The Cemetery also hosted tours of its trees over the Arbor Day weekend, and the Watertown Bookmobile stopped by on Friday afternoon to share books about trees, as well as some of the people buried at Mount Auburn. Find out more about Mount Auburn Cemetery at https://www.mountauburn.org/