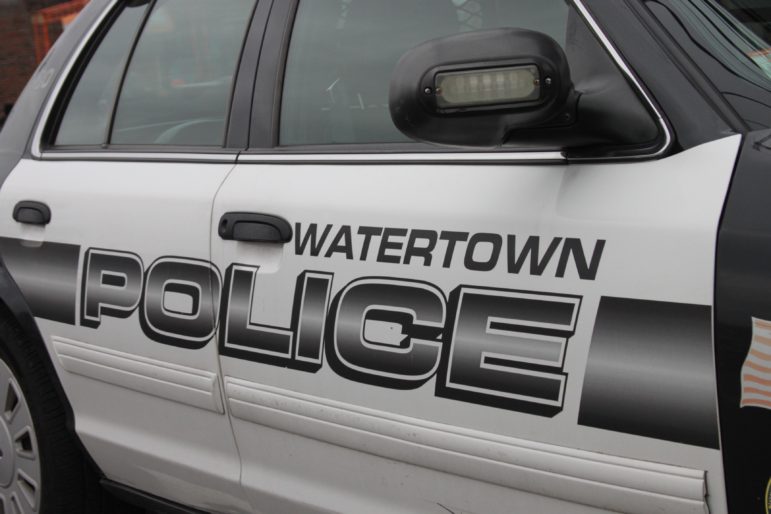 The following information was provided by the Watertown Police Department.
Arrests
April 25, 11:03 a.m.: An officer was flagged down and got a report of a man urinating outside their vehicle into the roadway on Main Street near Waverley Avenue. The car was seen heading toward Waltham. The officer headed in that direction and another person flagged him down to tell him about a vehicle stopped at the light near John Brewer's who was slumped behind the wheel and appeared to be asleep. The officer went to that area and saw the man. He appeared to wake up and then drove erratically, almost striking an oncoming vehicle. The car was stopped and the man had a strong odor of alcohol, and was unable to get out of the vehicle without assistance from police. While speaking with the man, police were approached by a third person who witnessed the man urinating in the street and going through a red light at Main and Waverley. The man admitted to consuming alcohol before driving. Krists Karklinf, 49, of Waltham, was arrested on charges of driving under the influence of alcohol, reckless operation of a motor vehicle and marked lanes violation.
April 30, 11:14 p.m.: A vehicle hit a parked car on Palfrey Street, sending the parked car about 15 feet down the street and onto the sidewalk. Police arrived and saw vehicles that sustained significant damage. When the man got out of the vehicle he was unsteady on his feet, and could not stand without leaning against a wall. He refused field sobriety tests, but police arrested him based on the totality of the evidence. Kevin Foley, 56, of Lexington, was arrested on charges of driving under the influence of alcohol and cited for operating left of the center line.
Incidents
April 25, 2:54 a.m.: Police received a report of something on fire in the middle of Main Street. Officers smelled a strong odor of gasoline, and there were burn marks on the crosswalk paint and on the crosswalk sign. After investigating, Police found a video showing a man walking into Main Street carrying a Boston baseball hat, put it on the crosswalk sign, pour gasoline on it, and then set it on fire. The fire was extinguished. The suspect was identified, and the 51-year-old Watertown man was summoned to Waltham District Court for attempted arson, disorderly conduct, and defacement of property.
April 25, 5:30 p.m.: Best Buy employees discovered 21 Amazon Fire Sticks were missing after doing an inventory check. They are worth $50 each. Looking back at security video, they spotted two men coming in on four days — April 4, 7, 10 and 14 — carrying bags, putting the Fire Sticks into the bags, and then leaving without paying. One suspect is described as a short, heavyset Black male with a beard who wore a red jacket, a grey and black shirt, dark jeans and black and white sneakers. The second suspect is a thin Black male with a beard who wore a black jacket, a black Boston Bruins hoodie, and dark pants.
April 26, 12:03 a.m.: Police got a call on the business line from a man calling himself Dave. He said that he was in Watertown and had shot and killed his girlfriend and still had the firearm in his hand. Then he hung up. Several police officers responded to the address and used the PA system to get people out of the home safely. After speaking to the residents, officers realized that it was a false report. One resident said she has over 300,000 social media followers, and was live streaming on the Twitch.tv platform. Police are not sure what the caller's intent was, but the man had created a potentially dangerous situation, known as Swatting — sending an emergency police response to another person's home. The call came from a number in Tallahassee, Florida, but Police suspect it may have been a computer generated "spoofed" number.
April 26, 4:17 p.m.: A resident of a building on North Beacon Street discovered both wheels had been taken from his bicycle. The bike was left in an open parking area for bikes, and the theft occurred from April 7 to April 25. The wheels were worth $750.
April 27, 6:30 p.m.: A shoplifter was reported at Marshalls and police located the woman in the store. She had concealed numerous items in her pockets and under her shirt. When officers tried to stop her she walked away and threw items on the floor. She left the store and walked toward Shake Shack. Officers finally got her to stop, and sit down at a bench to talk. She said she had left her backpack in Marshalls. Police retrieved it and found that along with her own items, she had merchandise from other stores: $500.86 from Marshalls, $84.33 from Old Navy, $82 from Ulta Beauty, and $16 from Target. Police summoned the 35-year-old woman from Boston to Waltham District Court for shoplifting. At 7:45 p.m. police got another report of a shoplifter causing a disturbance at Marshalls. When they arrived they saw it was the same woman. When they were placing her under arrest the woman threatened to shoot one of the officers, and then refused to get into the Police cruiser. She attempted to kick one officer, and when a female officer was placing her under arrest the woman spit in the officer's face. The woman was charged with four counts of shoplifting, assault and battery on a police officer, and threatening to commit a crime.
April 27, 7:48 p.m.: Target security stopped a woman who was seen going through self-checkout and did not scan five items of clothing that cost $86.98. Police summoned the 41-year-old Waltham woman to Waltham District Court for shoplifting.
April 28, 3:44 p.m.: Loss prevention employees at Target observed a man concealing merchandise and not paying for it when he went through self checkout. He scanned lower priced items instead of the more expensive items he had. He attempted to leave with the items he had not paid for, including kitchen items and toys worth $181.72. The 39-year-old Boston man was summoned to Waltham District Court for shoplifting.
April 28, 9:23 p.m.: A driver got into a road rage incident on Arsenal Street where both drivers exchanged words around 8 p.m. The woman got into her car and went into Arsenal Yards. The other driver followed her through the parking lot and into a parking garage. When she parked they exchanged words again. The other vehicle left, and the woman went did her business at Arsenal Yards and when she returned she found someone had slashed her tire. Police were contacted and they tracked the other driver down from a license plate. The man admitted to the road rage incident, but he said he did not slash the tire. Police are investigating.