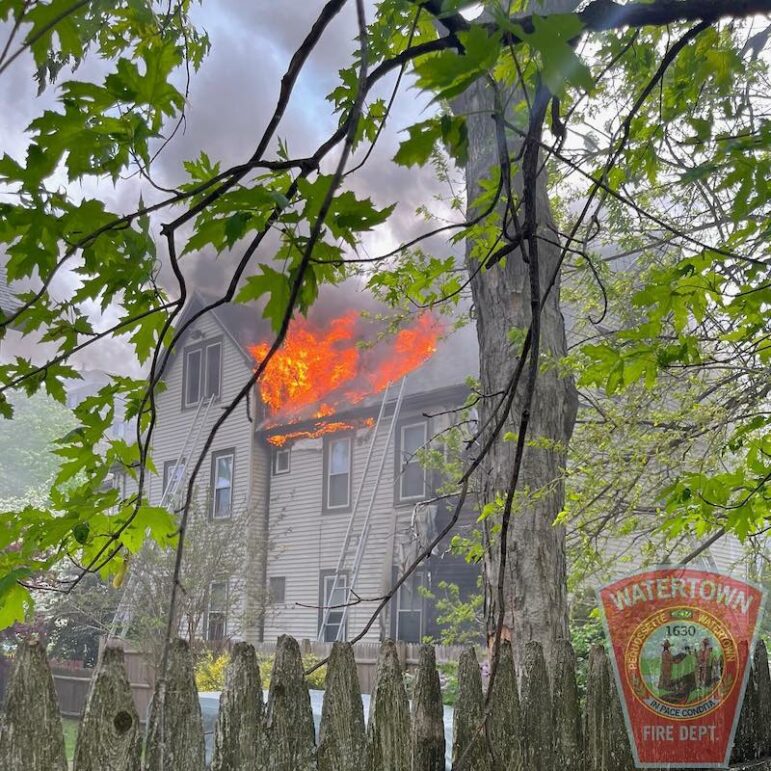 Flames could be seen coming out of the roof of a multifamily home on Maple Street Thursday afternoon. Watertown Firefighters, with help of several departments, were able to contain the three-alarm fire to just that structure.
The call for a fire came in at about 3 p.m. on May 11, said Provisional Fire Chief Ryan Nicholson.
"Upon arrival we found a fire that appeared to start on the exterior at the ground level and travel up and into the third floor for a multi family home," Nicholson said. "First arriving companies made an aggressive interior attack, but were met with too much heat and fire to sustain that mission. Companies were pulled out and an exterior attack ensued."
The incident commander, Deputy Fire Chief Daniel Tardif ordered a third alarm, and Nicholson took over the command. The third alarm brought mutual aid fire companies from Newton, Waltham, Cambridge, Belmont and Boston.
"We thank them for their support both at the fire scene and covering our community during the incident," Nicholson said.
Six residents were displaced by the fire and Red Cross assisted them.
"Thankfully there were no injuries, civilian or firefighter, reported," Nicholson said.
An alert mail carrier alerted people in the area about the fire, according to NBC 10 Boston, which also had footage from a helicopter showing flames coming out of the roof of the home. See their coverage here.
Fire crews faced difficult conditions when dealing with the fire in a densely packed road off Galen Street, Nicholson said.
"I'm extremely proud of the work the members of Group 4 did under challenging conditions. They operated swiftly and safely to mitigate the emergency," he said. "I also would like to recognize the work of Watertown Police and DPW for their support at a very active scene."
The origin and cause investigation remains open, but Nicholson said it appears to have started on the exterior of the home and worked its way in.
Nicholson believes the last fire to reach three alarms in Watertown was the blaze that hit the Watertown Housing Authority homes on Robert Ford Road. That fire occurred in January 2020, and went to four alarms.