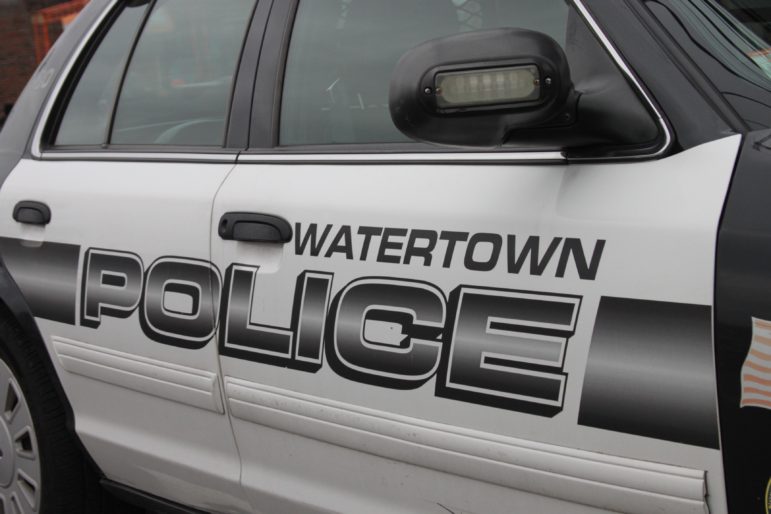 The following information was provided by the Watertown Police Department.
Arrests
None
Incidents
May 1, 8:05 a.m.: Police received a report of tools being stolen from a construction site at 705 Mt. Auburn St. Sometime from April 28 to May 1, tools were taken from a locked container. The container had been pried open and rummaged through. Two drill impactors were taken, worth $200 each. While officers were there, another construction employee came up and said that more tools were missing. In total, $3,730 in tools were taken from two locked containers.
May 1, 2:17 p.m.: A motorized scooter was taken from a home on Arlington Street. It had been parked behind the home, and was not locked. There were no keys, so it appears the scooter was wheeled away. It was last seen at 5 p.m on April 30.
May 1, 6:12 p.m.: A Ralph Street resident said a package was stolen. She ordered cat food through Amazon and the package was delivered to a neighbor by mistake. The neighbor left the package at her home, but when the resident got home it was missing. The cat food was valued at $27.
May 2, 12:40 p.m.: A School Street resident wrote a $2,000 rent check to her landlord and put it into a mailbox. Later, the landlord contacted her asking for the rent. She said she sent it and when she looked into it she found that the check had been altered to be for $8,217, and was made out to a different person. The withdrawal took place on April 28. She was not sure which mailbox she used to mail the check. She is working with her bank to resolve the issue.
May 2, 6:32 p.m.: A resident reported a gift card scam. The resident received a call via WhatsApp from a person claiming to be a DEA agent. The resident was told that his Amazon account was compromised, and then transferred the resident to another person who said he was a DEA agent. The resident was told an abandoned Toyota Corolla was found in Texas with 30 pounds of cocaine inside, and the car had a document inside with the resident's name and Social Security Number on it. The caller provided a Texas police incident number and a warrant number. Then the caller said the resident could rectify the issue by taking money from savings and putting it into a checking account, and purchasing gift cards. The resident was told to go to Walgreens and Target and purchased gift cards for $400 and $350. The gift card information was sent to the caller. Later the resident became suspicious and notified police. There was a problem with one of the gift cards so the total loss was $590.
May 2, 8:03 p.m.: A two-door garage caught fire on Spruce Street. Watertown Firefighters arrived and extinguished the flames. The blaze started with a pile of rags covered in linseed oil that was used to prime a cabinet. Fire inspectors believe it spontaneously combusted. A vehicle inside was damaged, and the garage sustained moderate damage.
May 4, 3:50 p.m.: Police went to Best Buy for a report of shoplifting. Employees checking store stock found some high-priced items missing. When they looked at surveillance video, it showed someone that security recognized from previous incidents. On March 29 a Dyson vacuum valued at $750 was taken. A Dyson fan valued at $570 and an iRobot vacuum valued at $600 were taken on April 2. Police summoned a 60-year-old man from Saugus to Waltham District Court on a charge of larceny under $1,200.
May 4, 6:07 p.m.: A Mt. Auburn Street resident received a text message from PayPal saying that her account had been locked and she needed to click the link in the message to fix it. The website that the link went to looked like the real PayPal site. She provided her Social Security Number and phone number on the site, and later realized it was a scam. She contacted her bank, the Social Security Administration, and PayPal to alert them about what had happened. It does not appear that any money was missing. She is monitoring her account.
May 4, 8:09 p.m.: A bicycle was taken from the Coolidge Apartments. The victim said he locked his bike with a cable lock in the parking garage. The lock appeared to have been cut, and the resident found the bike on the other side of the garage. Someone else told police that his unsecured bike had been taken from the garage. The black and yellow mountain bike was valued at $1,200.
May 5, 10:36 a.m.: Police were sent to 101 North Beacon St. for a storage unit that had been broken into. The latch had been compromised and the resident's white and black Cannondale street bike was taken. It is valued at $2,000.
May 5, 2:14 p.m.: A shoplifter was spotted taking multiple fragrances from Ulta Beauty. In total, 10 bottles were taken with a total value of $1,096. The suspect is described as a Black female, about 50 years old, with brown hair, wearing black framed glasses, a full length blue dress, and a black sweater.
May 5, 8:11 p.m.: A resident reported that someone compromised his cellphone and bank accounts. He got a text from T-Mobile saying his SIM card information had been forwarded to his new phone. About the same time his cell phone services was disconnected. He had not requested the change. The person with the new phone used a two-step verification to access the resident's bank account, and also changed the online banking username and password. The person attempted to transfer $85,000 in two transfers, one for $20,000 and one for $65,000. However, only $21,500 was transferred. The bank was able to recover $63,500 because they had been notified so quickly. The bank is trying to identify the person to whom the money was transferred.