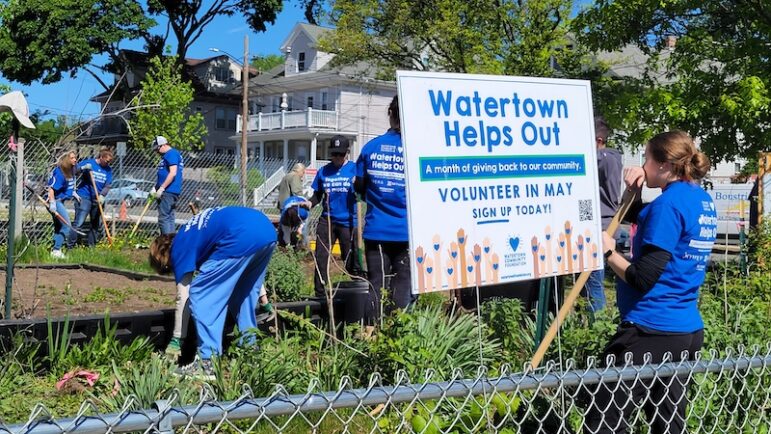 The school garden at the Hosmer School was filled with people digging, pulling weeds and raking, but rather than grade schoolers doing the work it was employees of a Watertown company.
About 20 employees from C4 Therapeutics volunteered to work on the garden. In all, 104 people from the company on Arsenal Way participated in the volunteer day as part of the Watertown Community Foundation's Watertown Helps Out effort, said Kendra Adams, C4's Senior Vice President of Communications and Investor Relations.
"We are all from C4 Therapeutics. Our office us just down the way," Adams said. "We've got folks from across the company. Today is our service day, so people are volunteering throughout the town, and we are super happy to be here to help with the garden."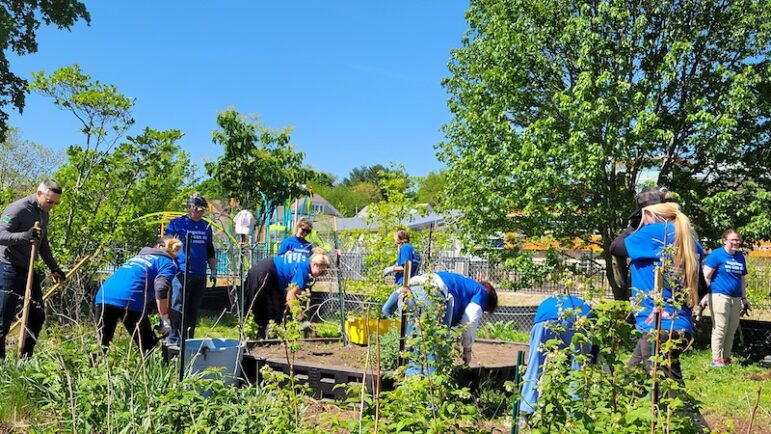 The company has about 140 employees working primarily on cancer treatments. C4 encourages its employees to give back to the community, Adams said. One C4 employee flew in from Florida to take part in the project.
"I am taking advantage of being up here to join in on this, but for work as well," said Christine Wagenmenn, senior director of clinical business operations."I love being in Florida, being outdoors year round, so being able to come out and contribute in this sort of environment with kids nearby is exciting." 
Overseeing the project at Hosmer was Judy Fallows, the Watertown Public School's School Garden Coordinator.
"We are transforming the old edible learning garden into an outdoor learning space," Fallows said. "This is going to stay being a garden area, with pollinators, shrubs, apple trees, raspberries, things like that."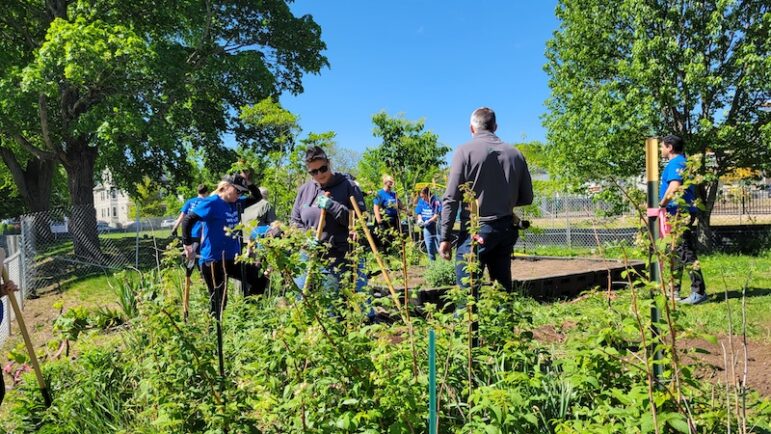 The spot will be a quiet place where students can observe plants and animals, read or just be surrounded by nature. Fallows said it fits in with the Green School Yards movement.
"The idea is — it's got to do with environmental justice — this is one public space that everyone has access to: the school yard," Fallows said. "And kids that don't have a back yard and garden of their own, this is a place where they can experience nature."
The volunteers are helping to prep the area to be turned into an outdoor learning space.
"We've been doing a lot of weeding, a lot of clearing the beds, removing some of these old metal posts, flattening some of the beds, getting them ready to be planted again and removing some of the fencing around to make new beds," Adams said.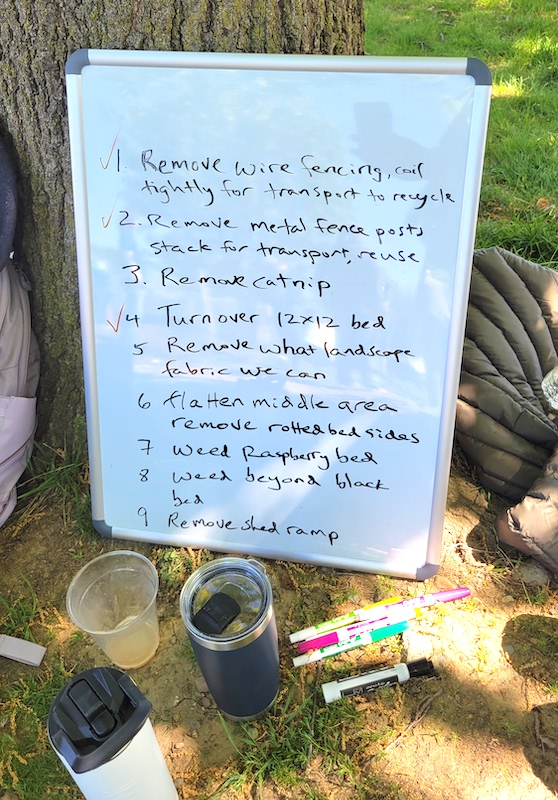 Other groups from C4 contributed at the Watertown Boys & Girls Club, cleaned up along the Braille Trail along the Charles River, packed hygiene and cleaning kits to be donated to both of Watertown's food pantries, and helped residents of the Watertown Housing Authority with projects they needed doing, said Tia Tilson, Executive Director of the Watertown Community Foundation.
Watertown Helps Out runs through May, and there are still opportunities for people looking to volunteer. On Wednesday, May 24 there are spots available to help paint a mural, and volunteers are needed to help put flags on graves of veterans at St. Patrick's and Ridgelawn cemeteries for Memorial Day.
Find out more and sign up by clicking here.