Half a dozen people living or working in Watertown made the list of Most Influential Business Leaders of Color chosen by Charles River Chamber of Commerce, which focused on both established leaders and emerging ones.
The search for people of color making a positive contribution to the economic fabric of businesses and non-profits in the suburbs west of Boston began in January when the Chamber put out a call for nominations, said President Greg Reibman of the Charles River Chamber.
The list was culled down from close to 200 nominations for either the "50 Most Influential Leaders" or "Emerging Leaders" lists. To qualify, honorees have to work and/or sit on a board for a business or nonprofit that is physically located in Newton, Needham, Watertown, Waltham, Wellesley, Natick, or Framingham.
"Then we leaned on an eminent panel of judges to curate our final lists, in partnership with Colette Phillips and Get Konnected!" Reibman said.  
The area has "many remarkable individuals in our communities doing many remarkable things," Reibman said.
He added: "We urge you to tap both lists for board members, C-Suites executives, team leaders and conference speakers. We hope the media will leverage these lists for thought leaders and expert commentators. And we urge you to become their customers. Plus, remember that those honored are just part of the story: Everyone here is connected to a larger network of individuals who may be just who your organization is looking for."
The Charles River Chamber hopes that the list also sparks further conversation, Reibman said.
"Nearly three years after many employers made bold pledges to support diversity, equity and inclusion following George Floyd's murder, it's appropriate to wonder, and worry, if we've lost some momentum," he wrote. "Don't see any, or many, names here from your industry sector or representation from some of our region's top employers? It's possible we overlooked someone. It's also possible it signifies a deeper shortcoming. So while our lists serve as a celebration for how far we've come. They're also intended to be a reminder about how far we need to go."
See the honorees from Watertown:
50 Most Influential
Charmain F. Jackman, Ph.D.
Founder + CEO, InnoPsych
Jackman is an award-winning licensed psychologist and a global spokesperson on mental health. She has leveraged her 25+ years in the mental health field to start InnoPsych, a Watertown-based mental health tech company on a mission to disrupt racial inequities in mental health and to promote healing and thriving in communities of color.
Donna Latson Gittens, MBA
Founder and CEO, MORE Advertising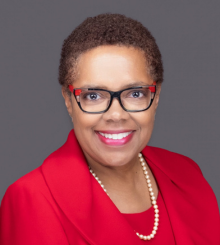 Gittens left a successful broadcasting career at WCVB-TV to pursue her long-time passion for launching a boutique media and marketing firm to promote critical social issues and support mission-driven public, private, and nonprofit organizations. Her Watertown-based firm, MORE Advertising, is known as "The Agency of Change" and focuses on social marketing campaigns to promote changes in behavior and attitude.
Ritah Nakandi
Founder and CEO, Afri-root Collective
Ugandan-born and raised, Nakandi is the founder and CEO of Afri-root Collective, a socially responsible business that sells unique handicrafts made by female African artisans from sustainable materials. Afri-root Collective trains women in Uganda, Kenya, Tanzania, and Rwanda by teaching them handicraft-making skills using sustainably sourced materials. Afri-root Collective distributes its unique products to international markets.
Archy LaSalle
Director, Where Are All the Black People At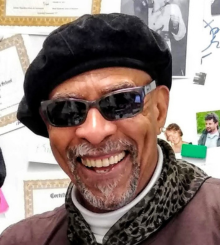 A thought leader and a positive force for inclusive creative placemaking, LaSalle has been inspiring generations of young people through art and activism. He launched the project Where Are All the Black People At in an effort to draw awareness around the lack of representation of Black visual artists within the art world. LaSalle is known for his ability to engage youth through teaching and collaboration which is a special gift to his community.
Emerging
Tiffany (Zi Hua) Chen
Senior Account Manager, MORE Advertising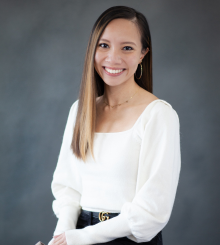 As a senior account manager at Watertown-based MORE Advertising, Chen champions the causes of organizations like the MA Department of Health, the East Boston Neighborhood Health Center, the MA Bureau of Infectious Diseases and Laboratory Sciences, and the Boys and Girls Club of Newton through marketing and communications programs. Before MORE, Tiffany worked for the Charles River Regional Chamber as the director of member engagement and for Amazon as an area manager.
Julia Gould
Director of Account Services, MORE Advertising
Gould is the director of account services at MORE Advertising in Watertown, a top agency specializing in cause-based marketing, where she leads the strategy, development, and execution of marketing plans and largescale communications campaigns for government, non-profit and corporate clients. Her experiences include launching award-winning projects such as the Massachusetts COVID-19 Vaccine Initiative and RESPECTfully, a youth-led campaign to promote healthy relationships in MA teens.
Read more about each of the honorees, and see the others chosen to make the lists at: "50 Most Influential Business Leaders of Color" and "20 Emerging Leaders of Color."
The initiative was sponsored by Insource Services Inc., The Village Bank, Eastern Bank, Fidelity Bank, MORE Advertising, UMass Foundation and Mark Development. NBC10 Boston hosted a reception for our honorees at their Needham media center. They were also spotlighed in a piece by the Boston Business Journal; and Leader Bank underwrote the print edition.