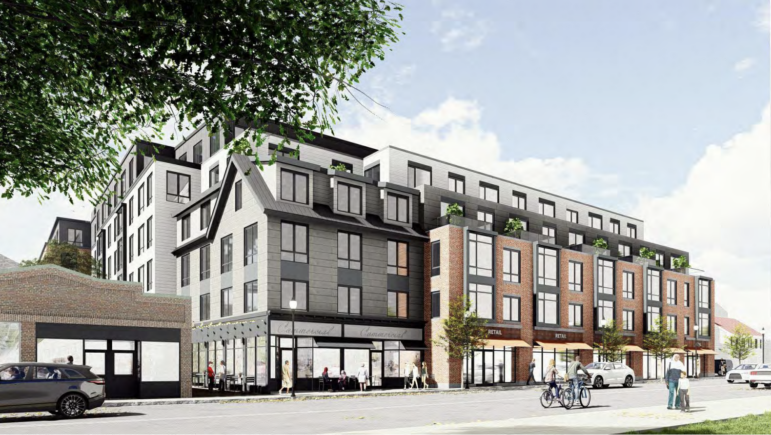 The six-story retail and commercial project on Main Street will be heard by the Zoning Board of Appeals, the City Council will hold two budget hearings, and the Library Board of Trustees will continue discussing the process for hiring a new Library Director.
The Zoning Board of Appeals will hear the mixed use project at 104-126 Main St. that was discussed by the Planning Board in April and May. The development would be six stories tall with four-story facades on Main and Pleasant streets. The pedestrian walk to the east of the building is wider, and the commercial space has more windows as it enters that walkway. The ZBA will also hear an appeal on the denial of a request to demolish a structure at 61 Bigelow Ave. and put up a steel frame structure. The meeting will be held on Wednesday at 7 p.m. in City Hall and remote. See more info on how to participate here.
The City Council will hold two hearings on the Fiscal Year 2024 Budget. On Tuesday at 6 p.m. they will hear about the following departments and accounts: the City Council, City Manager, City Auditor, Procurement, City Assessor, Treasurer / Collector, and City Attorney. On Thursday at 6 p.m. the Council will hear about the following accounts: Human Resources, Information Technology, City Clerk / Elections, Community Development & Planning, Constituent Services,
Parking Lots & Meters, Public Buildings, Library, Recreation Departments, and Non-Department Appropriations, (Debt, Capital Projects, Etc.). The hearings will be held in the Council Chamber in City Hall.
On Tuesday, the Council will hold a regular meeting at 7 p.m. The agenda includes votes on creating a Religious/School Building Overlay District at 126-134 Templeton Parkway, as well as giving local preference for affordable housing. See the entire agenda and how to participate here.
The Library Trustees will discuss the hiring of a new Library Director including a proposal from a consulting firm and approving a job posting. They will meet on Tuesday at 7 p.m. in the Watertown Library and remote. See more information here. 
On Monday at 7 p.m., the School Committee will be introduced to the WHS valedictorian and salutatorian, meet the new Director of Human Resources, vote on the Administrative Assistants Contract, and hear a report on the District Strategy for Success. The meeting will be held at Cunniff School, 246 Warren St., and remote. See how to participate here.