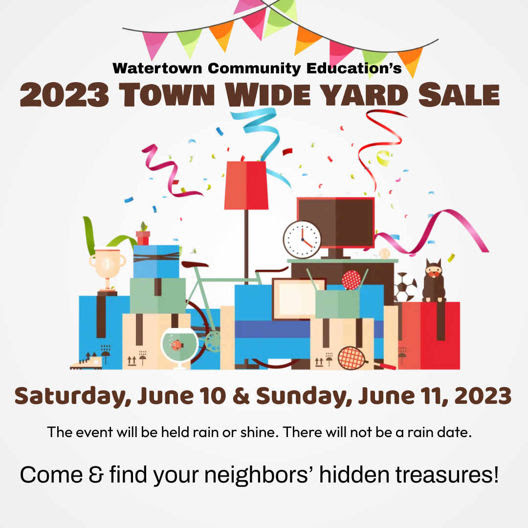 The following announcement was provided by the City of Watertown:
Watertown Community Education's 2023 Town Wide Yard Sale is Saturday, June 10 & Sunday, June 11, 2023. The event will be held rain or shine. There will not be a rain date. Come & find your neighbors' hidden treasures!
Join us for the annual Town Wide Yard Sale. For one fee of $10 per address, you can schedule your yard sale on Saturday, June 10, Sunday, June 11, or both days! We'll do the advertising, provide a list of addresses to buyers and make it a community event for all to enjoy!
The Town Wide Yard Sale's registration has moved online! Please use the URL below to complete the registration form. An invoice and payment instructions will be emailed within 5 business days of you completing the form. The Deadline to Register is Thursday, June 1, 2023.
The registration form can be found here. A list of participating houses can be found here (available Friday, June 9).
Follow Watertown Community Education on Facebook https://www.facebook.com/WatertownCommunityEducation/
For more information about the 2023 Town Wide Yard Sale, call Jeff Bodner at 857-241-8499 or email him at jeffrey.bodner@watertown.k12.ma.us