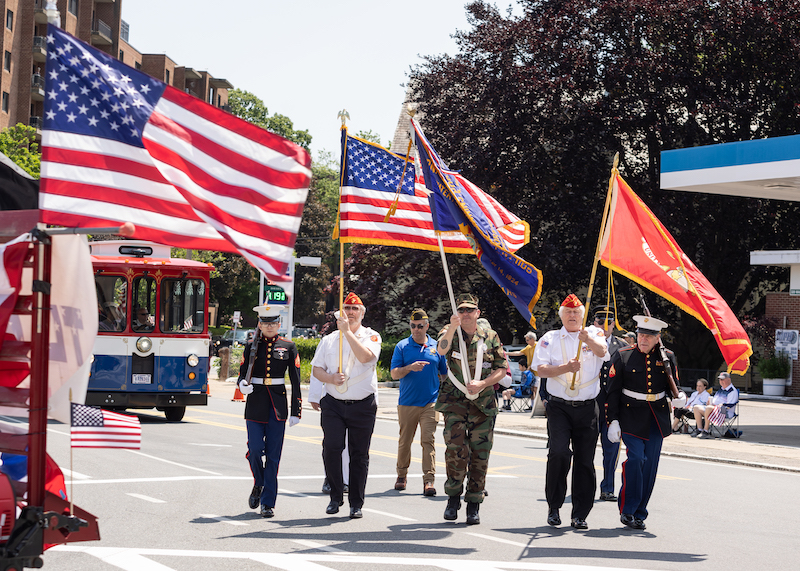 A Watertown veteran who has seen combat first hand shared what Memorial Day means to him at Watertown's commemoration ceremony after the annual parade.
McMaster served in Iraq and Afghanistan, as well as Vietnam before that. For him, Memorial Day is a day of remembrance and somber.
"I was one of the lucky ones who made it home and there were times during the battles I would think, Boy I would love to make it home alive so I could be a veteran and I could march in the parade and I could go to the cookouts and wear my medals and people could thank me for my service," he said during the ceremony at Victory Field.
Most of the men and women he served with were young, McMasters said, in their late teens or early 20s, and some were not as fortunate as him.
"They were killed in action fighting in the ferociousness of war — the sound and the fury. They left their home, they left their high school, their ballfields and playing fields, and they never returned," McMasters said. "And where we live — in this country — with all the great benefits that we have — the liberties and the freedoms — and we look around and we see a divided nation and we wonder about our patriotism and the need for strength. This country has suffered many losses in many wars, and in order to keep our freedom we are going to have to fight again — there's no doubt about it — so that we can say what we want, do what we want, meet where we want."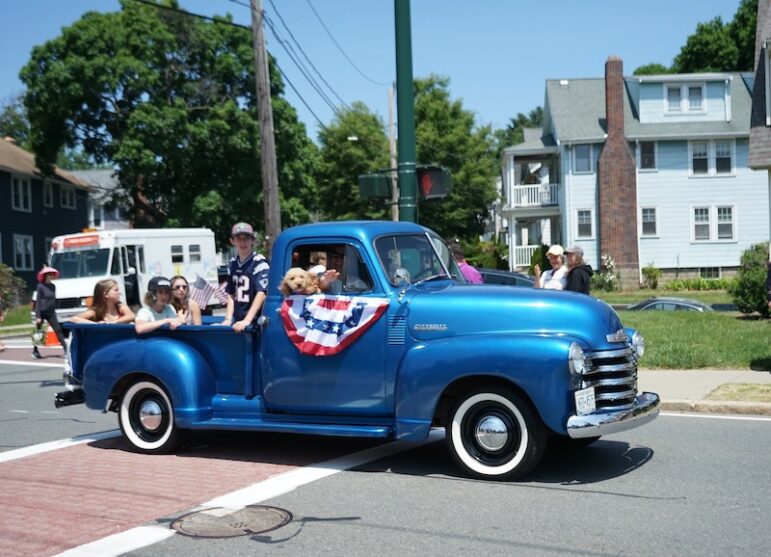 City Council President Mark Sideris said it is always an honor to come and pay tribute to the men and women who lost their lives for Americans' freedom.
"I also want to thank the men and women who are still with us for their service to our country. It's very important," Sideris said. "It's important to me, it's important to the City Council and our (Legislative) delegation, it's important to the city to honor and recognize these people who came before us. We have our freedoms because of the sacrifices that young men and women and their families gave many years ago, and even some today."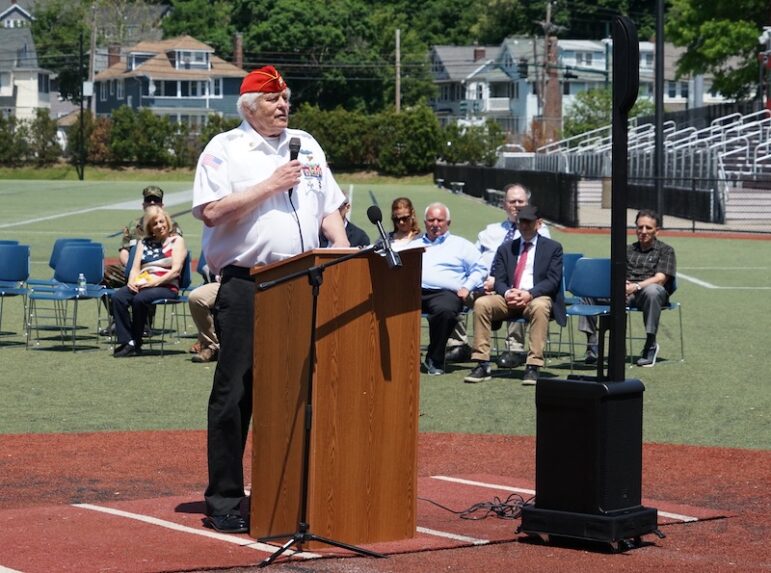 Watertown Veterans Services Officer Patrick George thanked the three veterans organizations in Watertown, the Marine Corps League Charles Shutt Detachment, Veterans of Foreign Wars (VFW) Post 1105, and AmVets Post 41, for their assistance with the events on Memorial Day, and during the week leading up to the holiday.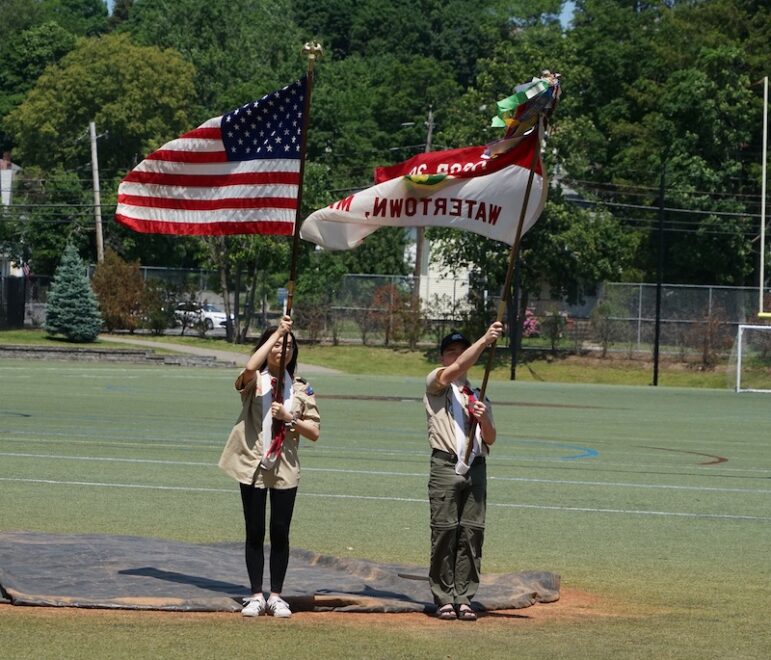 Members of the veterans groups took part in placing over 2,000 flags at Ridgelawn and St. Patrick's cemeteries, over 40 wreaths honoring veterans who were killed in action, and visited Watertown's schools.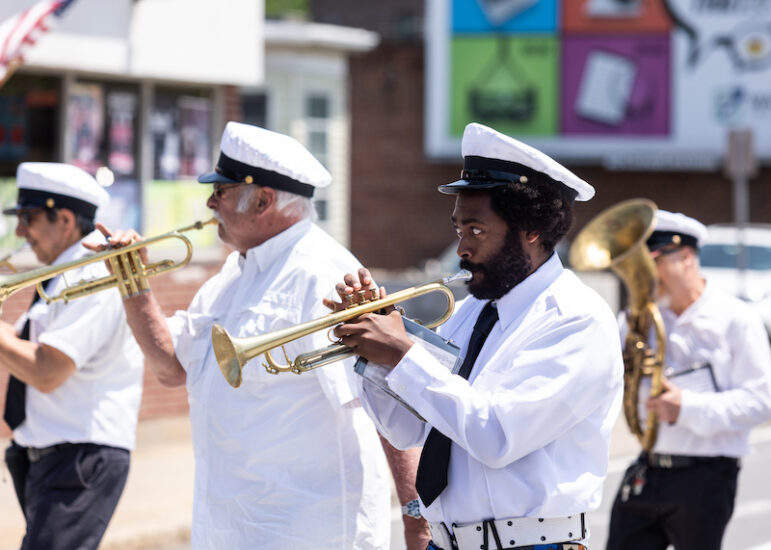 In particular he thanked three veterans Ed Aucoin, Will Clifford, and Jack Gately. Gately helped place wreaths, while Aucoin and Clifford joined George on the rolling procession to memorials around Watertown. They stepped up when needed, George said.
"I joked with Will … that a specific wreath needed to have the grass cut before the wreath got placed. And sure enough 20 minutes later he pulled his weed wacker out of his own car and trimmed the grass before placing the wreath," George said. "That type of attention to detail is something you never lose, no matter how long its been since you've put on the uniform."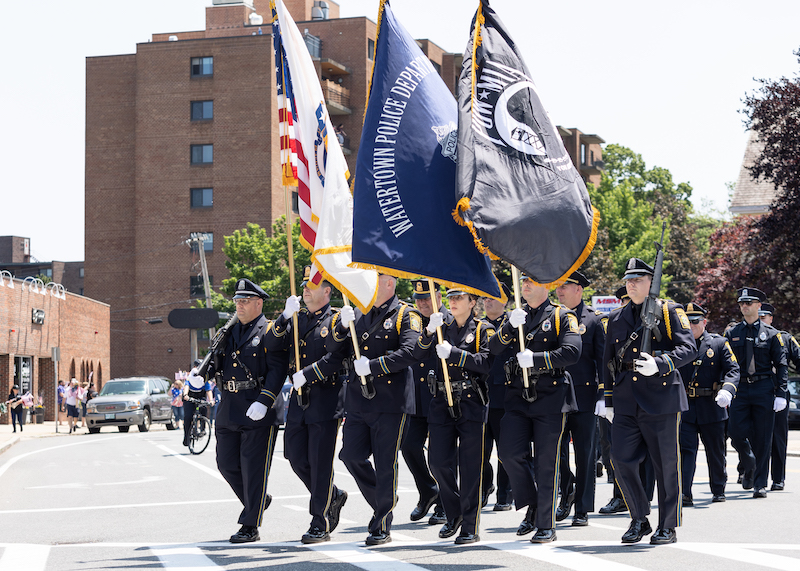 Along with helping to organize events like the parade and ceremonies honoring veterans, George helps get veterans benefits they are entitled to from the state and federal governments. He noted that the VA PACT Act has expanded VA health care and benefits for Veterans exposed to burn pits, Agent Orange, and other toxic substances. Other changes may be coming, George said, after the Massachusetts Executive Office of Veterans Services has recently expanded.
Find out more about the services provided by the Watertown Veterans Services Office by clicking here, by calling 617-972-6416, or emailing pgeorge@watertown-ma.gov.
See more photos from the 2023 Watertown Memorial Day Parade and Ceremony below: