When the Watertown High School Class of 2023 ended their freshman year remotely in March 2020, they could have been discouraged for the rest of their high school career. However, they chose to band together and rise above their obstacles by avidly displaying school spirit, kindness and positivity throughout their four years. 
The ceremony, originally supposed to be held at Victory Field, was moved to the Kelly Gymnasium on June 2 due to a rainy forecast. Students, faculty, family members and friends crowded the gymnasium, making for a touching and special moment as this will be the last class to graduate from the present high school before it is demolished this summer. See the list of graduates here.
Valedictorian Shannon Fitzpatrick looked back at her time at Watertown High as a journey. She talked about how the students will be starting a new life once they walk out the gymnasium doors.
"After today, our journey splits into 165 new paths… Tomorrow, we will embark on our new road … I encourage all of us to live each day like it's the last, enjoy the journey and embrace the possibilities.." said Fitzpatrick.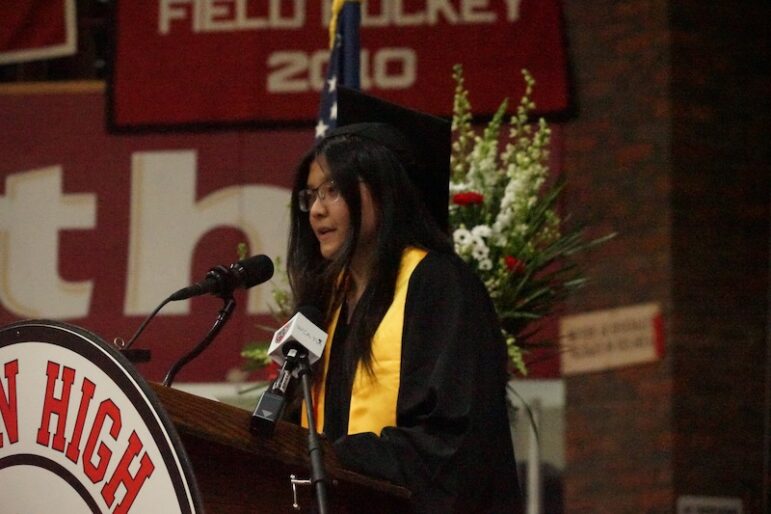 Salutatorian Cindy Hong reminded the class of important ideologies to continue to use as they embark on their new adventures.
"Live life without expecting anything in return … take a moment to appreciate … make a commitment to make the world a better place," said Hong.
When Principal Joel Giacobozzi reflected on his time with the Class of 2023 he commented on the commendable qualities the class possessed. He also recalled the lessons he had learned from all the students, especially how important it is to show support for one another.
"You've taught me there is no replacement for just showing up for one another. Whether it's a musical performance, state title game, or sitting down with someone in the lunchroom and helping them cut up their food," said Giacobozzi. "You show up with your kindness, your passion and your warm smiles to set such a high bar for all the students".
Giacobozzi continued his speech by thanking the class for their positive presence in the building. He acknowledged the mark the students left on him and how he admires the people they continue to be.
"You inspire me and you are amazing. The last class to graduate from our historic building, the last class to sign our windows and count down the days left on our walls, the last class to fill our hallways with laughter and joy and kindness," said Giacobozzi. "I'll tell you, I wouldn't have it any other way. If you're going to shutter a building, make sure to close it on a high note. Thank you for being a high note for us, for me, for each other, for Watertown. Go Raiders!"
Assistant Superintendent Theresa McGuinness bestowed some words of wisdom to the graduates. She spoke on the importance of continually having a mentor in life and having the ability to ask for help.
"One thing I wished I learned when I was your age is that asking for help is seen as a strength, not a weakness. It's collaborating … my advice to you is to keep your eyes wide open for mentors, people who you respect, admire," said McGuinness.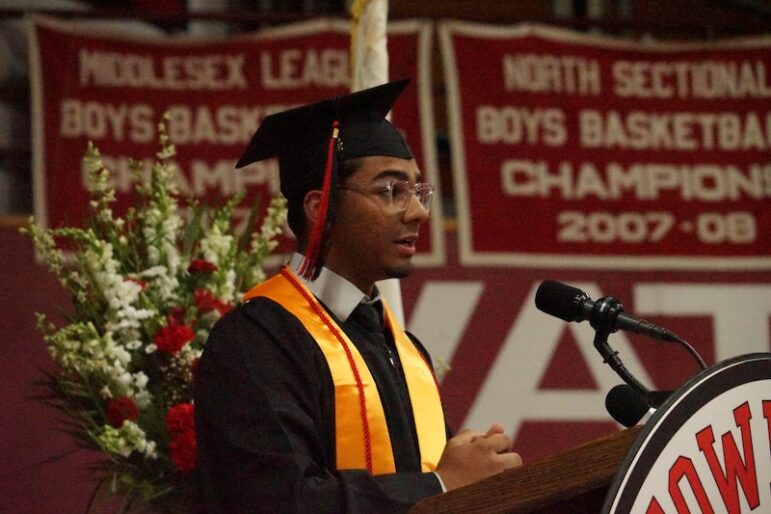 McGuinness encouraged students to practice the idea of having an "imaginary table" filled with supportive people that are seen as mentors in their real lives.
"I have an imaginary table, one where all the most influential and supportive people to me join me … They're all seated around this imaginary table that I have, but they're at the ready to mentor me, if only I reach out to them in real life and I ask for help," said McGuinness. "I invite each of you to start thinking about who you would want at your table."
During class president Zuhayr Masud's speech, the class gift was unveiled for the audience. The 2023 graduates choose a painting of the current Watertown High School done by local artist Margie McGrail Michals as their class gift. The hope is no one forgets the historic building that has encapsulated countless memories for so many individuals since 1925.
Masud also took a moment to remind his fellow classmates that they will always be there for each other despite going their separate ways.
"You will always have a home in your graduating class," said Masud.
Bittersweet tears welled up in families' eyes and students proudly watched their classmates grace the stage as their names were announced and they received their diplomas.
Once everyone obtained their cherished certificates students sat excited and jittery waiting for the cue that their high school career was officially completed. When that moment occurred students threw their caps high as they said their formal goodbye to WHS.