This year's Juneteenth Celebration will expand to include not just two communities but will be held over two days.
The annual celebration hosted by the Watertown Citizens for Black Lives. For the third year in a row, Watertown's Juneteenth Celebration will be held in the Watertown Free Public Library. That will take place on Saturday, June 17 from 9 a.m. to 1 p.m. On Sunday, June 18, the celebration moves to Belmont's Beech Street Center and Town Field from 2 p.m. to 6 p.m.
Juneteenth began as a celebration of the day in 1865 when federal troops arrived in Galveston, Texas, to take control of the state and ensure that all enslaved people were freed. It has grown into a broader celebration.
Watertown's Juneteenth celebration will include videos about Juneteenth, as well as a discussion led by both youth speakers and adult community leaders, said Tiffany York, a member of Watertown Citizens for Black Lives (WCBL), in a recent interview on Watertown Cable News.
WCBL member Teo Evans, said that the event is a good place for people to come and learn about what the holiday is about, and the challenges still faced today.
"I think it's important because it helps to give people a better idea, although Juneteenth was developed a long time ago, how it affects people today as far as, being freed, as far as racism," Evans told Watertown Cable.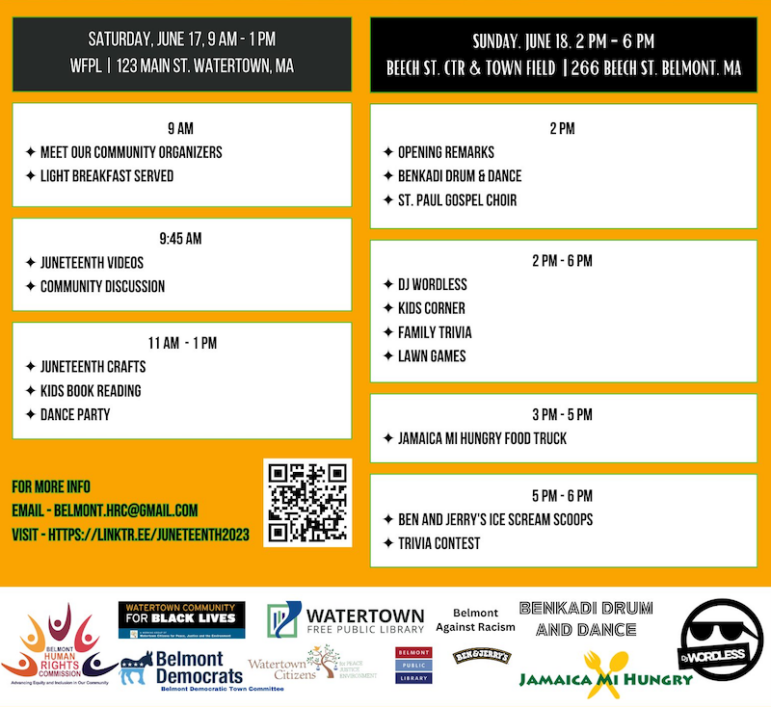 Felicia Sullivan, a WCBL member, added that the event provides an opportunity to learn about and celebrate Black culture.
"I think this is a way for all of us to grow together and get to know each other, but in a way that is celebratory, as well," Sullivan said in the Watertown Cable interview, "not just the negative, but bring together the positive things about the culture and how we can all grow and educate together."
On Saturday, there will also be Juneteenth crafts, a kid book read, and a dance party, following the discussion. Refreshments will be provided by O'Some Cafe.
On Sunday afternoon, the celebration moves to Belmont, where there will be performances by Benkadi Drum & Dance and the St. Paul Gospel Choir. There will also be activities for kids, trivia and lawn games, and food will be available from Jamaica Mi Hungry and Ben & Jerry's.
The events in Belmont will be hosted by the Belmont Human Rights Commission. The group had participated in panel discussions at Watertown's Juneteenth Celebration in prior years. When they approached WCBL about putting on an event, the group from Watertown decided it was "a no brainer," York said, who added that it was a great way to bring the two communities together around social and racial education, as well as to celebrate together.
See the full interview by Watertown Cable News' Maya Shwayder below: