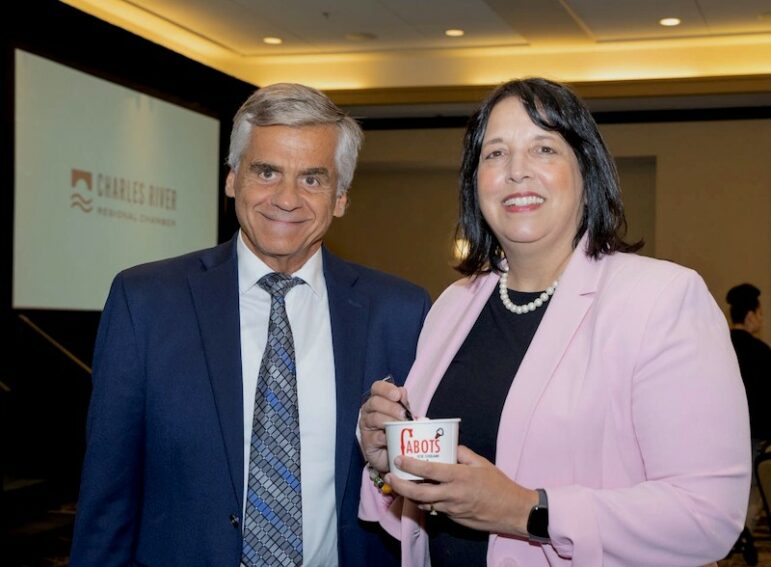 NEEDHAM — Lt. Gov. Kim Driscoll stressed the importance of small businesses to make communities places where people want to live when she spoke at the Charles River Regional Chamber, but she added that Massachusetts faces challenges that could hurt business big and small such as the cost of housing, lack of qualified and even the cost of childcare.
Driscoll also heard directly from business owners about some of the things that make it more difficult for them to thrive. She gave the keynote address at the Chamber's Spring Business Breakfast on June 2. During the event, held at the Sheraton Boston Needham Hotel, the Chamber also honored Joe Prestejohn, the retiring owner of a Newton institution — Cabot's Ice Cream & Restaurant.
Before being elected Lieutenant Governor, Driscoll served as the mayor of Salem for 16 years. She said she has seen how local businesses bring Main Streets to life, and help create a strong local economy. She has also heard from local business owners, such as her local coffee shop, that they are facing tougher and tougher conditions as the cost of almost everything is on the rise.
"We are up against it. We want to try to find a way to make sure Massachusetts works for and welcomes all," she said. "And that means supporting our small businesses, whether that is technical assistance, low interest loans, ways we can help our intrepid entrepreneurs."
Strong local businesses mean strong local economies, which Driscoll said is key to funding the government services residents expect, such as schools, parks, and public safety.
Some local business owners asked what the state could do to help them deal with economic realities. Kay Masterson and her husband Kevin own Johnny's Luncheonette in Newton and will take over Cabot's. She said that unlike a bank, real estate office, or a national chain, they have to make money off the commercial space in which they operate. She quoted some of Johnny's costs, such as $20,000 a year in water, $6,000 t0 $7,000 a monty for electricity during the summer, and $70,000 in credit card fees.
"It's similar at Cabot's. It's about $60,00-$70,000 a year. That's a huge amount of money and Massachusetts is one of the few states that does not allow businesses to charge back that percentage to customers," Masterson said. "I am deeply concerned about the next generation of small business. We give so many breaks to large businesses when they come to the state: we fete them, we give them tax breaks, we applaud their arrival, and yet it is the small businesses all across the communities that deserve the same respect in terms of our finances and the importance within our communities."
Driscoll said she has heard the same thing from other small business owners. Another restaurant owner asked her, "Why am I paying meals tax on those credit card fees? I don't get to deduct credit card fees."
Driscoll encouraged business owners to bring up those and other issues during the ongoing development of the state's economic development plan, which occurs every four years. Regional planning engagement sessions will be held in the five regions around the state. The Greater Boston Regional Session will be held at Roxbury Community College in Boston on Monday, June 12 from 11:30 a.m. to 1:30 p.m. See more info here.
Housing
The MBTA Zoning Law also came up during the breakfast. Driscoll said building more housing is a priority, and something she brings up whenever she attends a public event.
"We are 200,000 housing units short," she said. "We built close to 20,000 housing units a year, (and) many, many years much less. We can't take 10 years to catch up."
The MBTA Law is one part of creating new housing. It requires the 177 communities served by the MBTA to zone parts of the community to allow multifamily housing near bus and train stops to be allowed by right, and therefore won't require a special permit to be approved by local planning and zoning boards. At the breakfast, Driscoll was asked whether the MBTA Law might be changed to allow by right the construction of mixed-use developments (ones with commercial space on the ground floor and residential above). She said that the Administration has asked and was told it cannot be changed, but she added that they will continue to look for ways to change the law to allow mixed use.
The lack of housing has contributed to the rising cost of housing, which Driscoll said is becoming a problem in once affordable communities.
"Salem is now unaffordable to so many. It is not just happening in Greater Boston," Driscoll said. "Fifty percent of people in the Commonwealth are paying more than 30 percent of their income toward housing. That leaves a lot less money for ice cream, for groceries, for electricity."
Producing enough housing, particularly those that can be afforded by people being priced out, will require some new approaches. She brought up the possibility of using publicly-owned land, which would cut one of the major factors in the cost, the price of the land.
"If we have public land it will help drive down at least some of the cost factor to make that housing available," Driscoll said. "When veterans were returning from the war (in the 1940s) many cities and towns gave away lots for $1."
She added, that Salem plans to build housing units on the campus of its high school to provide housing for people working at the school, such as paraprofessionals, custodians, and cafeteria workers.
Job Training
Massachusetts' economy currently sits in a "messy transition phase" after the Pandemic, Driscoll said. At the same time, she warned, other states are getting Massachusetts' playbook for success and seek to replicate it. The Healey-Driscoll Administration seeks to enhance training in some areas where employers have struggled to fill jobs.
"This is a space where other states are frankly eating our lunch," Driscoll said. "Places like North Carolina have statewide workforce training programs, and as much as we are doing all the R&D, and we love that — having all our big brains working on life saving virus vaccines — we also want to have all those products manufactured in Massachusetts and really lengthen our lead in that space."
This week at the BIO International Convention, Gov. Healey announced the launch of a new strategy for connecting employers to skilled, diverse workers called MassTalent. The program provides a one-stop spot for companies to access talent pipelines in high-growth industries like the life sciences, clean energy and advanced manufacturing, according to the announcement of the program's launch.
Another proposal to get more people qualified for skilled work is MassReconnect. The state has 700,000 residents who started college but never completed the degree. The program would provide $20 million to launch the scholarship program to provide free associate's degrees and "high-quality certificates" for residents 25 years and older.
Child Care & Free PreK
Driscoll called the cost of child care the third leg on the stool for improving the state's economy.
"The pandemic did a number on meeting our child care needs. It was tough before, I say that as a mother of three, myself …" Driscoll said. "You are lucky if you can find a spot. That is hurting our working families, especially women getting back into a career or getting into a career."
Providing free, quality PreK for all 4-year-olds in Massachusetts is another goal of the Healey-Driscoll Administration.
"Why this is important is because we know it will help those youngest learners, get our working families in a better position from an economic stability perspective and we are spending a lot of money on public schools, thank goodness; that is the most important job in government," Driscoll said. "Those younger learners need us, too."