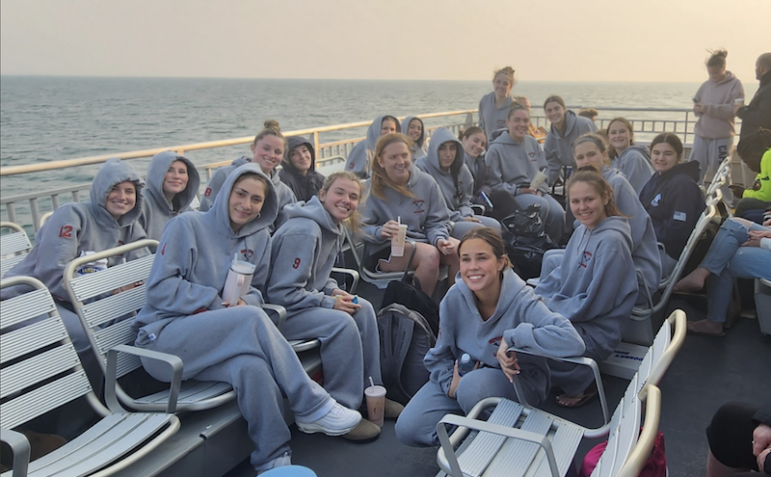 NANTUCKET — Few road games require multiple modes of transportation, but Watertown High School's girls lacrosse team hade to take two buses and a ferry to make it to the MIAA Div. 4 Tournament game against Nantucket.
The 20th seed Watertown (9-13) lost 14-5 to fourth seed Nantucket (19-3) on June 8. Sophomore Alani Garey scored three goals for the Raiders, while junior Sarah Morrissey and senior captain Alex Karalis each contributed one.
Head coach Peter Karalis compliments his team's perseverance and resilience throughout the game, including solid play by Watertown's goaltender.
"The first half went exactly as planned. Our girls played hard and our strategy on the defensive end was working. They were still scoring against us, but we were causing a lot of turnovers and our goalie Toria Dicker was coming up huge," said coach Karalis. "Those turnovers allowed us to possess the ball on the offensive end and we did a great job with our shot selection. We were able to keep pace with them scoring."
Senior captain Alex Karalis knew it would be a difficult game but still felt Watertown proved doubters wrong like she said they did all season.
"We knew it was going to be a tough game. We had been underestimated all season as we were ranked 20th and people were shocked with our round of 32 playoff win against Medway ranked 13th. We knew we had something to prove," said Karalis.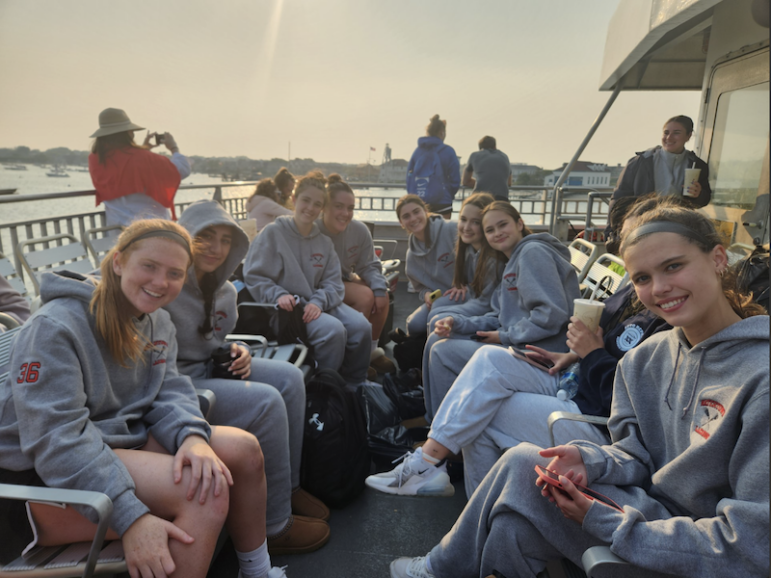 Despite the loss Watertown is glad they got to spend their last game in Nantucket, something Coach Karalis does not think his players will soon forget.
"It was a great experience for all of us. I could lock these girls in an empty room and they would have a good time with each other," said coach Karalis. "But then if you stick them on a boat to Nantucket on a beautiful sunny day it just makes it that much better. And how many kids can say their last high school game of the season was in round two of the tournament in Nantucket? I think it's something that we will all remember."
The Raiders will be losing seven seniors: Iris Egan, captain Maggie Driscoll, Karalis, Lwana Khalil, captain Paige King, Maeve Lawn, and Anna Zarkadas. Some of whom have been playing Watertown lacrosse since their youth days.
"I've been playing lacrosse since elementary school, so no longer playing with these people and for this town will definitely be a tough pill to swallow," said King.
Despite coming up short in the playoffs King still considered the season successful, noting that the Raiders play in a difficult league but never felt defeated.
"I believe we had a really good season. We're in a very good league with some really strong teams but I think we performed well in every game and worked hard together towards getting what we wanted," said King. "We brought passion and drive to every game and our energy was contagious with one another."
Alex Karalis looks back on the season fondly and looks forward to watching her underclassmen teammates next year.
"This season in particular, our team as a whole grew closer. We have freshmen, sophomores, juniors, and seniors all playing on the varsity team," said Karalis. "Getting to know and become friends with the underclassmen has been so enjoyable and I can't wait to watch them
play next year."