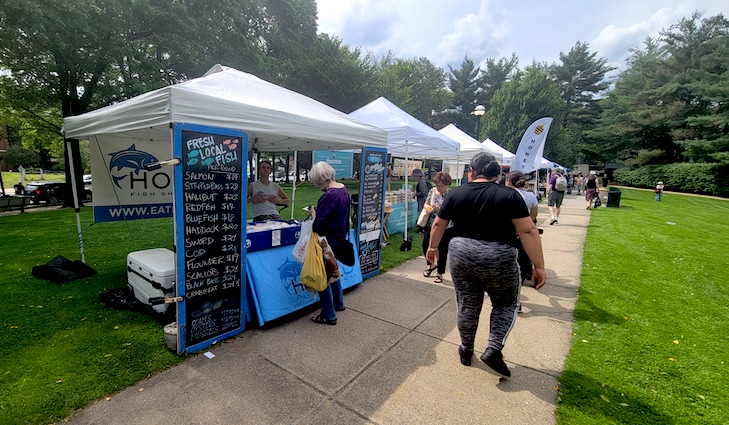 From fish products to fresh strawberries to homemade honey, various vendors scattered across Saltonstall Park for Watertown's 10th annual Farmers' Market.
The Watertown Farmers' Market had its opening day on June 14. The market opened with a bell ringing performed by City Manager George Proakis, someone who looks forward to having the market every year.
"It's just become a real important part of our community and we love running it and it's good to have it back. It's good to be here again," said Proakis.
The market, which takes a months-long process to create, is welcoming 30 vendors this summer. Some of whom have been coming back for multiple years.
"We started last year in 2022 as guest vendors. So we come to the market because the rent is very reasonable. And the exposure is great … they (customers) like our product," said Elan Rohde, founder of Campolongo Cookie Company. "Farmers markets are a great place for us because the people who shop at farmer's markets appreciate the quality."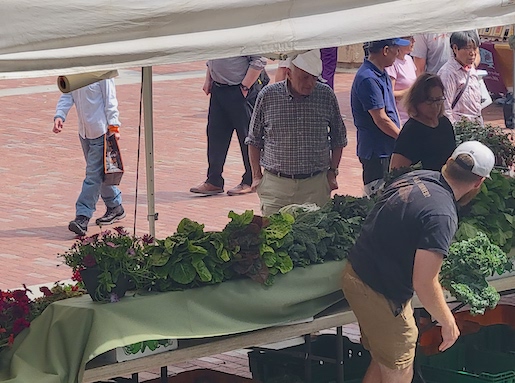 Similar to Campolongo Cookie Company, Grateful Tastes has also come back to the Farmers' Market after a successful first year.
"Last year, we were so well received by the community that they asked us to come back full time this year," said Tom Taylor, chef, lead beekeeper and solopreneur of Grateful Tastes. "We're just happy for it to be the season opener. We couldn't have asked for a nicer day and we're just excited to be able to come back to town."
Stephanie Venizelos, who has been involved with the market for seven years, oversees the market to make sure they are supporting healthy and locally produced foods and businesses.
"It brings fresh local food. It supports a local food system, local agriculture … Many of the vendors use local ingredients and their local businesses. So we're supporting all of that which is important," said Venizelos, the City's Community Wellness Program Manager.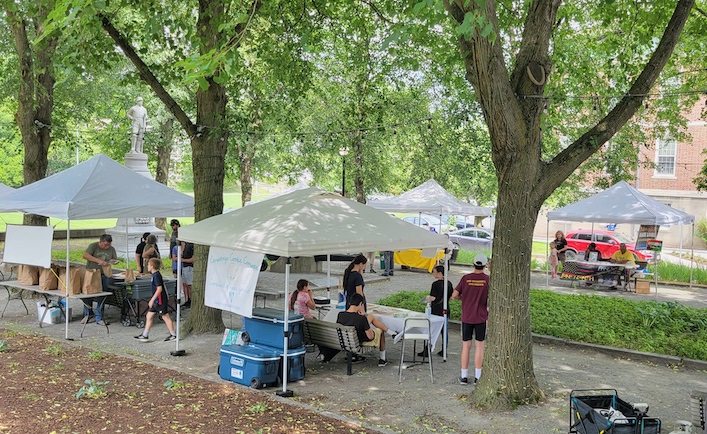 In addition to fresh foods the market also invites local artists to the market to showcase their work for the community.
"The Watertown Library's there, local artists are there. So you get to feature special people who are interested in showing their wares and are Watertown based," said volunteer Melinda Dennis.
Some customers, like Allison Eck, routinely started coming to the market during the Pandemic and kept coming back because of the positivity it provides.
"I just love the Farmers' Market. It feels like a tradition for me. During lockdown for the Pandemic, I would come here every Wednesday and just get out of the house," said Eck. "And it was sort of my one ritual that I looked forward to in the depths of the Pandemic. So it's really, really nice to be here and I just think it's a very joyful community gathering."
Along with providing healthy and fresh food for everyone, the Farmers' Market is also working to combat food insecurity through a SNAP match program. SNAP, Supplemental Nutrition Assistance Program, is a way to help anyone facing food insecurity get more food options and funds to buy them.
"Food security is very much tied into the work we do because we have a SNAP match program and our farm vendors participate in a program called Healthy Incentives Program. So people who are on SNAP benefits get free produce on a monthly basis," said Venizelos.
The Watertown Farmers' Market will be held every Wednesday from 2:30 p.m. until 6:30
p.m. lasting through the last week of October.