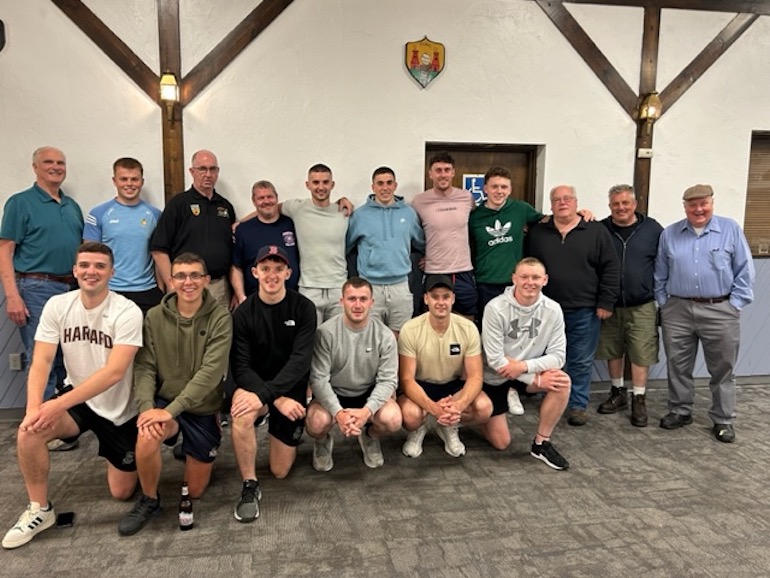 A group of 11 young men from County Cork in Ireland are spending several weeks in Watertown as they compete in Irish Hurling matches in the Boston area. They picked the right home to rent in Watertown, right down the street from a past president of the Ancient Order of Hibernians Div. 14.
Allen Gallagher, former executive director of the Watertown Boys & Girls Club, and his wife Irene have taken it upon themselves to make the visitors from the Emerald Isle feel welcome in Watertown.
"I walk past the house frequently and met them tossing the ball around on Pearl Street and struck up a conversation," Gallagher said. "As Past President and member of AOH Div. 14, I contacted current President Joe McCusker and I offered to purchase any necessities to have a cookout for the boys."
The Hibos had some supplies left over from Memorial Day, and the Gallaghers purchased hot dog and hamburger rolls, chips, and condiments. Irene cooked up some pasta salad and a batch of brownies for the gathering.
"Irene and I drove them down and back and they had a grand time meeting people and playing pool in the Club poolroom. I provided "Oldies and Irish" music in the members lounge," Allen said.
Gallagher said he has become a bit of a Mother Hen, checking up on the boys, but said they are quite self-sufficient, getting around by Uber and picking up some used bikes during the recent Town Wide Yard Sale to get around.
"Some of the boys took an Uber over to the Music Venue near Fenway Park to enjoy the music of an Irish entertainer recently," Allen said.
The team has been practicing at Victory Field, and have matches on Sundays at the Irish Cultural Center in Canton.
AOH Div. 14 Watertown is one of the largest Irish Catholic fraternal organizations in the United States, Gallagher said.